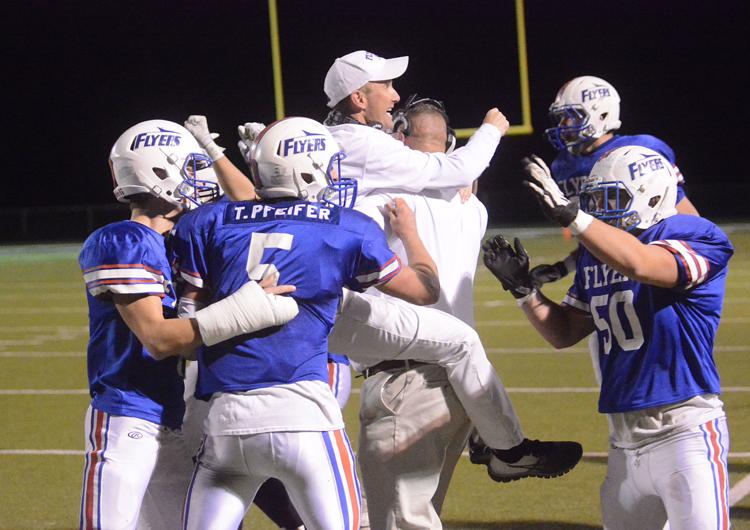 HUMPHREY - Humphrey St. Francis quarterback Trevor Pfeifer took several tries to answer the first question posed by various reporters Monday night following a 24-16 D-2 semifinal win over Falls City Sacred Heart.
The emotions were flowing as he started and stopped three times during his first response. Tears streaked his face each time he paused, bending over slightly with his eyes close and a giant smile imprinted across his face.
There's not telling how Pfeifer may respond next week if his team can complete a run to a state title, but he's a big reason why the Flyers will have that chance.
The senior rushed for two touchdowns, threw two more and intercepted a pass and St. Francis took down Sacred Heart for the fourth time in six tries since the two resumed regular playoff meetings in 2012.
It's also the second straight win for the Flyers over the Irish after a 54-36 playoff win last postseason. That St. Francis team, however, lost in the semifinals to Johnson-Brock, just the second time the winner of the two failed to play for a trophy.
If the Flyers come out on top in next week's state championship, it will be the eighth time the winner has been crowned with the title.
"It doesn't even seem real. We've been working for this for so long, for so hard. Nobody says it, because we don't look ahead, but we knew we were playing Sacred Heart in the semifinals," Pfeifer said. "We've been working for this since the fourth grade."
Pfeifer's first touchdown of the game came on a throw to younger brother Tanner Pfeifer on a 5-yard connection the third play of the second quarter. After a missed two-point coversion, St. Francis trailed 8-6.
Pfeifer then made it two toucdown drives in a row when he spun out of a tackle at the line of scrimmage and went in from nine yards out for 12-8 halftime lead.
He then hit Taylor Wemhoff on a 71-yard scoring strike the in the second Flyer play of the second half, one he admitted was more of a hopeful ball than anything.
"I knew (Wemoff) was faster than that outside linebacker," he said. "I didn't really see him."
Which was a somewhat stunning admission since the ball traveled 50 yards through the air and hit Wemhoff in stride. The linebacker and safety collided behind Wemhoff and allowed him to stroll the remaining 25 yards to the end zone.
Pfeifer's final scored came on a 1-yard dive with 54 seconds left in the third quarter and made the lead 24-8. St. Francis failed to convert all four two-point tries but had just enough to hold Sacred Heart.
You have free articles remaining.
Register for more free articles
Stay logged in to skip the surveys
The Irish had punted five times, tossed an interception and had a drive ended by the half in the six possessions following a 65-yard scoring drive to begin the game.
They finally found the offense again early in the fourth with a 75-yard drive that took 10 plays and ended with quarterback Jake Hoy sneaking in from the 1. It appeared St. Francis was about to answer right away and put the game away for good but Pfeifer had the ball ripped from his hands at the Irish 1 as he was about to score.
Sacred Heart jumped on it and took over with 3:13 remaining. Tanner Pfeifer intercepted a pass off a deflection four plays later but the Irish had one more chance when the ensuing Flyer drive stalled and ended with a punt.
With 1:03 left and no timeouts, Sacred Heart drove down to the St. Francis 12 before a completion in the middle of the field came up short of a first down and ran out the clock with just 11 seconds remaining.
"I was hoping (it would play out like this)," Pfeifer said. "I knew they would key on Taylor Wemhoff a lot. So, I had to step up and carry the load today. I knew I would have to do that."
Pfeifer finished with 27 carries for 170 yards and was 4 for 10 throwing with 110. Wemhoff had been the focus of the offense for most of the season before Pfeifer and the quarterback run game showed up in a big way on Tuesday.
"He hasn't had many rushing yard this year because we haven't had to. Tonight, we just got on his back and got going," coach Eric Kessler said. "He did a nice job and our line did a really nice job.
"Games like this, plays like (the 71-yard touchdown pass) can make the difference. Those just don't work. But it was perfectly on time and Wemhoff was barely touched. It was a nice catch, great concentration, but a great throw for sure."
St. Francis will face 9-2 Pleasanton in the state championship game, a 12-6 winner over Overton in the other D-2 semifinal.
"It seriously does not seem real. I was just taking it one step at a time as coach preached all week, all season," Pfeifer said. "It's a one-game mentality. That's what we did, that's what we did tonight and that's what we'll do next week."