Prep football preview: Nebraska is loaded with pass catchers
2018 was the year of the quarterback. But this coming high school football season in Nebraska, the focus is on the guys on the other end of the pass plays. The Lincoln Journal Star's preseason high school football edition highlights the four current FBS prospects, each with a unique story and special talents that separate them on the football field.
- Ron Powell, Journal Star
Catch 'em ... if you can: 2019 is the year of the pass catcher and the state is loaded with them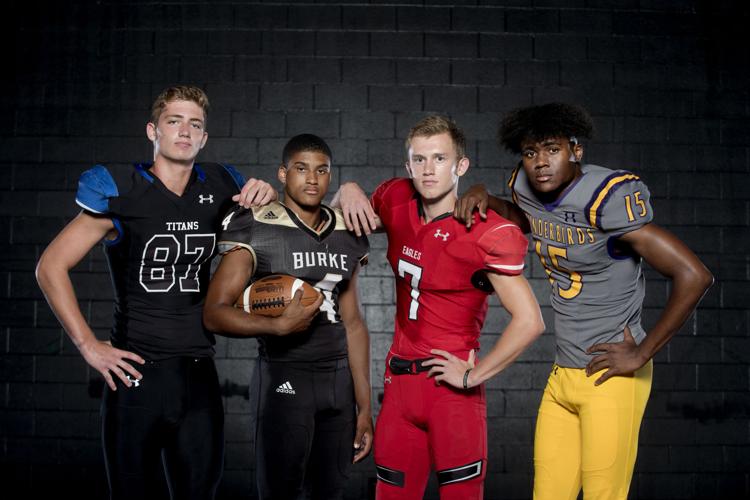 2018 was the year of the quarterback. But this coming high school football season in Nebraska, the focus is on the guys on the other end of the pass plays.
Eight wide receivers or tight ends have already committed to Division I colleges with three of them — Super-Stater wide receivers Zavier Betts of Bellevue West and Xavier Watts of Omaha Burke and Will Swanson of Papillion-La Vista South — pledging to FBS programs. And while Ty Hahn, the all-stater from Johnson-Brock, is still undecided about where to play his college football, the fact he has an offer from Wyoming makes it almost certain he'll end up at an FBS school as well. The list of Division I receivers will likely grow during the season as colleges uncover more talented pass catchers in September and October.
There could be some FCS commits making the move up to FBS or Power Five as well. The Lincoln Journal Star's preseason high school football edition highlights the four current FBS prospects, each with a unique story and special talents that separate them on the football field.
Division I pass catchers in the state
WR Zavier Betts, Bellevue West (Nebraska)
WR Xavier Watts, Omaha Burke (Notre Dame)
TE Will Swanson, Papio South (Kansas State)
WR Nate Sullivan, Bellevue West (South Dakota State)
WR Isaac Appleget, Lincoln Southeast (South Dakota State)
TE Kaedyn Odermann, Millard West (Harvard)
WR Dalys Beanum, Millard West (South Dakota State)
TE Wyatt Seagren, Oakland-Craig (South Dakota State)
WR Ty Hahn, Johnson-Brock | Six D-1 offers
Betts' presence creates opportunities for his teammates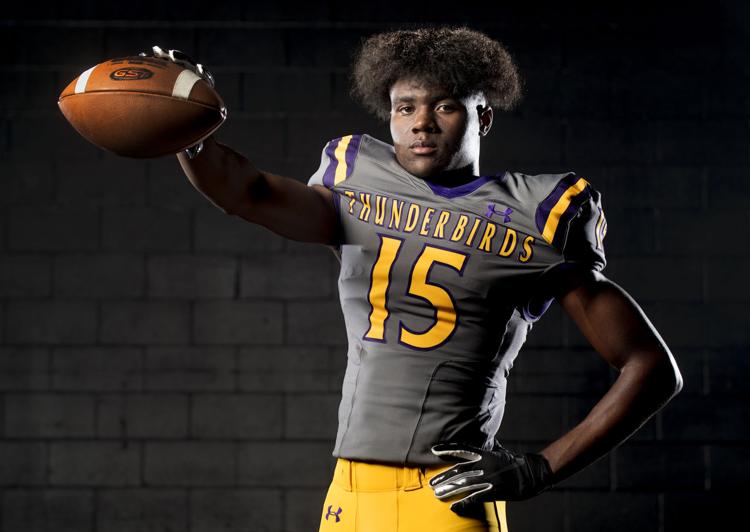 No receiver in the state can combine size and speed like Zavier Betts, one of the reasons Nebraska offered him a scholarship way back when he was a sophomore.
The fact he's a threat to score on any play with the ball in his hands made him valuable in another role that Bellevue West likes to utilize him in: being a decoy.
His ability to draw an outside linebacker, cornerback or safety out of a play helped open up Super-State running back Jay Ducker for 1,813 yards and 30 touchdowns. It also was a factor in current South Dakota State freshman Shane Dailey Jr., going over 1,000 yards receiving a year ago and Betts' senior teammate Nate Sullivan Jr., (another South Dakota State prospect) hauling in 41 passes for 485 yards.
"With the offense we have, you can't focus too much attention on one person because of all the weapons we have," Betts said. "It gets a little frustrating sometimes getting double and triple teamed, but all that does is create opportunities for my teammates."
With Sullivan sidelined until mid-season with a broken ankle, Betts may get more opportunities early this fall to show off the physical talents he exhibited in early July at the Nike Opening where he finished in the 99th percentile in the physical testing there and top 10 overall.
Before he sprained his ankle at the camp, Betts ran the 40 in 4.59 seconds, had a 38.6-inch vertical jump and finished the agility run in :4.09. All of that mobility and flexibility in a body "that looks like a Greek statue," says Bellevue West coach Michael Huffman.
"You can throw underneath to him or go deep, and Zavier's capable of breaking either play," Huffman added. "He has the ability to take over a game at any time."
Betts started already as a freshman, making 20 catches for 254 yards and three TDs on Bellevue West's Class A state championship team. He wants one more game at Memorial Stadium in a Thunderbird uniform before making it his home in college.
"I want that feeling of winning a state championship again, especially as a senior," Betts said. "I also want the young guys to experience it, too, so they can make that (reaching the Class A finals and playing in Memorial Stadium) an expectation they should be working for every year."
Hahn won't just be a receiver for new-look Eagles this fall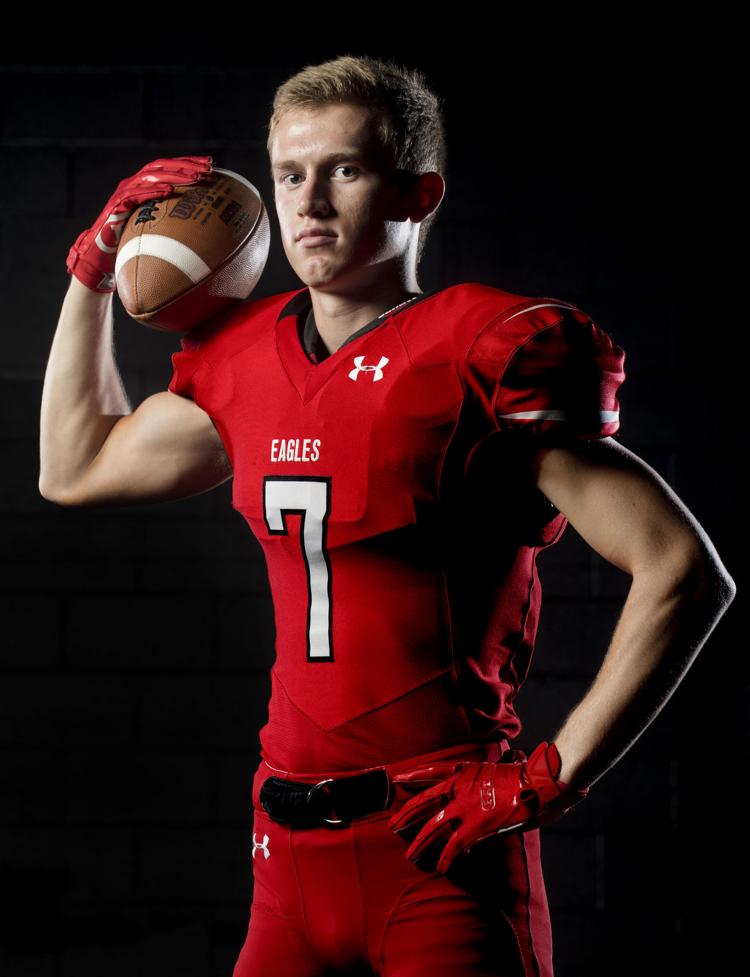 Ty Hahn is the only starter left from Johnson-Brock's 13-0, Class D-2 state championship team from a year ago.
He obviously can't do it all in a team sport like football, and opposing defenses will be geared to stop him. But Eagles coach Mitch Roberts wants to push his all-state star as far as he can go in that direction.
"We'll have to move him around to create more opportunities for him to break big plays for us," said Roberts, who indicated Hahn will likely play middle linebacker defensively instead of safety. "We'll split him out (at wide receiver), move him into the backfield like we did at times last year and have him take some direct snaps in a wildcat formation."
Roberts senses his star is ready for the extra work both physically on the field and being the team leader off of it.
"He's looking forward to the challenge," the coach said. "He's hungry this year to lead a new bunch of guys to the same kind of success we've had the last two years. Ty's gotten guys in the weight room and has set a good example for them."
Hahn almost started his football career as a lineman because in the Johnson youth football program in sixth grade "there was a 125-pound limit to carry the ball and I weighed 126 or 127 at that time," he said.
"I was a running back through junior high, then they moved me to receiver my freshman year because they could see I was pretty fast," Hahn added.
By proving his physical talent at offseason college camps and shoe company combines and learning the 11-man game along the way, Hahn has been able to emerge from the relative obscurity of playing eight-man football and become a Division I recruit.
He entered the summer, however, with a pulled hamstring that wouldn't allow him to compete in either the district or state track meets. That didn't stop either Nebraska or Northwestern from putting him high on their recruiting boards with both schools possibly offering him sometime this fall.
Hahn, however, is ready to put all the recruiting aside for now and focus on his high school season.
"Whatever the team needs me to do to help win a game," Hahn said when asked what his role might look like this season. "It's been great to see how hard our younger guys have worked this summer to get ready. You can tell they don't want a down year."
Swanson not only got bigger during the offseason; he also got faster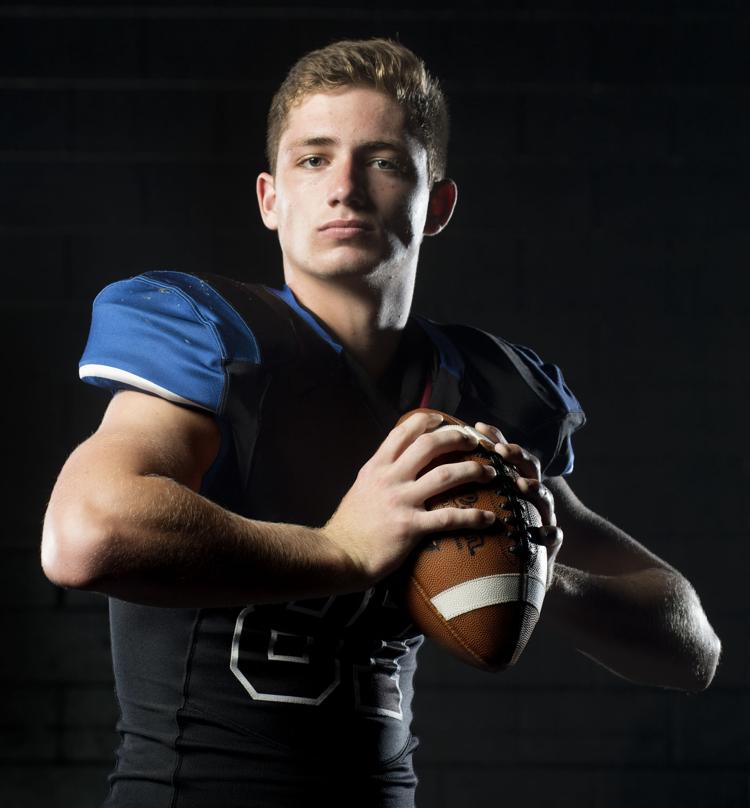 Will Swanson's routine last winter was work out every day, then eat a lot afterward.
"I wanted to put on a lot of weight and get a lot stronger," said the Papillion-La Vista South tight end.
A funny thing happened on his way to adding 35 pounds to his 6-foot-5 frame. Swanson got a lot faster as well.
In late May, he ran the 40-yard dash in 4.71 seconds at a camp on the campus of Lindenwood University in St. Charles, Missouri. That instantly turned him from an NAIA- or NCAA Division II-level recruit to Division I as Wyoming, South Dakota State, North Dakota State, Missouri State, Southeast Missouri State and Kent State all offered scholarships.
A few days later at Kansas State's camp, Swanson proved the Lindenwood 40 time wasn't a fluke. His :4.68 time instantly earned a scholarship offer from the Wildcats which Swanson eventually accepted.
"It was overwhelming," said Swanson, who increased his bench press to 295 pounds and his squat to 405 during the off-season. "My plan was to go to Lindenwood and hopefully put myself on the map. But it blew up more than I could ever imagine. It all happened pretty quickly."
Swanson does not have gaudy receiving statistics — just nine catches all last season. Swanson is just fine with that as he sees his role, even this coming season, as more of a blocking tight end who can clear out interference on the edge to break big plays in the running game.
"I like to run and catch passes just like any other receiver, but my main job this season will be to help in the run game," said Swanson, who will occasionally line up in the backfield as an H-back and be a lead blocker. "Being a good teammate and helping my friends to be better football players means as much as catching passes."
Titans head coach Tim Clemenger sees Swanson being used in a variety of ways this season.
"Will's certainly someone we're going to look to as a primary receiver, but he helps us diversify what we do on offense by being as versatile as he is," Clemenger said. "The best thing about him is he has no problem getting his nose dirty. He gets after people and doesn't back down to anyone."
Watts expanding leadership role this season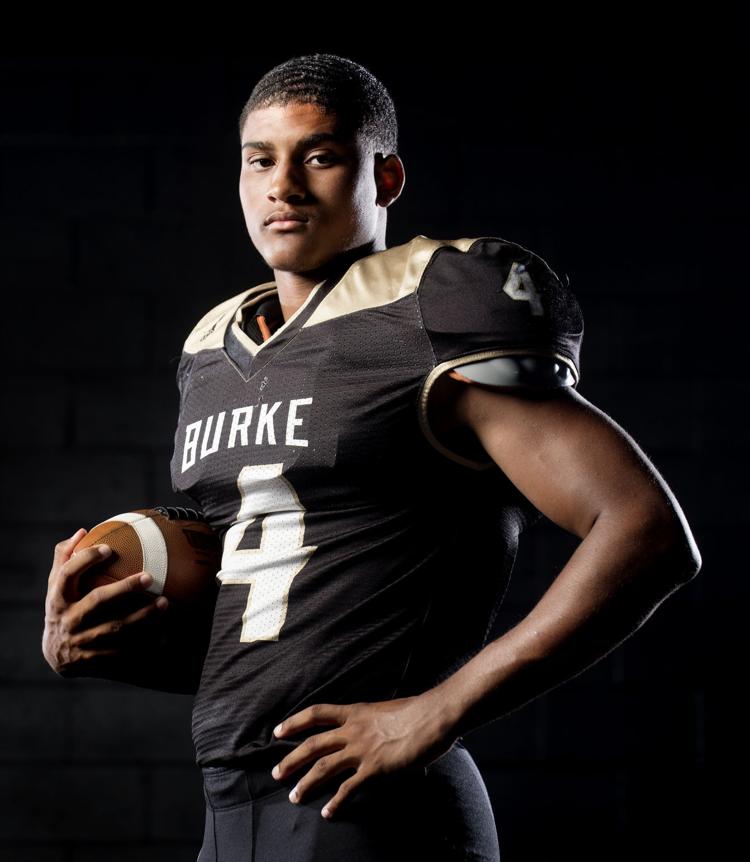 Leading by example comes easy for Xavier Watts.
With Omaha Burke trailing Grand Island by 11 points at halftime, Watts led the best way he knows how — by catching touchdown passes of 62 and 37 yards late in the third quarter to put the Bulldogs in front.
He saved one last leadership play for the end, hauling in a 12-yard pass on fourth-and-5 for a first down that allowed the Bulldogs to run out the clock and claim a 24-20 victory. Watts made his mark with 11 catches for 159 yards.
Production like that in the big game during his senior season will be welcomed, if not expected. But more will be expected this fall from one of the top wide receiver recruits nationally.
He'll not only have to walk the walk, but also talk the talk.
Burke coach Paul Limongi will be looking for his star to be a more vocal leader for the Bulldogs, a role the quiet, reserved Watts left to 2018 first-team Super-State seniors Nick Henrich, James Burks and Chris Hickman, as well as second-team Super-State quarterback Tyler Chadwick a year ago.
That doesn't come as natural as running a post route for a touchdown, but Watts is working on it.
"I've been getting better at leading with my voice," said Watts, the 2019 Lincoln Journal Star Boys Athlete of the Year. "I'm trying to communicate to the younger guys what our expectations are (in the Burke football program) and hold people accountable, but at the same time, encourage and energize."
Limongi sees the effort Watts is making to step out of his comfort zone to become a more complete player. His leadership in the weight room as one of the hardest workers on the team has been a good start, according to the coach.
"It's easy to lead when things are going well; we need him to speak up when things aren't going so well, settle everyone down and be that calming force that keeps everyone positive," Limongi said. "Xavier is picking that up and finding ways to demand the best out of everyone."
Watts is demanding the best out of the 2018 season, but individually and from a team aspect. Never mind the graduation losses, Watts thinks the Bulldogs can repeat with a team that brings back some other key players like running back Jaylon Roussell and adds a number of talented transfers.
"I want over 1,000 yards receiving again, at least 20 touchdowns, seven interceptions on defense, win the Gatorade Player of the Year, win a state championship and break a bunch of records along the way," Watts said.