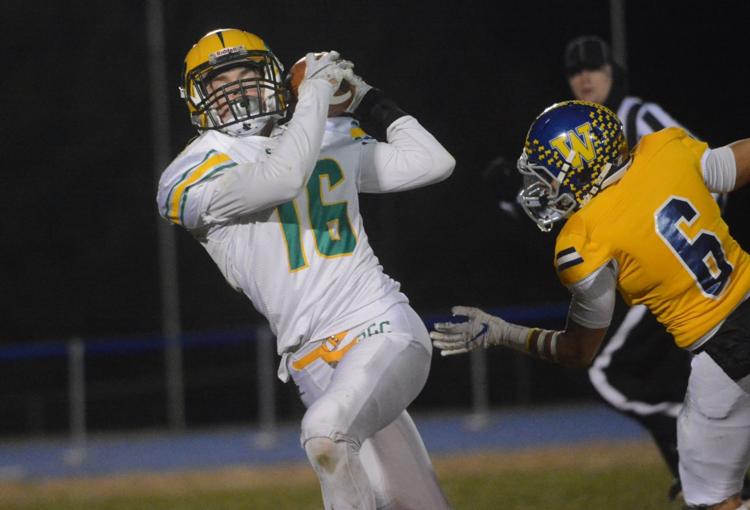 WAHOO - Four Wahoo touchdowns in a fewer than four minutes gave the Warriors a second blowout win over Scotus Central Catholic on Friday night in Wahoo, this time in the quarterfinals of the playoffs.
Though the Shamrocks were able to find the end zone, it was but a footnote in a 49-7 final. And that score came with the Warrior backups in and all the Wahoo points already up on the board.
As Scotus first had a taste of two weeks ago in a 49-0 loss, yes, Wahoo really is that good. Starting quarterback Tyler Palmer was on the field this time, unlike in the final regular season game on the schedule. But even as Palmer wasn't enough to hold the avalanche that has been the Warriors.
Friday's result was the ninth time the Warriors defeated an opponent by more than 40 points. They remained unbeaten at 11-0 while the 'Rocks closed 2019 8-3.
It was the first trip to the playoffs for Scotus in three years. SCC defeated Wahoo Neumann the week before for its first playoff win since the state championship season of 2015.
Wahoo is back in the semifinals for the second straight season. Aurora ended the Warriors run last year. Wahoo is still seeking its first state championship in school history.
"All the credit goes to Wahoo High, fantastic program. Coach (Chad) Fox has got them peaking at the right time. They're a dangerous team. We knew that going in. We did not take them lightly," Scotus coach Tyler Linder said. "I felt like we had a great week of practice. I'm so proud of my kids and their effort preparing.
"It just wasn't our night tonight."
Scotus forced a Wahoo punt after winning the toss and deferring to the second half. It was the only stop the Shamrocks made until there were less than three minutes left in the third quarter.
In the mean time, Wahoo ran off 49 straight points, putting together drives for 14 of the first 21 but mostly exploding for big plays.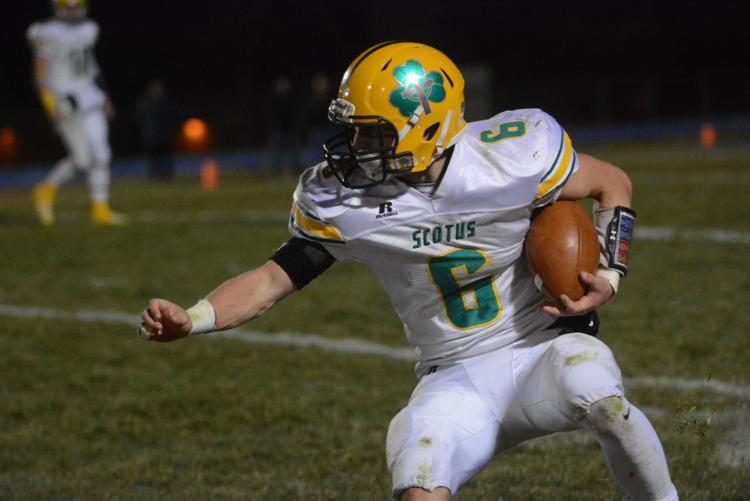 Colin Ludvik found the end zone first on an 8-yard run capping a 7-play, 45-yard drive then Ludvik scored from 17 yards out after Trevin Luben set up the offense with a 40-yard punt return.
Up 14-0 after the first quarter, Wahoo poured it on with 28 points in the second. It started with a methodical, 13-play drive Luben ended with a 2-yard plunge and ended on runs of 75 by Ludvik, 40 by Luben then another 2-yard score by Luben.
The Warriors made it 21-0 with 6:02 before halftime then led 42-0 with 2:10 remaining.
Ludvik's long score came on a one-play drive, as did Luben's 40-yard dash. His third touchdown of the first half capped a two-play drive after an interception then a 27-yard run directly after.
Luben then sprinted to the end zone again on a three-play drive early in the third quarter, capping his side's 49-point total.
You have free articles remaining.
Wahoo's final 28 points came in just seven plays.
Luben finished with 19 carries, 193 yards and four touchdowns while Ludvik touched it seven times for 125 and three scores. Wahoo had 36 rushing attempts and 364 yards for an average of more than 10 yards per carry.
Scotus was much better than two weeks ago when the Shamrocks had just 36 total yards and only one first down in the first half. SCC had 256 yards on Friday but 213 of that came through the air off the right arm of Palmer.
On the ground, Scotus managed just 43 yards on 19 carries.
The Shamrocks only points came right after the Warriors made it 49-0. Palmer heaved up a pass to Dalton Borchers down the left sideline that Borchers pinned to his left shoulder, eventually brought it in dashed to the end zone for a 75-yard score.
"It's tough to pin down an animal like that once they get loose. It's hard to kind of wrangle back," Linder said. "...You don't want to say you have to play a perfect game, but you've got to come pretty darn close.
"Great teams are going to pour it on at difficult times like they did. Once they sense blood in the water, they really go after it."
Palmer finished 15 of 31 passing for 213 yards, one touchdown and one interception. Borchers caught four of those passes for 105 yards and the one touchdown. Garrett Oakley made six catches for 79 yards.
Wahoo advances to host 11 seed Wayne at home next Friday, a 28-13 upset winner over 3 seed Ashland-Grenwood. Wayne also upset 6 seed Kearney Catholic in the first round.
Results on the other side of the bracket included 1 seed Hastings Adams Central shutting out Aurora 17-0 and 4 seed Pierce blowing out Ord 49-21.
"We're going home earlier than we wanted to, but there's a lot of good things to take away from this season," Linder said. "Anytime you beat Aquinas, Lakeview and Neumann, twice, in the same year, that's a pretty good year.
"When our only losses come to the top two teams in the state (Wahoo and Pierce), we know we're right there. I know this game isn't indicative of it, and I don't think that scoreboard is indicative of the heart and character and hard work of this team. I think our coaches poured their heart and their soul into this season and our kids performed to a high level most of the year.
"I'm incredibly blessed to be coaching these guys."