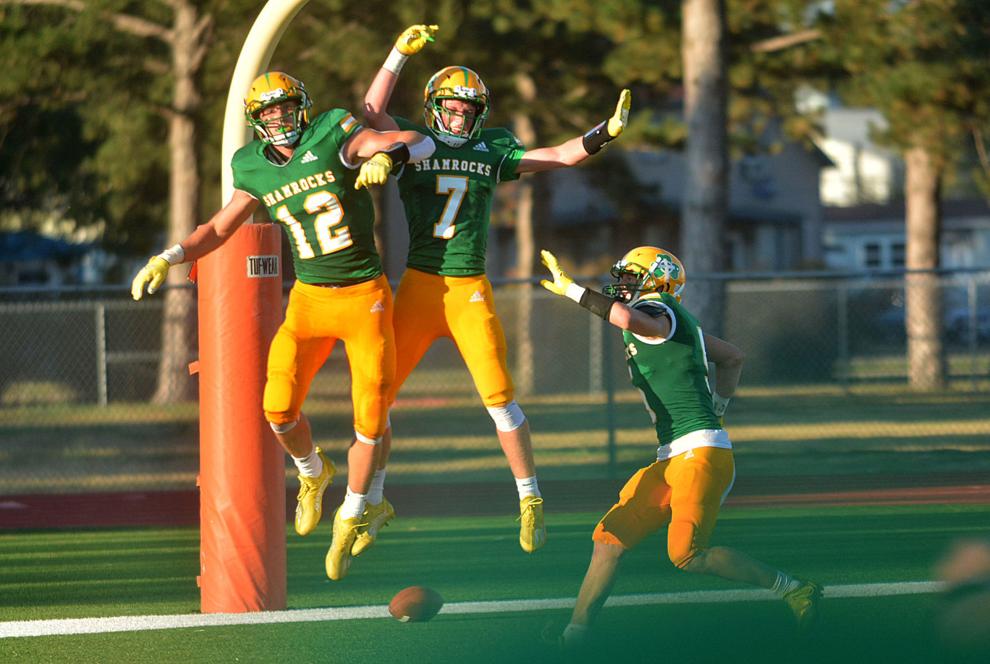 The hits keep on coming for Scotus Central Catholic football.
Four weeks into the season the Shamrocks have taken down three ranked opponents and raced out to a 4-0 record that no one, not even the coaching staff, saw coming.
Friday it was a 28-21 victory over No. 9 Battle Creek that added to the list of early-season accomplishments. Scotus took down No. 5 Wahoo in Week 1 and defeated rival and Class C-2 No. 3 Aquinas Catholic last week. But both of those contests were inside the friendly confines of Pawnee Park Memorial Stadium.
Friday was a road win over an opponent holding its homecoming and eager to insert itself into the championship conversation. Scotus fell behind twice, committed its first turnovers of the season, had more struggles than normal moving the ball but, as it has in the previous three weeks, rose to the occasion when the moments arrived.
Nolan Fleming caught a 35-yard touchdown pass with nine seconds left in the first half and tied the score 14-14. Two long drives in the second half ended with Devon Borchers touchdown runs for a 28-14 lead. Battle Creek recovered a fumble and ran it from 27 yards out with 1:11 left in the game but SCC recovered the onside kick and kneeled out the win.
"Every week there's a challenge. Week one was a challenge, week three was a huge test and week four was no different. We're used to taking it week by week, but this one was really satisfying," coach Tyler Linder said. "If you would have asked any of us what our prediction was to start the year, I don't know that any of us coaches, with a straight face and a clear conscience would have told you we'd start 4-0. But here we are, and we're feeling really good. That's a huge credit to our kids; our kids have earned those wins."
All three of Battle Creek's scores were the result of Scotus turnovers.
Junior quarterback Trenton Cielocha came in with a 144.2 quarterback rating after completing 24 of 37 for 633 yards and four touchdowns. His first interception of the year led to a Battle Creek scoring drive when the Braves produced the first points on a 16-yard pass from Dylan Amick to Korbyn Battershaw with 3:35 left in the first quarter.
Scotus immediately answered on one of three Borchers touchdown runs when he went 3 yards after a long drive that culminated in the score with 11:11 until halftime.
The Shamrocks came up with a stop on the next possession but then fumbled it away on their own end of the field and allowed a 3-yard run by Logan Roberts for a touchdown and a 14-7 lead with 3:38 to go before half.
But like the win over Aquinas, Scotus found some late first-half magic and tied it up on Cielocha's pass to Fleming. From fourth-and-5 one week and an underhand toss to the next week and somewhat of a prayer from 35 yards out, both situations were an all-or-nothing scenario. It was Garrett Oakley who pulled down Cielocha's improvisational pass one week and Fleming who answered the prayer the next.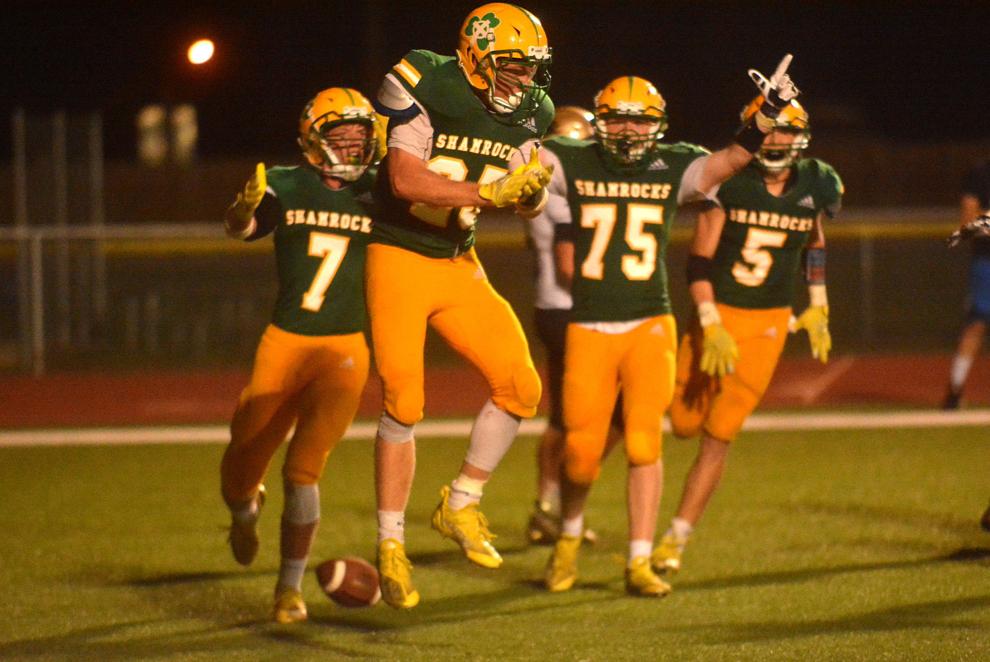 Among the options on the field, Fleming wasn't the most likely. A guy who has a reputation more on the golf course than the gridiron, his play to steal momentum just before half was just another example of the 'Rocks finding a way when it mattered most.
The heave came up short of the goal line and looked like it may end on the one. The 6-foot senior turned and reached over the line for perhaps the biggest play of the night.
"I'm just really proud of Nolan. Football might not be his number one sport, but he's really bought in," Linder said. "He's one of those guys that, as a freshman and a sophomore, you wonder if you're going to keep him out his junior and senior year just because he's a little bit of an undersized guy. In his JV days, he wasn't a guy who loved a lot of contact. But there's something about strapping up the pads when it's your senior year."
Scotus took the kickoff to start the second half and put together a drive that ended with Borchers' 11-yard run. The Shamrocks covered more than 80 yards on the possession and made it 21-14 with 8:42 left in the third.
It stayed that way until 11:52 in the fourth when Scotus carried over another long drive from the third into the fourth and Borchers found the end zone on a 2-yard run.
Scotus had the ball late and up 28-14 but unsure if it could kneel out the remaining time. So instead, the Shamrocks ran a play when disaster struck and a fumble that bounced away from the pile to a Brave with space found its way to a 11-yard touchdown run and a 28-21 game with 1:11 to go.
A recovery of the onside kick avoided any further disasters.
Cielocha finished 12 of 23 passing with one score, one interception and 215 yards. The run game only amassed 108 yards on 36 carries, and Borchers had 100 of that on 29 touches. Oakley was held out of the end zone but caught seven passes for 106 yards.
The defense, which was gashed for 333 yards on the ground last season by Battle Creek, held the Braves to 84 on 47 attempts and 202 through the air on 17 of 28 passing with one touchdown and one interception.
Scotus is 4-0 for the first time since the championship season of 2015. The Shamrocks return home next week to face 1-3 West Point-Beemer. The Cadets captured their first win Friday 62-41 over O'Neill.
"Through Week 4 I think we've proven that we can stand toe-to-toe with some of the better offenses in our class," Linder said. "There's still some things to clean up. Our linebacker play can be better, our pad level can be lower, but when you've got guys that are playing 40 out of 48 minutes that are really tired but who still find a way to dig deep, I'm just really happy with the guys identifying critical situations and finding a way to win those individual battles."