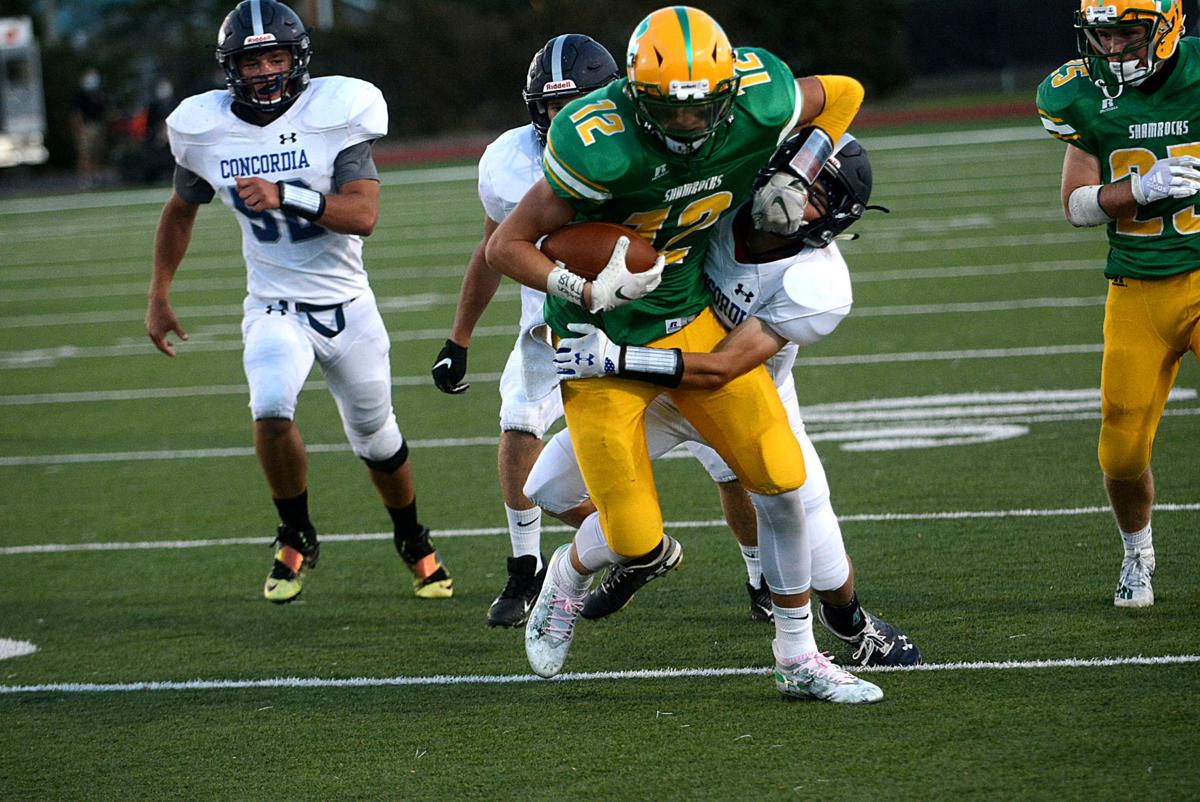 If Scotus Central Catholic can get its football season turned around, the fixes will be obvious according to coach Tyler Linder.
Turnovers, failing to take advantage of down and distance opportunities and mistakes on special teams are obvious on film and in the stats. There are no mysteries about the recent troubles, Linder said.
But of course, identifying the problems then eliminating them are vastly different.
"Our guys focus is still there. They understand that it's not like you lose a game because of a pure swing of the pendulum. There's a reason why we lose," Linder said. "So, we're trying to go back to basics and find the areas we need to improve on. Our morale is still high. Nobody is happy being a 1-4 football program, but we understand why. We're not pointing fingers."
Scotus' major issues have been on defense where the Shamrocks have allowed running backs to rush for more than 260 yards in each of the past two games.
Friday they'll face a North Bend team coming off a cancellation due to COVID-19. The Tigers haven't been quite as explosive as what the Shamrocks have allowed to West Point-Beemer and Battle Creek in the last two weeks. But while the Cadets and the Braves have capable, talented backs, the Shamrocks have capable, talented defensive linemen and linebackers that have been out of sorts.
All respect to the opponents, Linder said, but there's also an element of Scotus burning itself on that side of the ball that has allowed running backs to take advantage.
"It sounds like coachspeak, but it's about dialing in and doing your job," he said. "You can look at our games and point to different units on our defense falling short. But in the last two losses ...football really comes down to tackling and blocking. If we don't tackle well, and we give up yards after contact, or we have missed tackles and assignments, that's the nail in the coffin.
"We're trying to remind guys that they don't have to do too much."
Overthinking and trying to make every play is symptomatic of a losing streak. Scotus has nearly 20 seniors, and on a team with that much experience, and with several in their final year of football, the pressure begins to mount when the losses mount. Linder and his staff are trying to relieve that pressure with positive reinforcement - celebrating whenever a play is made now matter how big or small.
Make enough of them in a row, the thinking goes, the pressure is relieved, players start to trust one another more and everything falls into place.
"Nobody's happy being a 1-4 team, so you try to do more; you try to overcompensate for our struggles. When you do that, and you start focusing on things outside your primary responsibility, that's when you yourself become vulnerable to missing an assignment," Linder said. "...It comes down to individual responsibility and doing your job the best you can."
Linder might have a few tricks up his sleeve in that regard. He and North Bend coach Ryan Stieren are both Fremont Bergan alumni that were on the same staff at a now defunct school in Omaha for a few years.
Linder's a defensive guy; Stieren an offensive guy.
"I'd like to say we have the advantage here. You want to play the underdog role to get guys motivated, but realistically, our personnel matches up really well with what they want to do," Linder said. "They're the first spread team we're going to go up against this year. The strength of our team is in our speed and athleticism."