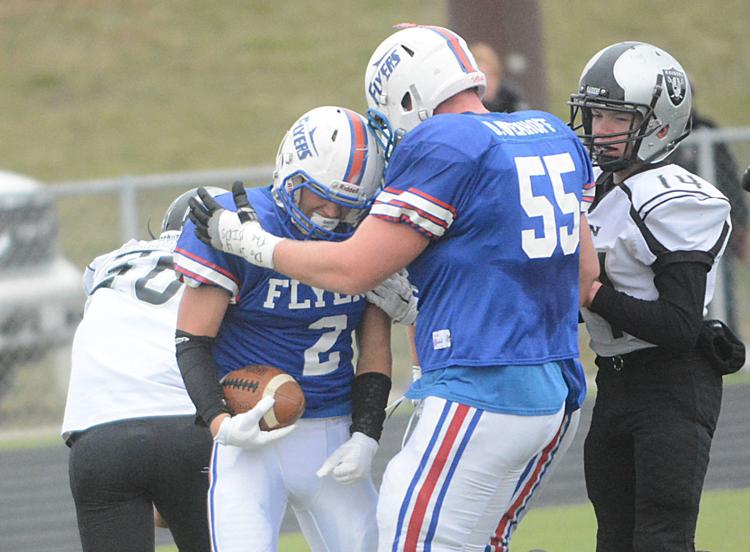 One of the most vivid memories in the life of Humphrey St. Francis football coach Eric Kessler goes back to 1996 and the second of back-to-back state championships for the Flyers.
Kessler, a St. Francis alumnus, wasn't on that team. His brother Dustin was. That fact alone speaks to the gravity of the moment considering Eric played his final snaps as a Flyer two falls earlier.
Yet, there was a tremendous sense of pride, and perhaps relief, for all former Flyers when the 1996 squad finally slayed an old nemesis.
After losing to Falls City Sacred Heart in season-ending playoff losses in 1989, 1990, 1992 and 1993, the 1996 St. Francis team finally broke the hex and won 33-26 en route to the state championship.
Such has been the case for the two schools whenever they meet. The Flyers and the Irish have locked horns 10 times since 1989. Seven times, the winner has gone on to win the state title. One other time, it ended with a runner-up.
Only twice has the victor failed to play for a trophy.
That will be the case again on Monday when Sacred Heart travels to Humphrey for a 4:30 p.m. D-2 state semifinal game. The winner gets the winner of Overton and Pleasanton a week later at Memorial Stadium for a shot at yet another trophy.
"I know both teams, we take it one week at a time, and we don't look ahead. But it seems like we often have to go through one another to get to where we want to go," Kessler said. "Especially this year when we both have so many players coming back, you figure we'd probably end up having to face them at some point."
For those that can remember back to 30 years ago, Sacred Heart was simply unbeatable. The Irish won six straight D-2 championships from 1989-1994 and went unbeaten in all of those seasons. They won a Nebraska record 87 games in a row from 1989 up until a quarterfinal playoff loss to Table Rock-Steinauer in 1995.
St. Francis lost to Sacred Heart during that run 44-23, 62-16, 50-19 and 58-13. The Flyers and Irish met five times from 1989-1996, then didn't play in the playoffs again until 2012.
St. Francis has had the better of the results since the series resumed, winning three of five including last year 54-36.
Hall of Fame coach Doug Goltz has coached each of the Irish's eight championship teams, amassing 318 wins over that time span.
Kessler took over in 2003 and hasn't been too shabby himself, leading the Flyers to the playoffs every season while winning two state titles and playing for a state title two other times.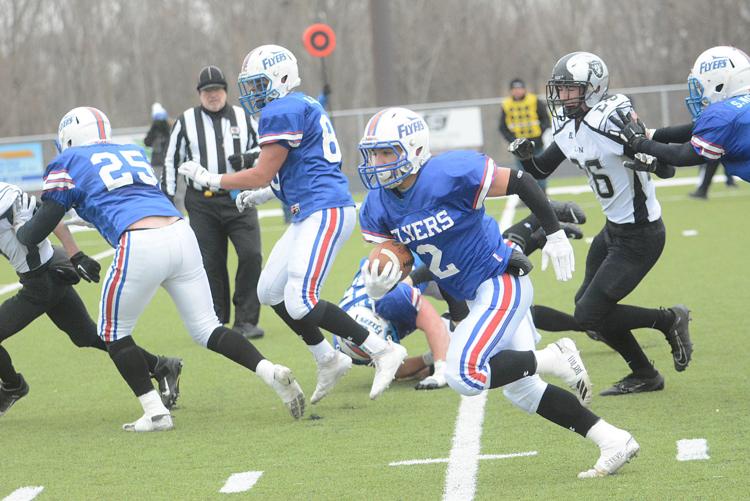 "The early '90s, they were just tremendous, and they've been good through the years," Kessler said. "We've played them fairly frequently the last 10 years or so. It's been pretty even. I don't know what the record is, but we've won some, they've won some. It's been a good rivalry."
Both come into Monday 11-0 and with few challenges along the way.
Sacred Heart is scoring over 54 points per game while allowing just over 10. St. Francis has totaled over 62 and allowed just 8.4.
The closest game the Irish have played was a 54-26 victory over Lawrence-Nelson in Week 2. The Flyers smallest margin of victory is exactly the same - a 54-26 win over Plainview in the last game of the regular season.
"It makes it difficult because they're really well-coached and they're really good athletically. It is definitely a challenge," Kessler said. "We know they'll be very prepared, they'll be motivated to play well and they're very familiar with the things we do. The challenge is the quality of their program and beating a good team."
Both teams have beaten Clarkson/Leigh and Lawrence-Nelson though St. Francis was slightly more dominant, defeating the Patriots by two more points and the Raiders by 19 more points.
Kessler is interested to see which side wins the battle up front and expects a close one where even one turnover could be a disaster.
"We realize this is going to be very difficult, a 50/50 type of game. We're stressing little details, little things that could make a difference in the game," he said. "Whether that's little things in special teams, taking the correct angle on a certain type of block, ball security, just reinforcing those things. When you have a veteran team, you can spend a little more time on the smaller details."
Get in the game with our Prep Sports Newsletter
Sent weekly directly to your inbox!