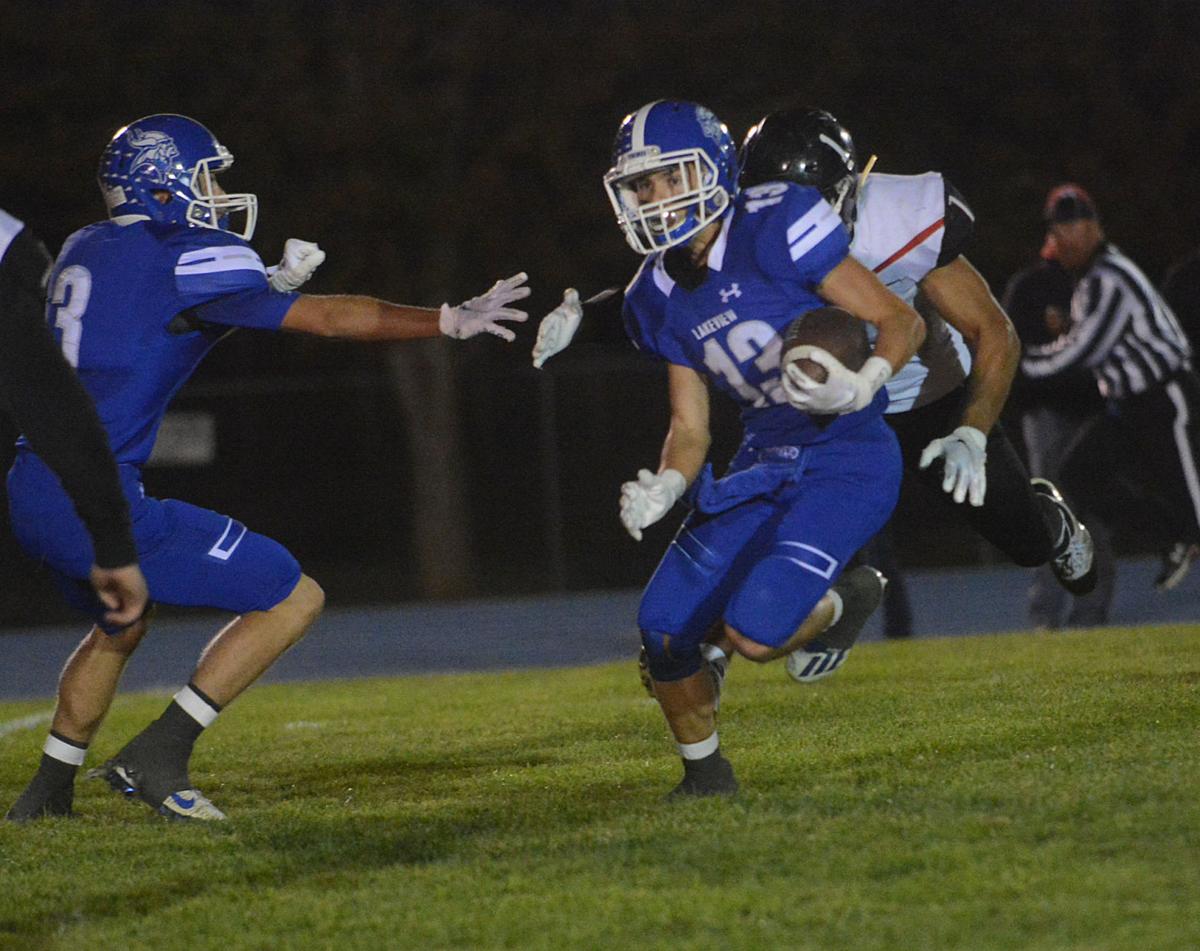 Lakeview has been playing from behind in basically every game since the opener. Granted, there have been a handful of leads mixed in, but for the most part, the Vikings have surrendered the first points and faced an uphill climb the rest of the way.
Whether or not that has had any effect on the team's energy and effort, coach Kurt Frenzen won't make any excuses in that regard. But in the midst of a five-game losing skid, there's bound to be doubt and hesitation.
Snapping the second five-game skid in two years means overcoming those mental hurdles before anything else.
"I've got guys that are giving effort throughout the whole game, and then I've got some guys that are here or there because of fatigue or paralysis by analysis or whatever it may be," Frenzen said. "We play slower and that has definitely cost us."
Lakeview actually led last week following an early West Point-Beemer fumble inside its own red zone. But the Cadets scored the next 28 points including after a successful onside that the Vikings had prepared for but were caught off guard nonetheless.
The week prior there was a 22-0 deficit after the first 12 minutes and a 43-0 hole at halftime. Lakeview overcame two deficits at Lincoln Christian and lead into the fourth quarter but lost on a Crusader touchdown midway through.
It was a 9-8 lead over Wayne at halftime but Lakeview produced just two second-half points. Pierce put Lakeview down 28-7 before halftime in Week 2.
During the five-game skid, the Vikings have scored 21 first-quarter points and allowed 50. Throughout the first half, the opponent has had a total point advantage of 64-37.
It's sort of a chicken/egg situation. Is poor effort leading to poor starts or do poor starts wear on the team emotionally and affect effort?
Frenzen isn't exactly interested in an explanation. Part of creating success means dealing with adversity and overcoming bad breaks by playing hard regardless.
"It's one of those things where, when you get into a year like this with a team lacking confidence, you're waiting for the next bad thing to happen. We're stuck in a rut right now," he said. "How do you get out of that funk? You've got to take the game in portions and go play by play. We have to get tunnel vision somehow, some way, and focus on the play that is actually going on at the time."
Friday that will mean focusing on a North Bend team that will sling the ball all over the field. The Tigers lost 48-28 at Scotus last week but led 7-0, 14-7 and 21-14. North Bend threw the ball 41 times last week and ran it 31 times.
Lakeview has faced a passing offense before, two weeks ago against Central City. But quarterback Kale Jensen had much more ability to throw it all over the field than North Bend has shown this season.
Perhaps an opponent with a short passing game built on timing is exactly what the Vikings need. They haven't been able to withstand the physical nature of bigger, strong opponents thus far. North Bend could be an opportunity for Lakeview to be the team setting the tone.
Regardless, Frenzen knows his team has to stop beating itself before it can beat anyone else.
"It's all mental," he said. "For us, personally, I know we have athletes and we can play in space. But are we going to have the mental capability to play with passion for four quarters and get to the football with numerous people? That's the thing I'm looking forward to seeing answered tomorrow night."
Get in the game with our Prep Sports Newsletter
Sent weekly directly to your inbox!