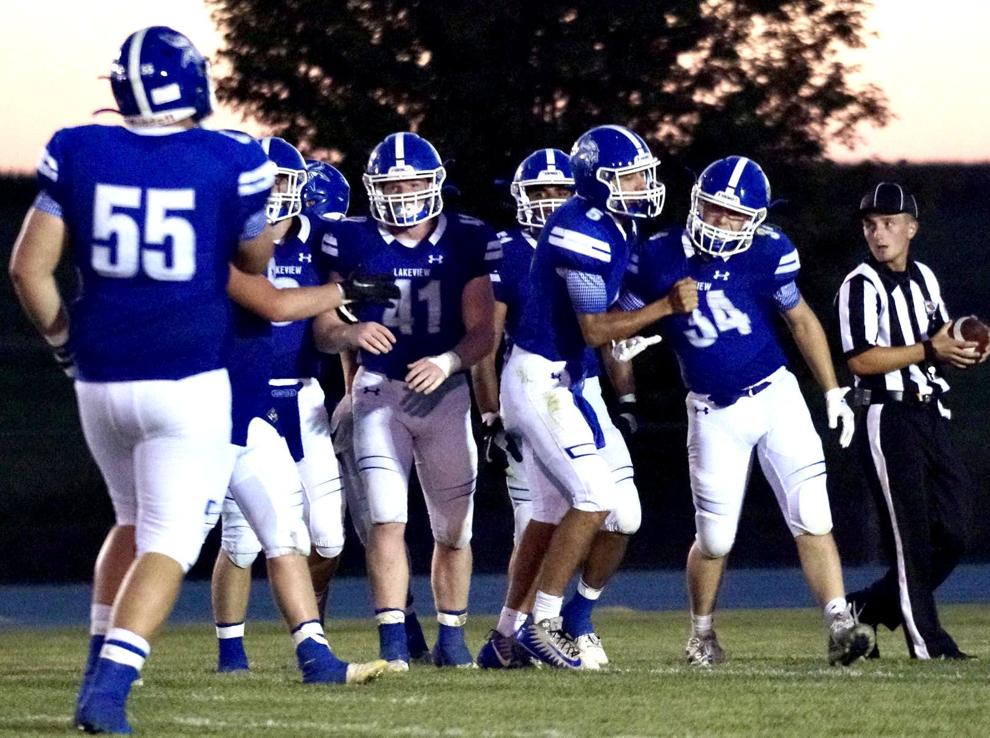 Marquee matchups at the top of Classes A and B last week mean that a pair of teams claim No. 1 rankings for the first time this season. Plus, a newcomer to the ratings in Class C-1 could shake things up next week.
Class A (Rec.) | Pvs.
1. Millard South (4-0) | 2
2. Bellevue West (3-1) | 1
3. Omaha Westside (4-0) | 3
4. Creighton Prep (2-2) | 7
5. Elkhorn South (3-1) | 5
8. Lincoln Southeast (3-1) | 4
9. Lincoln East (3-1) | 10
10. North Platte (3-1) | -
Contenders: Kearney, Columbus, Millard West, Papillion-La Vista.
Comments: Kansas State sees Millard South's Gage Stenger as a linebacker for college, but the Patriot senior is one of the state's best quarterbacks, too. He proved that in Millard South's 42-28 win over Bellevue West, and the Patriots are now the team to beat in Class A, with Bellevue West only falling one spot to second. The big mover this week is Creighton Prep, which takes Lincoln Southeast's spot in fourth after dismantling the Knights 41-7. With its only losses coming to the No. 2 and No. 3 teams directly above it, there's no reason that Prep shouldn't be a top-five team. Of course, Elkhorn South and Gretna are equally close in terms of challenging at the top of the class, and Omaha Burke is coming into its own during a three-game winning streak. Millard West's win over Kearney puts North Platte back in the top 10.
Class B (Rec.) | Pvs.
Contenders: Northwest, Scottsbluff, McCook.
Comments: Bennington not only staked its claim to the top spot in Class B, but it also did it in blowout fashion with a 42-7 win over Omaha Skutt. The big loss sends defending champion Elkhorn in second place, even if three of the Antlers' wins have come by two points or fewer. Plattsmouth's offense continues to impress, while Seward and Beatrice picked up close wins to remain unbeaten. Waverly stays in fifth by virtue of its close losses to Elkhorn and Omaha Skutt, with Norris and Aurora also improving to 2-2 last week.
Class C-1 (Rec.) | Pvs.
2. Ashland-Greenwood (4-0) | 2
3. Kearney Catholic (4-0) | 3
4. Columbus Scotus (4-0) | 4
5. Boone Central (4-0) | -
7. Columbus Lakeview (2-2) | 8
9. Battle Creek (3-1) | 9
10. Broken Bow (3-1) | 10
Contenders: Cozad, Wahoo, Adams Central, Chadron, Platteview.
Comments: Boone Central, it's your time to shine. The Cardinals' Week 1 win over Norfolk Catholic looks better and better by the week, and back-to-back 46-point efforts have shown the strength of Boone Central's rushing attack. It has a prime opportunity to make even more noise when No. 1 Pierce comes to town on Friday. Ashland-Greenwood managed to hold off Wayne, which remains in sixth after its first loss of the season. Wahoo and Adams Central both tumble out of the ratings, while Battle Creek and Broken Bow aren't penalized for losses to strong opponents and Auburn re-joins the ratings in eighth.
Class C-2 (Rec.) | Pvs.
1. Archbishop Bergan (4-0) | 1
2. Norfolk Catholic (3-1) | 5
4. Oakland-Craig (3-1) | 2
5. Wilber-Clatonia (4-0) | 4
8. Lincoln Lutheran (3-1) | -
9. Hastings St. Cecilia (3-1) | -
10. Hartington CC (3-1) | 10
Contenders: Centennial, North Platte St. Pat's, Sutton, Crofton
Comments: After opening its season with a loss, Norfolk Catholic has now reeled off three impressive wins in a row, including its 20-14 victory over Oakland-Craig last week that vaults the Knights into second. Lincoln Lutheran rises to eighth following a win over Sutton, and the Warriors have another top-10 matchup with Yutan this week. Hastings St. Cecilia makes its first ratings appearance over a host of deserving contenders which could easily slot into the top 10.
Class D-1 (Rec.) | Pvs.
2. Dundy Co.-Stratton (4-0) | 2
4. Howells-Dodge (4-0) | 4
5. Cross County (4-1) | 5
7. Lutheran Northeast (4-0) | 7
8. Neligh-Oakdale (3-1) | 8
9. Weeping Water (4-0) | 9
10. Laurel-Concord-Coleridge (3-1) | 10
Contenders: Arapahoe, EMF, Bertrand, Arcadia-Loup City, Anselmo-Merna, Humphrey/LHF
Comments: In a very uneventful week for Class D-1, every team in the top 10 won its matchup, so there are no changes. EMF, Anselmo-Merna, Arcadia-Loup City and Arapahoe are undefeated teams that could break into the top 10 over the next couple weeks.
Class D-2 (Rec.) | Pvs.
1. Sandhills/Thedford (4-0) | 1
4. Falls City SH (3-1) | 4
6. Johnson-Brock (3-1) | 7
Contenders: Leyton, Pleasanton, Bloomfield, Ansley-Litchfield, EPPJ, Mullen.
Comments: The top five teams in Class D-2 took care of business last week, but there's plenty of movement below them. Riverside is averaging 61.5 points per game and has an upset opportunity against No. 3 Humphrey SF this week. Osceola's only loss this season is to Riverside, and Pender also joins the ratings after defeating Bloomfield.
Six-man (Rec.) | Pvs.
1. Cody-Kilgore (4-0) | 1
4. Arthur County (3-1) | 4
6. McCool Junction (2-1) | 7
9. Parkview Christian (2-1) | -
10. Pawnee City (2-1) | 6
Contenders: Wallace, Spalding Academy, Wilcox-Hildreth, Hay Springs, Crawford.
Comments: Arthur County hosts Potter-Dix in a premier six-man matchup next week, while the likes of Red Cloud, Franklin and Silver Lake remain undefeated. Parkview Christian joins the ratings following a win over Pawnee City, while Wilcox-Hildreth drops out with a loss to Wallace.