COLUMBUS — After Thursday night's season-opening loss to Class B, No. 8 Seward, Lakeview head volleyball coach K.C. Belitz told his players to trust the process.
It didn't take long for that process to start producing results.
The Vikings went 2-1 in Saturday's Shamrock Invite, including a dominant victory over rival Scotus Central Catholic, and finished third in the tournament that featured three ranked teams and a ratings contender.
Belitz said the performance raises the bar for the young team, which returned just two starters from last season, and shows his players how good they can be.
"I think they earned some confidence today," the Lakeview coach said.
Lakeview opened the tournament hosted by Scotus with a 25-14, 28-26 victory over Twin River, setting up a semifinal match with Class C-1, No. 3 Wahoo Neumann.
Although the Vikings fell 25-23, 25-15 to the Cavaliers, Belitz couldn't complain about the way his team played.
"Obviously Neumann is a nice team and we felt like we competed pretty well," he said.
The Vikings played even better against Scotus, taking the Shamrocks down 25-16, 25-17 in the third-place match.
"That was certainly as complete of a match as this group has played together," Belitz said.
He gave his players credit for making progress in areas that weren't as sharp during Lakeview's preseason exhibition match and Thursday's season opener.
"We just played way better defense today than we had," Belitz said.
Senior Brooklyn Wilke led the Vikings with six blocks during the tournament, and junior Britney Stock had four. Telegram Super Senior Mallory Gotschall paced the team with 36 digs while Abby Kapels, Ali Janssen and Sydnie Voichoskie all recorded more than 20 each.
The Vikings also did a better job in the serve-receive department, according to Belitz, which led to a balanced offensive attack.
Kapels, a junior, hammered home a team-high 17 kills, and Wilke added 16 kills and five aces.
Janssen also had double-digit kills with 11 and the senior led Lakeview with 35 assists. Junior Kassidy Soulliere recorded 32 assists and four aces.
Lakeview (2-2) hosts York on Tuesday.
The Shamrock Invite was a bit of a roller coaster for the host school.
Scotus started strong with a 25-21, 23-25, 25-17 victory over top-ranked and defending Class C-2 state champion Stanton before dropping its final two matches.
"We were happy with the way we played against Stanton. They are definitely a solid team," said Scotus head coach Janet Tooley.
The Shamrocks took the first set 25-21 against Class C-2, No. 3 Hartington Cedar Catholic before the Trojans stormed back to win the final two sets 25-19, 25-13 and send Scotus to the third-place match against Lakeview.
Cedar Catholic also came from behind against Neumann, winning 23-25, 25-21, 25-20, to claim the Shamrock Invite title.
Scotus was forced to play back-to-back matches against Cedar Catholic and Lakeview, and Tooley admitted her players were a little tired while facing the Vikings.
Still, she gave Lakeview credit for playing a solid match while noting that her team must be prepared to battle for five straight sets moving forward.
"If we want to achieve our goal this season, we're going to have to get tougher mentally," she said.
Senior Elley Beaver led the Shamrock attack with 23 kills, although she was shut out by Lakeview, which limited Scotus to just eight total kills after the team recorded 68 in its first two matches. The Shamrocks had 40 kills in their victory over Stanton.
Courtney Kosch added 16 kills for Scotus, Bailey Lehr had 13 and Madison Kerkman and Shania Borchers recorded 10 each.
Borchers, another senior, powered the Scotus defense with 11 blocks, including six of the team's 18 against Stanton. Lehr had eight blocks, Beaver recorded five and Kosch and Kerkman were good for four each.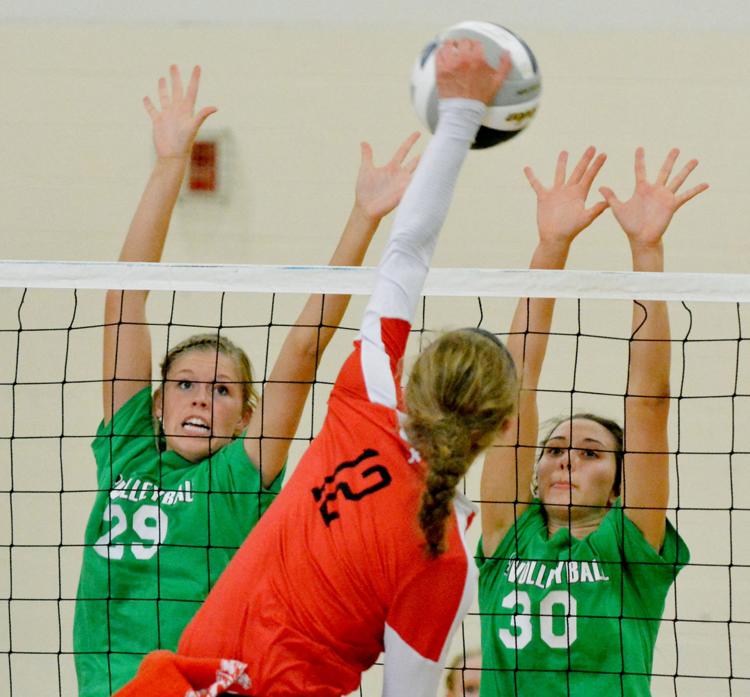 Kayla Hall had a team-best 27 digs in the tournament, Abbie Zoucha recorded 19 and Kosch tallied 17.
Beaver added to her strong stat line with 20 digs and a team-leading five aces.
Zoucha finished the tournament with 52 assists despite being held to just two against Lakeview.
"We're trying to find our consistency," Tooley said. "We've got elements. Parts of our game we just need to work on putting together."
The Shamrocks (1-3) play Friday and Saturday in the Omaha Bryan Tournament.
Twin River went 0-3 in the Shamrock Invite after starting the season Thursday with a victory over Osceola.
The Titans fell to Lakeview, Norfolk Catholic (25-19, 25-19) and Pierce (25-16, 25-21).
Senior Alexis Borowiak had a solid tournament for Twin River with 17 kills, 17 digs and two aces, and junior Madison Ternus added 11 kills and two aces.
Natalie Held led the Titans with 20 digs and Gabi Wieck recorded 19 digs to go along with a team-best 38 assists.
Twin River (1-3) plays in a triangular Tuesday against Tekamah-Herman and Logan View in Tekamah.