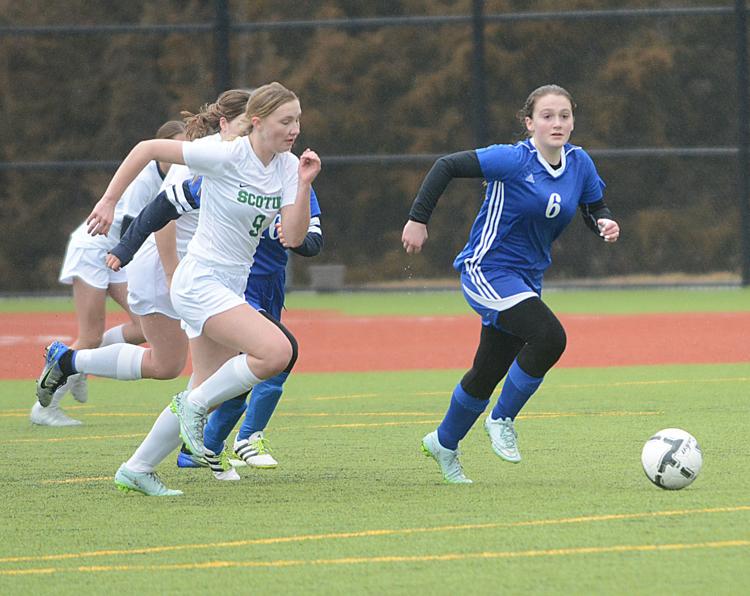 Editor's note: Although the spring sports season remains in question, the Telegram will continue to provide season previews for each of our teams. Some photos of this year's athletes were acquired before schools were closed. For others, we shall hope to have events to cover in the weeks ahead but will have to rely on file photos in the mean time.
Lakeview girls soccer has built a program of success in recent years, advancing into the district finals in each of the last three.
Challenging for state is again the goal in 2020. But unlike recently when Lakeview had a large group of experienced talent to rely on, the program is left with more questions and fewer proven players on the roster.
The Vikings only have three seniors among this year's group: Ashley Behlen, Becca Valdez and Kallie Langmack. That trio will be asked to bring a relatively young group along quickly.
After the graduation of the top scorer, top passer, top defender and top goalkeeper, the only thing certain is uncertainty.
Behlen, Valdez and Langmack have a roster of 26 to work with and develop into a contender.
"People think maybe we'll drop off a little bit, but I think if we get the people in the right positions then we'll be fine," head coach Mike Zimmerman said. "I know we made substate the last three years, and you know, that's the girls goal. They want to just keep the program going in that direction, and it's up to me to just get those girls in the right spot and coach them up to where they just keep that program going in the right direction."
The Lady Vikes relied on a nine-member senior class in 2019, six of which were regular contributors at every position on the pitch. Many of those nine had been a driving force since their freshman year. In four years of players such as Gracie Borer, Makenna Klug and Emma Williams, Lakeview won nearly 40 games and had a winning percentage of over .600.
Granted not all of the credit can go to the Class of 2019, especially early in the girls careers, but the program certainly changed its direction once they arrived.
Lakeview went 13-4 in 2009 then had losing seasons in five of the next six. None of those six included double digit wins.
Once last year's group advanced into varsity play, the Lady Vikes had back-to-back 10-7 seasons then went 9-3 before last year's 8-4 mark.
As time went on, Zimmerman had less to coach each spring with a more and more experience team. That's not the case this year.
Regardless, a standard has been set. Those who either remain in the program or are newcomers are eager to establish their own legacy.
"The girls are putting in hard work and it's actually a really fun team this year to coach," Zimmerman said. "They're excited and they want to keep all the wins coming in and keep making it to substate and maybe take that extra step to win that substate game and get to state." 
In order to achieve that goal, Zimmerman said he believes Lakeview will have to take advantage of its offense. Defense could be a question, forcing the Lady Vikes into a scenario where success means winning high-scoring contests.
"Offensively, we've got some strengths," Zimmerman said. "Defensively will probably be our weakness. I've moved some girls around from where they started last year and where they didn't play much, and that'll just kind of be the key to fitting the inexperienced girls around veteran girls. So, if everybody just kind of buys into where they're moving in on the field (it could be a successful year). 
Beyond the leadership of the seniors, Zimmerman believes sophomores Carly and Emily Schaad will be key to team development.
Carly received playing time on varsity last year and hopes to take a step up in competition. Her sister Emily has also made major improvements since a year ago. 
"She's been really good in the offseason and practicing really well," Zimmerman said. "We've just got so many young players on the team are athletic but they just haven't played much soccer. So, I'm starting really fresh with those. But they're excited to play and just get the fundamentals down at first, which takes time."
Lakeview likely won't have that time this year. The season was pushed back to April 6 then suspended again by the NSAA until May 1.
For a young group that has to build an identity and a chemistry, that may not be possible, if play ever resumes.
"If you don't get that group of club players in that know those fundamentals," Zimmerman said, "then you have to start from the bottom and just kind of build them up."
Peter Huguenin and Nate Tenopir are a sports reporter and the sports editor for The Columbus Telegram. Reach them via email at sports@columbustelegram.com.
Get in the game with our Prep Sports Newsletter
Sent weekly directly to your inbox!