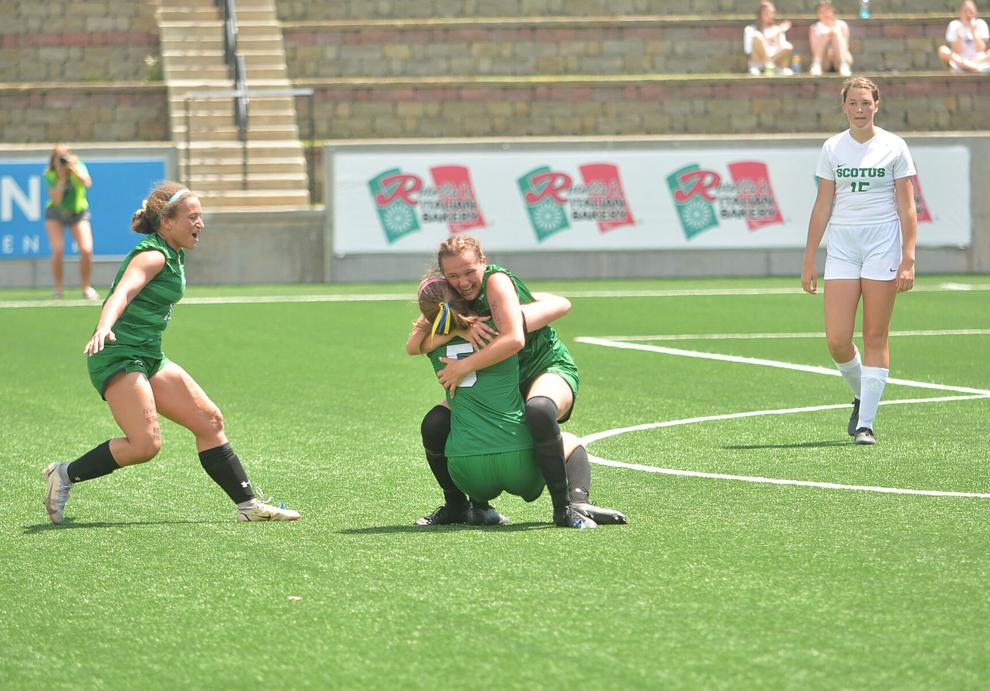 OMAHA – The Shamrocks were about to survive 40 minutes of defensive soccer when, perhaps, that very thought crossed their mind and gave way to a devastating letup. Skutt Catholic sophomore Addison Burt took advantage and made Scotus pay for it.
With the first half clock ticking inside the final minute, Burt took a pass over the top for a counter attack and made a run down the slot toward the Shamrock goal. The Scotus defense kept backing up and gave Burt 10 yards of space from about 30 out and she let it fly. Her rising shot sneaked over the fingertips of Scotus goalkeeper Faith Weber, off the post and to the back netting.
Freshman Presley Douglass added a second in the 49th minute and senior Elizabeth Rosenthal a third at 62 minutes once play resumed after a lightning delay and finalized a 3-0 Skutt Catholic Class B state semifinal win over Scotus Central Catholic on Saturday at Morrison Stadium.
Scotus had just one shot in the game, lost 22-goal scorer Libbie Brezenski to injury, saw defender Shelby Brandenburg go down and resembled the walking wounded once the match reached its conclusion. The loss ends Scotus hopes for a first state title in 20 years. The Shamrocks finish 16-3 and graduate three seniors.
"That was a killer," Scotus coach Kristie Brezenski said of Burt's goal. "We were like, 'Just get to half and we can make another game plan.' But dang it, she got that shot off and it was legit, it was a great shot."
Skutt piled up 17 shots and seven on goal in a first half that saw the Skyhawks possess throughout and mostly force the Shamrocks into a game of keep away. Weber was up to the task for the first six shots, and her defense answered the call each time Skutt created a threat. But with senior Liz Adamy lost to season-ending injury on Wednesday and freshman Becca Kosh not quite 100% all season, the defensive corps was already hanging by a string.
Inexperience and fatigue reared its ugly head when Burt was allowed to carry the ball forward 20 yards and find an open shot from 30 yards out. The Scotus midfield had come forward for a last-minute chance at some offense and was caught upfield. Burt took the pass near midfield and had all kinds of room to dribble into scoring position.
"Experience down here on the field is huge," coach Brezenski said. "We had kids dropping all over. We didn't have Libbie, we didn't have Liz, we didn't have Becca, we didn't have Shelby at the end. We were fighting as much as we could."
Scotus had the best chance, prior to Burt's goal, of the first half in the 22nd minute following a free kick by Maysa Kuhl. Kuhl lofted a pass from about 10 yards past midfield on the west sideline that landed inside the opposite side of the box where junior Lacie Hartman was waiting. The Aquinas Catholic junior had a split second with space to maneuver, but with one chance she didn't get a good foot on it and sent it weakly past the right post.
The Shamrocks didn't generate anything else notable until a corner in the 61st minute and an Emma Brezenski liner on frame from distance in the final minute.
The game went into a weather delay for lightning to the northwest of Omaha in the 63rd minute. It was an opportunity for Scotus to catch its breath, but down three starters, and two goals, there was too much to overcome.
"After halftime it became, 'We've got to get one score, how do we get one score?' We went back to our 4-3-3, and a girl cut inside of our backside defender and got another goal," coach Brezenski said. "Again, a little inexperience. But that's OK; we'll be back."
Lakin Appell served in the cross for Douglas' header goal just eight minutes into the second half. The match was suspended for lighting when Skutt was on another attack and hard earned a throw at the sideline to the right of the Scotus goal.
The Skyhawks ended any remaining doubt on what was first an impressive diving stop by Weber. The Scotus junior laid out to her left and deflect a bending shot with one hand. Rosenthal arrived at the loose ball before any Shamrock defenders and slammed it into an open cage.
"Coming out of the lightning break, based on experience, I thought we were going to come out a little strong. So to score in that first minute was a really good thing because I think it shut the other team down," Rosenthal said. "We just kept it up and kept fighting all the way to the end."
Scotus ends the season 16-3 and sees a 15-match winning streak come to an end. That win total matches five years ago when the Shamrocks played for a title. Eighty-seven goals scored is the most in at least the last 19 years since the NSAA began keeping online records - and likely the most ever for the program. Twelve against, or a scoring margin of plus-75 is also likely the most ever.
Emma Brezenski will finish the year as the leader in points and goals in the state of Nebraska and returns next season. So, too, does Libbie, third-leading scorer Izzie Kadavy and the top six scorers overall.
Defenders Kate Maguire and Liz Adamy, and forward Halle Langan, end a Scotus soccer career that included back-to-back trips to state and 42 wins.
"Kate's a great leader in the back, Halle is a silent leader, and losing Liz, she's kind of a silent leader. None of them are really loud but they all wanted to be here," coach Brezenski said. "You feel bad for them, but they did their job - they got us here."