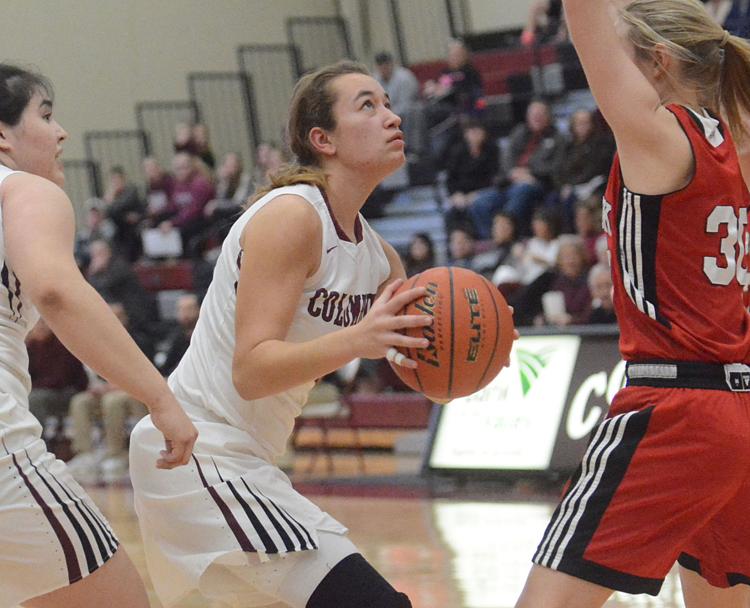 Many coaches finally got to see their athletes when weight rooms opened back up earlier this year, but Columbus High School girls head coach Dave Licari had to wait even longer.
Licari isn't one of the coaches involved in the summer weightlifting program and didn't get to see his basketball team until open gyms were allowed on June 11.
But, that didn't stop Licari from keeping in contact with his team. Once a week he would hold a Zoom meeting with his players so the players could see each other and everyone could check in on each other.
"We would just meet with the kids by grade," he said. "I think it was as much for the coaches as it was for anything, just getting to see the kids."
When the Nebraska Schools Activities Association first allowed for basketball open gyms, there wasn't much flexibility.Players were not allowed to share a basketball and only one player per hoop was allowed. The Discoverers split into three separate 30-minute sessions.
Overall, CHS had just over 30 girls attend open gyms. CHS also had to spread out into three different sessions to get all of its players in.
In addition, Columbus is mixing technology into its summer program by using an app called 'Home Court.' The app allows players to track shooting and ball-handling drills. It also allows them to connect to the app at home and at parks to continue to track their workouts.
After almost a week-and-a-half of restrictions, the NSAA finally allowed teams to start to play each other.
"Those are a much more typical open gyms now, what we're doing," Licari said.
Columbus also has a few team camps planned for the rest of July.
The squad on July 20 went to York and later hosted a team camp a few days later. On Tuesday, the Discoverers will go compete in Elkhorn North's camp.
For Licari, the goal of summer camp is to work on cutting down mistakes.
"For us, it's just to go there and play as clean of basketball as you can in the summer," Licari said about the goal of summer camps. "Sometimes it's a little more ragged because you don't have regular practice time."
Licari said he expects for CHS to get several games in.
The nine games are significantly less than a typical summer when CHS competes in Lincoln Pius X's summer league, but Licari said he is still grateful for the time the team was given.
He also added that he has been impressed by what he has seen in open gyms so far.
"The biggest takeaway I've gotten from open gyms is that we've got some of our girls are more relaxed this year," he said. "I suppose it's just being a year older, a year more experienced. They're just playing more and not thinking so much about everything that they're doing and it really shows."
Last year, Columbus went 7-16 but ended the season winning two of its last three.
The Discoverers are hoping to improve from last year and hope the success this summer is an early indicator.
Columbus will also return some experience with four juniors from last season returning for their senior year - Addi Duranski, Jaleigh Adams-Tuls, Elena Batenhorst, and Becca Hazlett.
With the returning experience, Licari said he's seen fewer mental mistakes on the court. That has him optimistic for next season.
"It's really encouraging," he said. "I guess you would kind of expect that. A lot of those girls played last year with limited or no varsity experience going into it. That will be a big factor in how we play."
Get in the game with our Prep Sports Newsletter
Sent weekly directly to your inbox!