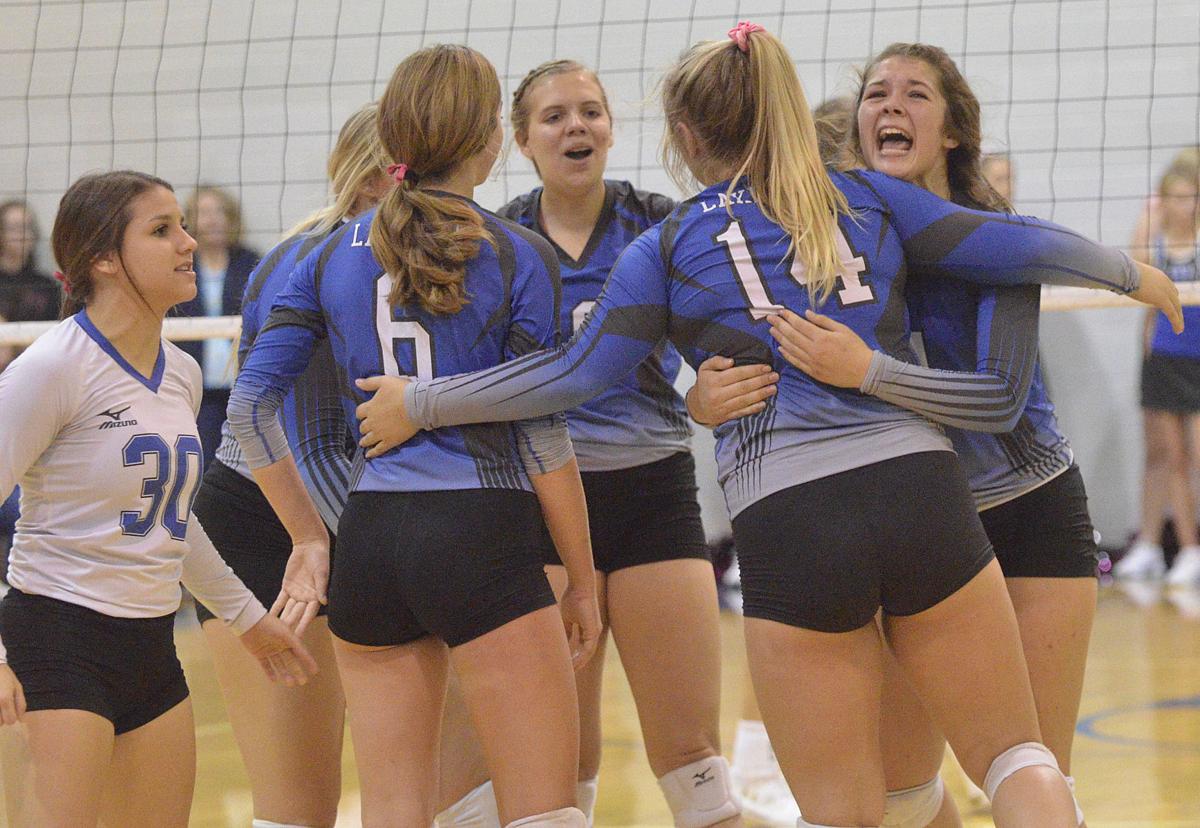 (Records through Saturday)
1. Papillion-La Vista (28-0);1
2. Elkhorn South (23-6);2
3. Lincoln Pius X (22-6);5
5. Omaha Marian (16-10);4
7. Millard North (15-8);7
8. Millard South (21-9);8
9. Bellevue West (17-11);9
10. Lincoln Southwest (14-9);10
Contenders: Elkhorn, Lincoln Southeast.
Comments: Papillion-La Vista continues to dominate Class A, picking up wins over Omaha Marian and Pius X last week. Millard West falls after losing three matches, but has a chance to bounce back against Millard North.
Key matches: Tuesday—Elkhorn South at Gretna, Millard West at Millard North. Friday—Westside Invitational (Bellevue West, Elkhorn, Lincoln Southwest, Millard North, Omaha Marian, Omaha Westside, Papillion-La Vista).
6. Omaha Duchesne (15-11);6
Comments: For the second straight week, Class B remains mostly unchanged. Omaha Skutt lost to St. Thomas Aquinas (Kansas) but remains at No. 1 after Norris defeated Waverly. With multiple top-10 matchups and a conference tournament this week, some surprises may emerge.
Key matches: Tuesday—Omaha Duchesne at Waverly. Thursday—Norris at Hastings, Omaha Skutt at Omaha Duchesne, Central Conference Tournament (Aurora, Crete, Holdrege, Lexington, Northwest, Schuyler, Seward, York).
2. Lincoln Lutheran (24-3);3
7. Norfolk Catholic (17-4);7
8. Columbus Scotus (16-6);6
10. Columbus Lakeview (17-5);9
Contenders: Battle Creek, Gordon-Rushville, Malcolm, O'Neill, Southern Valley.
You have free articles remaining.
Comments: St. Paul picked up two big wins over Columbus Lakeview and Norfolk Catholic to cement its spot atop Class C-1. A 5-0 week propels Lincoln Lutheran over Wahoo, which fell to Waverly. Chadron continued its impressive season with a win over Sidney and has a rematch this week.
Key matches: Tuesday—Chadron at Sidney, Nebraska Capitol Conference Tournament (Arlington, Ashland-Greenwood, DC West, Fort Calhoun, Raymond Central, Syracuse, Wahoo). Thursday—Battle Creek at Wayne. Saturday—Lincoln Christian Invite (Auburn, Lincoln Christian, Lincoln Lutheran).
2. Hastings St. Cecilia (27-3);2
3. Grand Island CC (18-3);3
4. Thayer Central (23-4);4
5. Lutheran Northeast (20-6);8
6. Bishop Neumann (15-8);5
Contenders: Arcadia/Loup City, Cross County, Fillmore Central, Ponca.
Comments: The top four remains unchanged, but Thayer Central could shake things up with a win over Superior this week. Lutheran Northeast is surging, with 13 wins in its last 14 matches, while Bishop Neumann and Lourdes CC suffered losses last week.
Key matches: Tuesday—Bishop Neumann at Norfolk Catholic, Columbus Scotus at Grand Island CC, Lutheran Northeast at Columbus Lakeview. Thursday—Superior at Thayer Central.
5. Central Valley (19-4);4
6. Archbishop Bergan (20-11);5
8. Maywood-Hayes Center (23-0);9
10. Humphrey/LHF (16-7);-
Contenders: Axtell, Cambridge, Fullerton, Hartington CC.
Comments: Diller-Odell dropped its first match of the season, falling in five sets to Fillmore Central. Both CWC and Maywood-Hayes Center have won 23 consecutive matches, while Hartington CC falls out of the top 10 with five losses in its last seven matches.
Key matches: Tuesday—CWC at Burwell, HTRS vs. Johnson-Brock, Sutherland at Maywood-Hayes Center. Thursday—Meridian vs. Giltner.
1. Lawrence-Nelson (20-3);1
5. Nebraska Christian (17-4);6
7. Garden County (20-1);8
8. Anselmo-Merna (16-8);7
10. Falls City SH (15-10);9
Contenders: Giltner, Stuart, Wauneta-Palisade.
Comments: Lawrence-Nelson and BDS remain strong atop Class D-2, while challengers Wynot and Humphrey SF dropped matches last week. There'll be a clash between the top two on Thursday when BDS and Lawrence-Nelson meet in the High Plains Community Triangular.
Key matches: Tuesday—Hartington-Newcastle at Winside, HTRS at Falls City SH. Thursday—BDS vs. Lawrence-Nelson, Meridian vs. Giltner.