COLUMBUS — Aspen Luebbe dropped four strokes off her Round 1 score on the second day of the Class B state tournament simply by playing cleaner golf.
A day after struggling to reach greens in regulation, the Columbus High junior hit 9 of 18 on Tuesday and fired an 80 at Quail Run Golf Course.
"That was the biggest difference for her," Columbus head coach Anne Robertson said. "Just a real solid round."
Luebbe's two-day total of 164 tied her for fourth with Omaha Duchesne's Kristin Goertz. It's the best state finish for a Columbus golfer since 2010, when Morgan Smejkal also tied for fourth.
"I'm pretty happy with it," Luebbe said. "The outcome was what I was hoping for."
Emily Goc gave Columbus a pair of medalists. After Robertson said the senior was capable of shooting under 90, Goc proved her coach right, improving by seven strokes to card an 89 for a two-day total of 185, which tied her for 13th.
"I didn't think I would medal," Goc said. "It's exciting. I had no idea I would get to this point."
Goc said simply taking her time and making sure she had good rhythm on her swings led to the improvement.
"Also, it was warmer," she added.
It's been a rapid ascension for Goc, who didn't join the CHS golf team until her sophomore year and was playing in her first state tournament.
The final five holes of the tournament secured her a medal. Goc played those holes at 1-over par, including her only birdie of the tournament on No. 16.
"What we saw today was that sheer growth over three years," Robertson said. "She was making some great putts at the end. That's what she's capable of."
The Discoverers finished fourth as a team with a two-day score of 762.
"I'm very proud of that," Robertson said.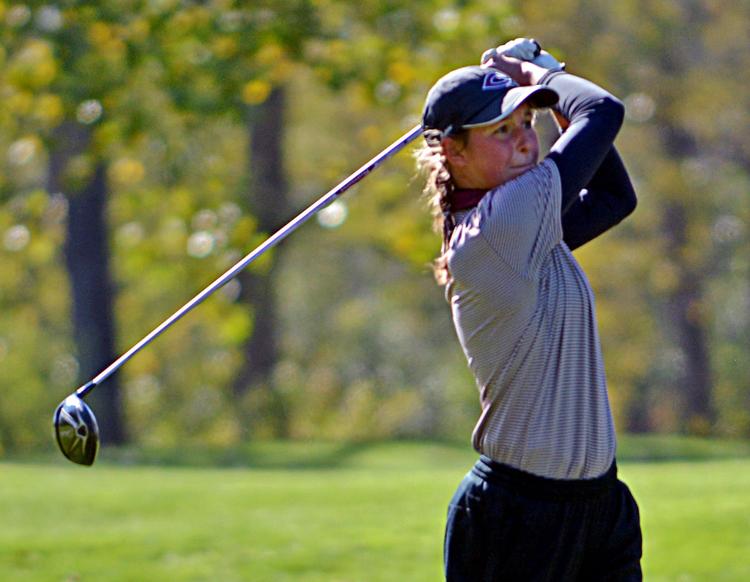 Omaha Duchesne fired a 697 to win its third straight Class B title. Scottsbluff's Shelby Poynter claimed the individual title with a 155.
Columbus High's Emily Rotherham shot a 109 on Tuesday for a two-day total of 201.
"Yesterday things were clicking for her, today they weren't. That's golf," Robertson said.
After not playing her best for the first round and a-half, Ashley Warner finally settled down over her final nine holes, shooting a 48 for a Day 2 total of 106. She had a two-day score of 126.
Amber Sanne shot a 118 on Tuesday and 224 over both days.
With Luebbe, Warner and Sanne returning next year, Robertson is hoping this season won't be an anomaly.
"As a team, they've never experienced this and now I have three girls coming back," Robertson said. "I'm hoping they want state to be the expectation and not the exception."
As for her star junior, who now has a pair of top-10 finishes at the state tournament, Luebbe wants to take her game to another level. This year, she was in the top 10 of every meet and shot under 85 in each one.
"It's been a successful season," Luebbe said.
"I'd like to try to be 80 or better and just keep medaling at every meet," she said.