COLUMBUS — The Scotus Central Catholic girls executed their game plan on both ends of the floor Friday while defeating rival Lakeview to win the Columbus Holiday Tournament.
Eight different Shamrocks scored in the 52-27 victory at Dowd Activity Center and the Scotus defense made life difficult for the Vikings all game.
"They just didn't make a lot of mistakes defensively. That made us work really hard to get some looks," said Lakeview head coach Monte Jones, whose team avoided a season low in scoring by one point.
"I credit their discipline on both ends," Jones added.
Scotus, which has won the holiday tournament seven straight times and 15 of the last 16 years, didn't have any trouble finding its scoring.
Senior Maggie Feehan followed her 15-point performance from Thursday night with a game-high 12 points on Friday. Marika Spencer added nine points for the Shamrocks and Bailey Lehr and Grace Odbert scored eight apiece.
"We moved the ball well and balanced scoring is always good," said Scotus head coach Jarrod Ridder, who also liked the way his team rebounded on offense and defense.
The Shamrocks, who led 28-13 at halftime, didn't allow Lakeview to score more than seven points in any quarter. They blew the game wide open with a 19-point third quarter, including seven points from Feehan and five from Spencer, and were up 47-20 entering the fourth.
"Defensively, we did a good job of stopping dribble penetration," Ridder said. "They're really good off the dribble."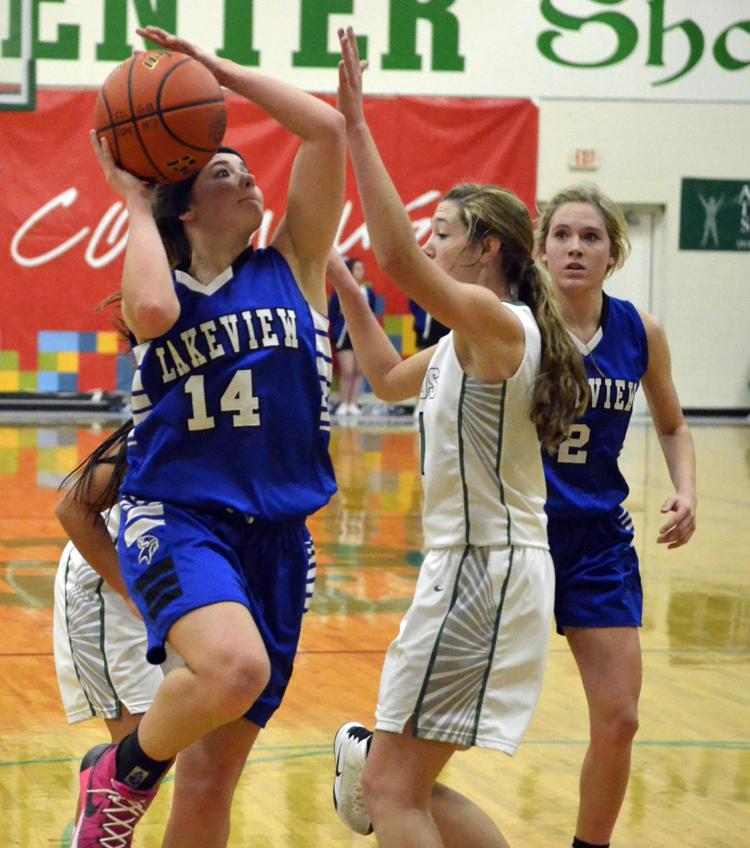 Jones took responsibility for his decision not to utilize a trap defense and dictate the tempo early on.
"I think by backing off it made us tentative on both ends," he said. "I'm going to take the blame for that one. I need to keep my players aggressive."
Junior Makenna Klug led Lakeview with nine points, including both of the team's 3-pointers, and Gracie Borer and Abby Kapels finished with seven points each.
Lakeview (4-4) had won three straight games prior to Friday's loss and reached the Columbus Holiday Tournament championship for the fifth straight year.
"We're making progress in leaps and bounds," said Jones, who called this game a "status check."
"When you play a good, experienced team, they're going to show you where your weaknesses are," he said. "This will be great for us."
The Vikings return to the court Thursday at Douglas County West.
Scotus (7-2), which has won four straight games and is ranked No. 10 in Class C-1, will have a measuring-stick game Thursday when it hosts fifth-ranked Wahoo Neumann.
"We're going to have a big test on Thursday against Wahoo Neumann when they come to town," Ridder said.