COLUMBUS — Scotus Central Catholic started slowly Tuesday against Lakeview, but once the Shamrocks got in rhythm, there was nothing the Vikings could do to slow them down.
After overcoming an 11-2 deficit in the first set, Scotus went on to sweep its rival 25-22, 25-15, 25-14 at Dowd Activity Center.
"This group doesn't like to lose," Scotus head coach Janet Tooley said.
The Shamrocks bounced back from a loss to Lincoln Christian on Tuesday, and avenged a loss to the Vikings earlier in the season.
Tooley noted that the matchup typically comes down to who wins at the service line.
"They won that battle in the first match and it was back and forth through the first set and a-half tonight," she said. "Then we kind of took control."
Lakeview head coach K.C. Belitz agreed.
"(Scotus) clearly played better as the match went along," he said. "We just could not keep ourselves in rhythm."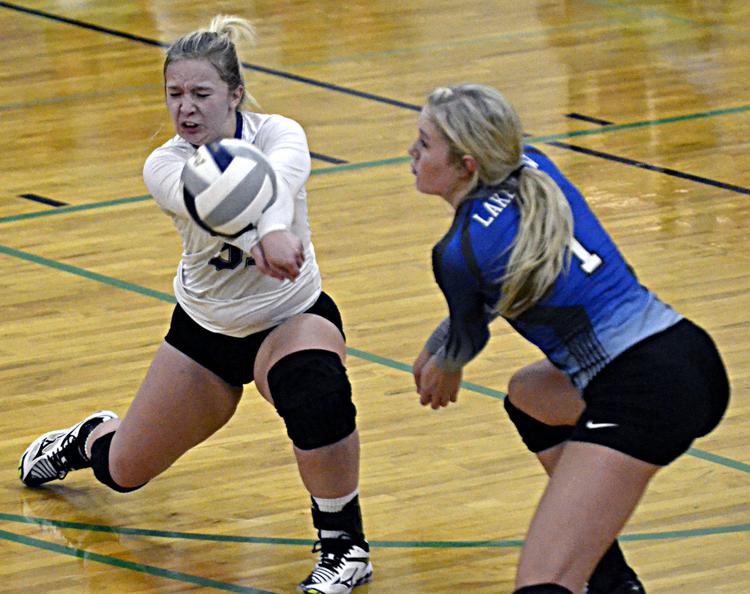 After Lakeview jumped out to that 11-2 lead, the Shamrocks won 14 of the next 18 points to take a 16-15 advantage. They eventually extended the lead to 24-20. Lakeview was able to fight off a couple of match points before Madison Kerkman ended the set with a kill.
"We've got to be able to close out that set with a big lead," Belitz said. "When you let a team come back a whole lot of momentum goes the other way."
The second set was close until the teams hit double digits, then Scotus started to inch away, leading 13-10, then 18-13. After a Lakeview timeout, the Shamrocks won the next three points. This time, it was Shania Borchers who finished the set with a kill.
The third set was all Shamrocks.
"We knew we were going to get their best shot," Belitz said.
Borchers led Scotus offensively and defensively with 12 kills, three aces and three solo blocks.
"Shania attacked intelligently," Tooley said. "She was able to hit some different shots and cut around their block."
Elley Beaver added 10 kills for Scotus and Kerkman finished with six kills and three aces.
Brooklyn Wilke led Lakeview with nine kills and a couple of blocks.
Both teams play in the Columbus Classic tournament this weekend at Dowd Activity Center and Memorial Hall.
The Shamrocks (10-4) will continue to tinker with rotations while trying to develop some depth, but the biggest thing Tooley wants to see is for her team to stop starting so slowly.
"At some point, it's going to come back to bite you," she said.
Lakeview (8-8) wants to break its habit of doing exactly the opposite — starting fast before fading.
"The players will respond and come back ready to work at practice," Belitz said.
Lakeview plays Columbus High in its first match at 9 a.m. Saturday. Scotus faces Norfolk Catholic at 10 a.m.