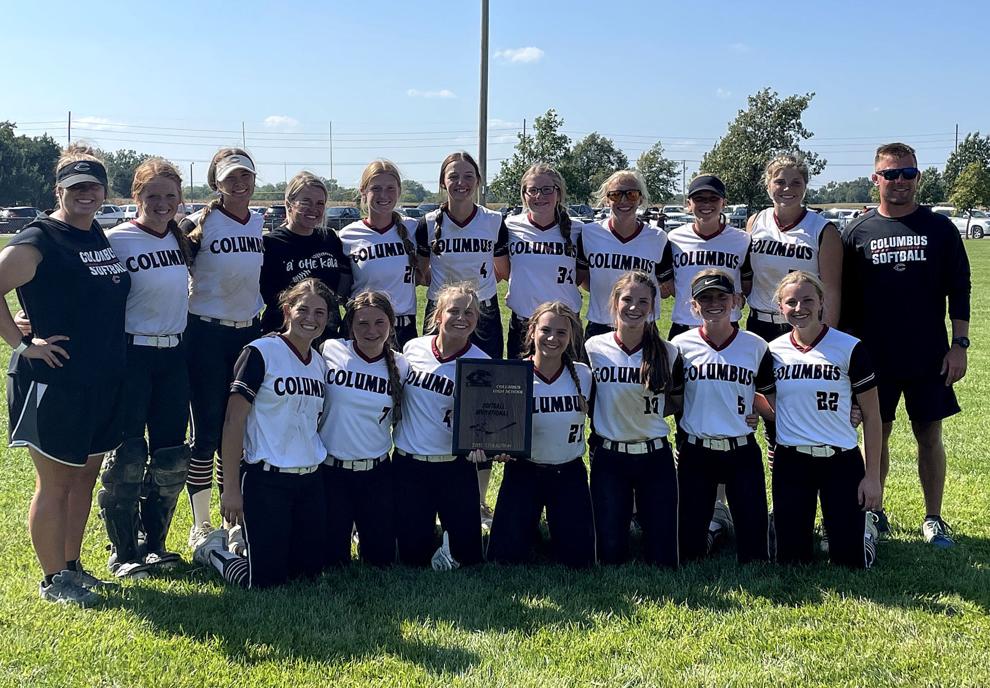 It was definitely more sweet than bitter for a Columbus High softball team that finished 2-1 and lost its final contest of Saturday's home invite.
The final loss was to rival Norfolk, but due to other results on the day, the Discoverers took home the championship trophy. CHS and Elkhorn tied with a 2-1 record but the Discoverers had the head-to-head win and earned the tiebreaker.
Two wins to one loss improved Columbus' record to 13-10 and tied the 2017 season for the highest win total of the last five years. CHS is 8-3 in its last 11.
Columbus defeated Elkhorn 10-3 behind four RBIs from Kelyn Garrelts, took down Beatrice 7-3 with a two-RBI performance from both Addi Kudron and Emma Riedmiller then fell to Norfolk 3-0 when Panther sophomore Jessica Schmidt mowed down 13 Discoverers with strikeouts.
Other results included Elkhorn defeating Norfolk 7-1 and Beatrice 10-1. Beatrice defeated Norfolk 8-1 in eight innings. 
"It was a really good day. We came out the first two games and executed things in the box, were aggressive on the bases, our defense was there, Rylee (Renner) pitched a really good first game and Emma (Riedmiller) came out and did her role in the second game," coach Kelsey Newman said. "Both of our pitchers were spinning, and our defense was backing them up."
Elkhorn scored the first three runs of the opening game and led by that margin after two innings when a leadoff home run by CHS senior shortstop Tayler Braun in the third sparked the offense. Columbus couldn't add on later in the frame but had two more base hits.
The momentum carried over into the fourth where Columbus scored five times and took the lead for good. Addi Heule singled with the bags full then Garrelts blasted a inside the park grand slam to right center.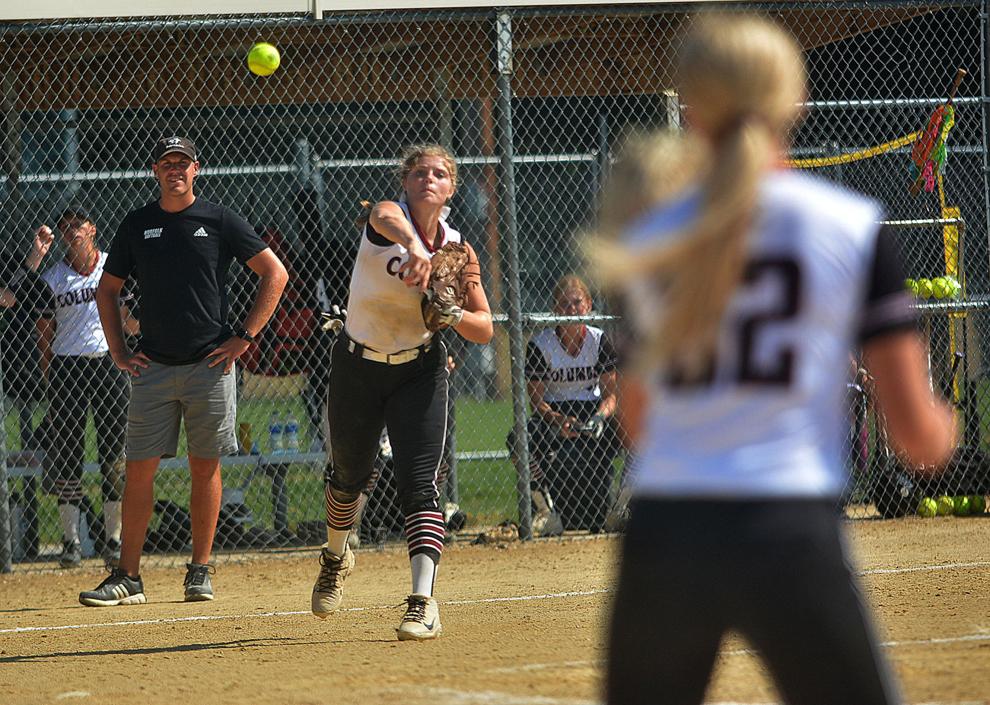 Jordyn Trotta singled in one and Braun two more in the fifth to cap the scoring. Renner tossed all five innings and allowed nine hits, three earned runs, walked two and struck out four.
Columbus never trailed in the middle game thanks to a six-run first. The Discoverers sent 10 to the plate and put up a half dozen on Kudron's RBI single up the middle, Danica Taylor's two-RBI grounder through the left side, Riedmiller's two-RBI double to left field and Trotta's RBI single to right.
A single, fielder's choice and double plated on Beatrice run in the third. The Lady Orange added two more in the fifth on a double, triple and sac fly. Taylor was hit by a pitch and courtesy runner Maddie Berger scored on Hannah Dahkle's RBI single two batters later in the third.
Riedmiller pitched the final four innings and gave up three earned runs on seven hits, didn't walk anyone and stuck out three.
Norfolk downed Columbus in the final game with single runs in the second, third and fifth. A leadoff single, sac bunt and double made it 1-0. Norfolk started the third with another leadoff single and capitalized with two outs on a long single to center. A leadoff walk, sac bunt and one-out single made it 3-0 in the fifth.
The first five Columbus hitters struck out before Renner put the first ball in play on a pop up to the pitcher for the third out in the second. Trotta doubled in the third with two down but was left stranded. Heule singled to lead off the fourth but was left on first following two Ks and a fly out to center. Braun and Callie Backman had back-to-back two-out singles in the sixth but a strikeout and an infield pop up ended the threat.
Renner and Riedmiller split pitching duties. Renner allowed four hits in three innings, two earned runs, walked two and struck out one. Riedmiller also gave up four hits in three innings, allowed one earned run, walked two and stuck out three.
"Obviously, we wanted to go 3-0, and that was our expectation, taking one game at a time and making sure we compete and execute what we can control," Newman said. "But 2-1 is not a bad day. Taking home the championship in our home invite is a really good way to go out."