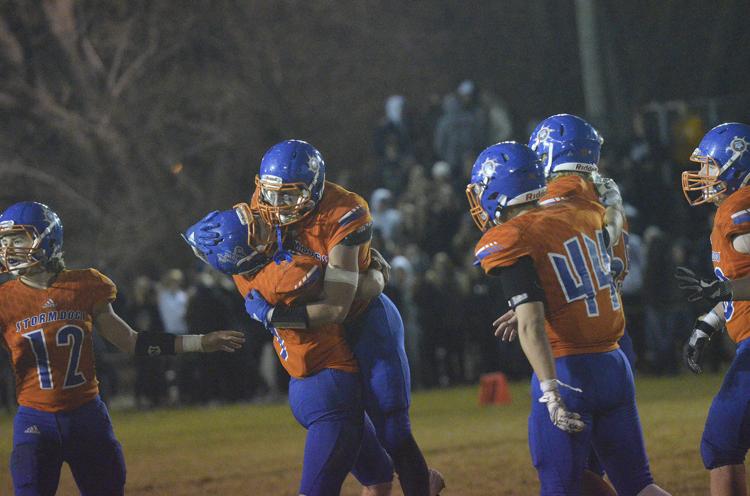 CLARKS - Osceola-High Plains football clinched a spot in the state championship by overcoming a late go-ahead touchdown by Cross County to win 34-30 on Monday night at home. 
The Stormdogs will be playing in their first-ever state championship in the second year of the co-op. 
"It was awesome," co-head coach Greg Wood said. "It's next play up. That's what we had to do. We got behind, but we kept the mentality. We kept driving the ball. Offense stepped up and defense, especially, stepped up and did a great job." 
Osceola-High Plains controlled an 8-6 lead after the first quarter, stopping Cross County on a two-point conversion. 
The Stromdogs scored their first points on a 1-yard Dylan Soule touchdown, ending an 11-play, 46-yard drive that took nearly four minutes. 
Soule finished the game with 47 yards and two touchdowns on 10 carries while recording 14 tackles on defense, trailing only teammate Kyle Sterup who finished with 17. 
Cross County scored three drives later on a 18-yard run by Carter Seim capping a four-play, 48-yard yard drive that took only a minute. 
Seim rushed for 81 yards and a touchdown on 20 carries to lead the Cougars. 
OHP then scored twice in the second quarter, the last with just 51 seconds left in the half to take a 21-6 lead.
Soule scored both touchdowns on runs of 15 and six yards. 
A long Cross County pass from Cael Lundstrom set up a 1-yard Landen Berck touchdown as time expired to close the gap to 21-14. 
Lundstrom passed for 62 yards and two touchdowns. 
Cross County received the second half kick, but turned the ball over on downs. 
OHP senior running back Keaton Van Housen took off for a 55-yard touchdown on the very next play and gave the Stormdogs a 27-14 lead. 
Van Housen rushed for 248 yards and three touchdowns on 31 carries. 
After a Osceola-High Plains fumble, Cross County scored at the end of the third on a 1-yard Lundstrom touchdown to close the gap to 27-22. 
On the next drive, Osceola-High Plains attempted a fake punt on fourth but was stopped short, giving Cross County the ball at the 35-yard line with 10 minutes remaining. 
It took seven plays for Cross County to take the lead on a 23-yard touchdown pass from Lundstrom to Christian Rystrom with just under six minutes showing on the scoreboard.
"It kind of went back-and-forth there for a little bit," Wood said. "The kids just continued to fight. The offensive line did a awesome job all night long and opened up some holes, and the defense came up big in the end."  
The Stormdogs started the next drive on the 21-yard line with 5:30 remaining.
Van Housen carried the ball eight times, including the game-winning touchdown from two yards out to give OHP a 34-30 lead. 
"It was a heavy dose of Keaton on that final drive," Wood said. "When he's getting four to seven yards, I'm not going to go away from him." 
Three consecutive incomplete passes ended the game for Cross County. 
The late comeback from the Stromdogs is somewhat comparable to their season. After starting the year 1-2, Osceola bounced back and hasn't lost a game since. 
"You learn so much more from your losses than you do from wins," Wood said. "The kids started to play together better and started to fight together and great things happen." 
You have free articles remaining.
Register for more free articles
Stay logged in to skip the surveys
Osceola-High Plains will play Burwell (10-2) in the state championship at 10:15 a.m. on Monday at Memorial Stadium in Lincoln. 
"It's huge," Wood said about what it means to take his team to the state championship. "I can't even put it into words. It's so awesome for these kids, for all the hard work they've put in, the time they put in. They deserve this."
Cross County finishes the year at 7-5. 
"You don't come back, really, on Osceola-High Plains," Cross County head coach Hayden DeLano said. "They're a phenomenal talent. They're so well coached. If they were any less well coached or less talented, we probably end up winning that game. All the credit in the world to them. It was just too big of a hole.
"We didn't get a stop when we needed and they did. They played their hearts out and they deserve to be down in Lincoln. It stings a little bit, but we're proud of where we've come." 
Cross County loses seven seniors off this year's team, but returns a strong core of juniors and sophomores that gives hope for upcoming seasons.
"It sucks now, but we're extremely excited for the future," DeLano said. "We started four sophomores out there, and we have a load of juniors playing. The future is extremely bright. We need to lay the ground work.
"We told last year's group 4-5 was nothing to be ashamed of. It's one step at a time. That's what's beautiful and that's what sucks about this game. We just have to be patient, keep knocking on the door and keep taking care of opportunities when we get it."