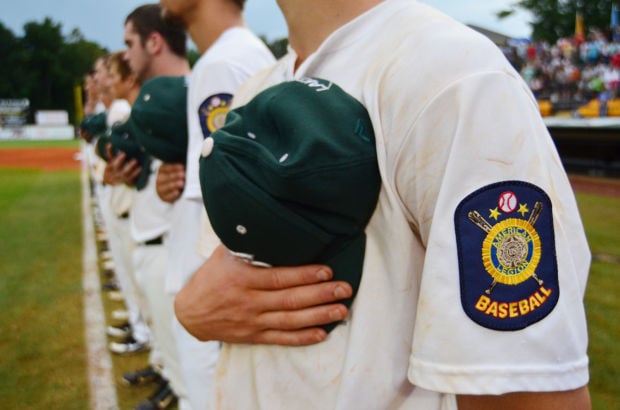 The Twin River American Legion baseball Seniors struggled throughout Tuesday night's road game against Dannebrog-Cairo-Boelus (DCB), managed just one hit and took an 11-0 rain-shortened loss.
DCB, last year's Class C state champions, led 2-0 after three innings then exploded for nine in the fourth. Twin River had two down and one on in the top of the fifth when rain moved in and the game was called.
"I didn't think the energy from the boys was there last night," head coach Chad Lemburg said. "The offense just never got going, and the defense was not sharp last night, and when those two mix your not going to win many games." 
Wes Graham took to the mound for the Titans. Though he allowed two second-inning runs, Graham went three frames with two hits, three walks and two strikeouts. He set DCB down in order in the first, gave up two runs on a leadoff walk, one-out walk, error and two singles but limited the damage on a tapper back to the mound with the bags full and two down.
Noah Jones recorded the lone hit for Twin River on a single to center field in the fifth. 
"(He) pitched really well in his three innings of work," Lemburg said. "In the fourth, we brought in a few pitchers and they just struggled to find the strike zone, and we couldn't make the plays to get back into the game." 
DCB has been a problem for teams all year and moves to 10-0 with the win. Twin River will get one more shot at DCB later in the year. The reigning champs are 3-0 against Twin River this season.
DCB 20, TWIN RIVER JUNIORS 3: The hosts piled up 13 hits and all 20 runs through just the first three innings and took the win in a mercy rule-shortened five-inning affair.
Twin River's only inning of offense came in the fifth when Caleb Peterson doubled to center with one down, Ty Vacek walked then Ashton Johnson walked. A strikeout then preceded three straight bases-loaded walks to Elijah Peters, Tim Jarecki and Fletcher Dubas.
The hosts scored five in the first with five hits and two walks. DCB sent 17 hitters to the plate in the second and plated 11 on just four hits. Seven walks, two hit batters and an error were the main source of offense.
Three more hits and two more walks added four more in the third.
The Twin River teams are back in action on Sunday at home in a Junior/Senior matchup with Albion starting at 3 p.m.
Get in the game with our Prep Sports Newsletter
Sent weekly directly to your inbox!