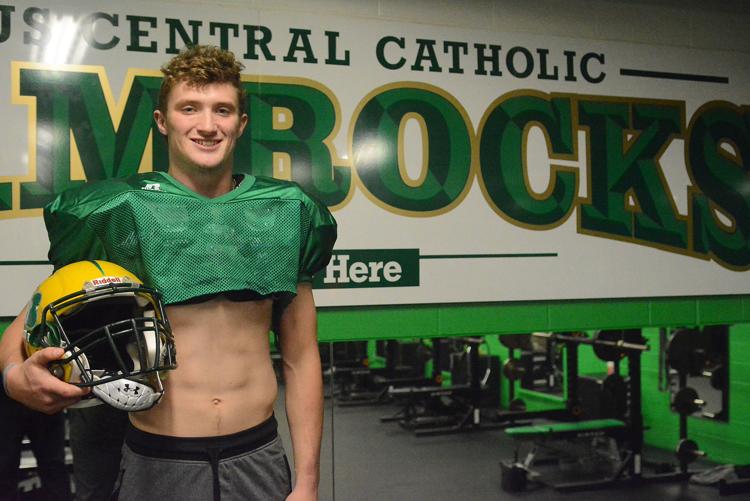 Tyler Palmer was having a bad day last summer.
In a Cornerstone Insurance legion ballgame, he made two second-inning errors that eventually led to a Norfolk run. Back on the diamond after weeks away with a pulled hamstring, it wasn't exactly a sterling start to his return.
When he flew out his first at-bat, then singled in his second, Norfolk fans along the fence at the right field line were letting him have it, in a sense, quietly reminding Palmer of his mistakes.
Though there was no shouting nor any direct taunting, comments were made just loud enough for Palmer to hear. Afterward, he admitted he picked up on the noise, but, as he's learned to do, simply ignored the venom spewing from the lawn chairs and picnic tables south of the field.
He quieted those fans with an RBI later on in what turned out to be a 4-2 Columbus win, but never let on that he enjoyed the sudden silence. Though inside he was certainly celebrating, Palmer again calmly jogged back to the dugout and high-fived his teammates.
Such is the case when you're Tyler Palmer. There's no shortage of criticism for the superstar. Even though those same fans will almost certainly cheer his name in a few years should he make an impact for Nebraska baseball, it seems there's nothing American culture loves more than seeing successful people and successful programs fail.
Duke basketball. The Dallas Cowboys. The New York Yankees. Heck, even Scotus, a winning institution with multiple state championships for nearly every program, has its detractors.
But it's one thing to be hated and despised, mocked and envied, it's another to give in to the negativity.
"People are going to judge you, right or wrong, good or bad. Whether I'm a popular person or not, everyone is going to judge you," Palmer said Tuesday after practice. "I don't live for people's approval. I'm sure some people see me as arrogant. I'm sure there are people who see me as overrated. But it's not going to change what I do."
In the past three weeks, Palmer hasn't had to deal so much with criticism as he has constant inquiry. Ever since he left the third quarter of a win over Lakeview, teachers and students at Scotus Central Catholic, dad's friends, mom's friends and random people in public who know who Tyler Palmer is have wanted to know how his right ankle was healing.
If criticism is one aspect of minor celebrity, so too is constant attention from well-meaning supporters.
Palmer missed the road game at Logan View/Scribner-Snyder in Week 8, and the road game at Wahoo in Week 9, returned last week but again went out in the third quarter following another minor set back. The game was well in hand at that point, and though Palmer could have come back on the turf, the wise choice was to insert a backup.
The type of competitor Palmer is, the fire that burns within, made watching practice and the final nine quarters of the season almost unbearable.
Star athletes rarely take injuries well. In most cases, they're grumpy, moody and downright nasty to be around.
Not so for Palmer. He learned two summers ago what it meant to have the right attitude. That attitude, whether it's in response to an injury or to criticism, has been his guiding light ever since.
He joined a summer baseball travel team in Omaha and took trips to such destinations as Atlanta and Texas, playing in a major circuit full of major prospects and the next generation of talent.
There he found out it's not what happens to you, but how you respond.
"At the time I knew I was good in Columbus, I was good in Nebraska and I had that big-head mentality. Then I went to all these states, all these tournaments and I didn't play well. It was real eye-opening," he remembered. "I had a lot of strikeouts and a high ERA. I came back and people asked me, 'Why is your attitude so bad?' That really stuck with me."
You have free articles remaining.
Register for more free articles
Stay logged in to skip the surveys
Without that wakeup call, Palmer might not be where he is today.
It forced him to take a long look in the mirror and decide what to do next. His response meant doubling his workload, spending more time in training and becoming a better teammate.
His efforts have been evident on and off the field.
Palmer set the career scoring mark at Scotus during the Lakeview win, he already has the season and career stolen base record at Columbus High and he has a spot on the Nebraska baseball roster waiting for him next year.
In the past, when he might have sat on the edge of the practice field and stewed about his injury, he has since taken an active role in preparing his backups.
Off the field, he's become a student who interacts with everyone in the hallways, seventh grade up to senior, and begrudgingly indulges his little sister's friends with autographs and pictures.
"I go home for the night, and my sister is having friends over, and they have me sign pieces of paper for them and want to take a picture with me," Palmer said. "I had to go pick up my sister this last Saturday and she asked if I could sign two football pictures. I'm just remaining humble.
"People look up to me. I just try to be friends with everybody. On the football field, I don't try to act like I'm better than anyone."
It's an almost damned if you do, damned if you don't scenario. Critics watching Palmer sign autographs from a distance would no doubt accuse him of pretense. Others would find it cute and applaud the gesture even if 12 and 13-year-olds are blowing his minor fame out of proportion.
Of course, his notoriety has grown over time. When he was 12 and 13, no one knew who he was other than that kid who was age. But it wasn't just stature, Palmer also was athletically gifted. He earned playing time on the Shamrock football team as a freshman.
Since then his recognition has grown to the point where almost everyone has an opinion on Tyler Palmer. Two summers ago taught him there's nothing he can do to change that, so why try?
"Attitude is the one thing I can control," he said. "Ever since then, I've put so much effort into being the best teammate, best player, most coachable player and doing whatever it takes to help the team win."
Though his status for Friday remains uncertain, it would seem Palmer is a necessity for Scotus to have a chance in a rematch with No. 2 Wahoo.
The Warriors crushed the Shamrocks without Palmer two weeks ago 49-0.
Whether he plays and Scotus wins, plays and the 'Rocks lose or he has to watch from the bench, Palmer will take it all in stride. He'll be the author of his own destiny, the master of his own universe.
"I went into (the national travel team) thinking, 'Well, I'm still going to be one of the best players on the field, I don't have to try that hard.' It opened my eyes really quickly that, 'Hey, I'm not the best player in the state. I'm not the best player in the world. I've got to work hard to get there,'" Palmer said.
"Not just in baseball but in football and in life, it really changed my whole perspective."