GRAND ISLAND — With a seven-game winning streak entering Thursday's match against second-ranked and unbeaten Grand Island Central Catholic, Scotus Central Catholic head coach Janet Tooley didn't want to put too much pressure on her team.
She called the matchup a "measuring-stick" game.
The Shamrocks measured up all right.
No. 9 Scotus (9-3) rallied from a 2-1 deficit to upset the Crusaders (7-1) on their home floor in five sets, 25-18, 18-25, 15-25, 25-20, 15-12.
"It's fun to step on the court and know you can compete with one of the best programs in the state," Tooley said.
Elley Beaver led the Shamrocks with 13 kills and Bailey Lehr had a solid all-around match, leading the team with four aces and three blocks and adding eight kills.
Shania Borchers added eight kills and a couple of blocks for Scotus and Courtney Kosch had 10 kills.
The Shamrocks got off to a great start, winning the first set before GICC took control of the match.
The second turning point came when Scotus made a concerted effort to get Borchers and Lehr more involved in the match.
"We just decided to establish our middles," Tooley said.
After sweeping David City Aquinas on Tuesday and going 6-0 in a tournament last weekend, the Shamrocks are becoming a confident group.
After Thursday's win, they know they can play with top-tier teams.
But as Tooley looked over the stat sheets after the match, she knows this team hasn't reached its ceiling yet.
"We still have a ton of places where we can improve," she said. "We have to develop an attitude to continue to improve."
Scotus has a week off before heading to Lincoln on Sept. 21 to play Lincoln Christian (3-5).
Lakeview triangular
COLUMBUS — Lakeview split matches Thursday with Aurora and Central City at its home triangular.
The Vikings (5-5) unraveled against Aurora, losing 25-22, 25-9, but bounced back to beat Central City 25-22, 25-18.
Lakeview got off to a quick start against Aurora, eventually building a 20-12 lead in the first set. Then the Huskies made their comeback. Aurora ended the set on 13-2 run to steal the win. The next set was all Aurora as Lakeview never found its rhythm again.
The Vikings were much steadier in the sweep of Central City.
Britney Stock led the Lakeview attack in the triangular. She had eight kills against Aurora and 10 more against Central City. Stock also had four total blocks in the two matches.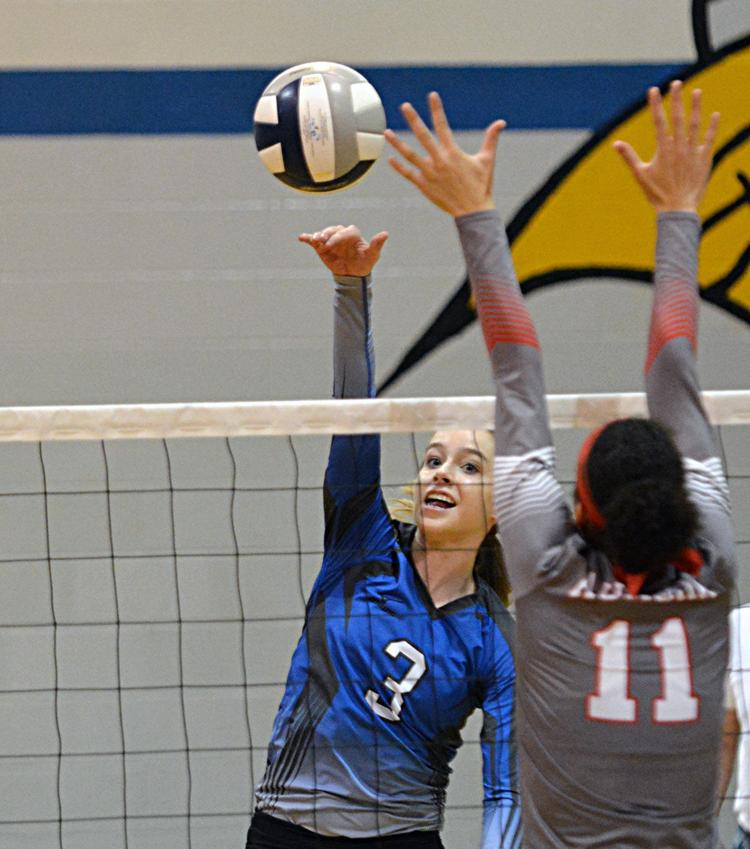 Brooklyn Wilke was stifled offensively with just eight kills on the night, but still made her presence felt at the net, racking up eight blocks.
Lakeview gets the weekend off before heading to Albion on Tuesday for a triangular with Nebraska Christian and Boone Central/Newman Grove.
Centennial triangular
CENTENNIAL -- Shelby-Rising City finally got its first wins of the year Thursday at a triangular in Centennial.
The Huskies blasted Sutton 25-9, 25-13, then followed that up with a three-set win (25-22, 22-25, 25-19) over the host school.
Sydnie Adams had a team-high 14 kills and five total blocks between the two matches. Vanessa Velasco and Reece Ingalls both had 12 kills in the triangular.
S-RC (2-6) heads to Waco on Tuesday for a triangular with Nebraska Lutheran and Bruning-Davenport/Shickley.
Clarkson/Leigh triangular
CLARKSON – Clarkson/Leigh swept its home triangular Thursday, beating a pair of area schools.
The Patriots swept High Plains 25-9, 25-22, then edged Humphrey/Lindsay Holy Family in a three-set battle, 25-20, 16-25, 25-20.
Hannah Kasik had 18 kills between the two matches, including a team-best 12 in the win over H/LHF. After being held to just one kill in the sweep of High Plains, Sydney Folken came up big in the win over the Bulldogs with 10 kills and six total blocks.
Beth Wiese was a steady presence the entire night with six kills and two blocks in both matches.
H/LHF swept High Plains, 25-13, 25-18, in the third match of the triangular.
Emily Mcnaught led the Storm with six total kills in the triangular. Brooke Bannister added five solo blocks and five aces.
All three teams are in action on Saturday as Clarkson/Leigh (5-1) plays in a tournament in Stanton, High Plains (4-7) heads to Stromsburg for the Cross County Invite and H/LHF (6-3) head to Bartlett for a tournament.
Fullerton 3,
Twin River 2
GENOA – Twin River let its match Thursday against Fullerton slip away.
After winning the first two sets, the Titans let Fullerton win the final three and take the match 18-25, 17-25, 25-22, 25-23, 15-10.
Alexis Borowiak had a big game for Twin River with 21 kills and 16 digs. Marissa Morris added 11 kills, on a .714 hitting percentage, and 12 digs.
Twin River (4-5) heads to Stanton on Saturday for a tournament.