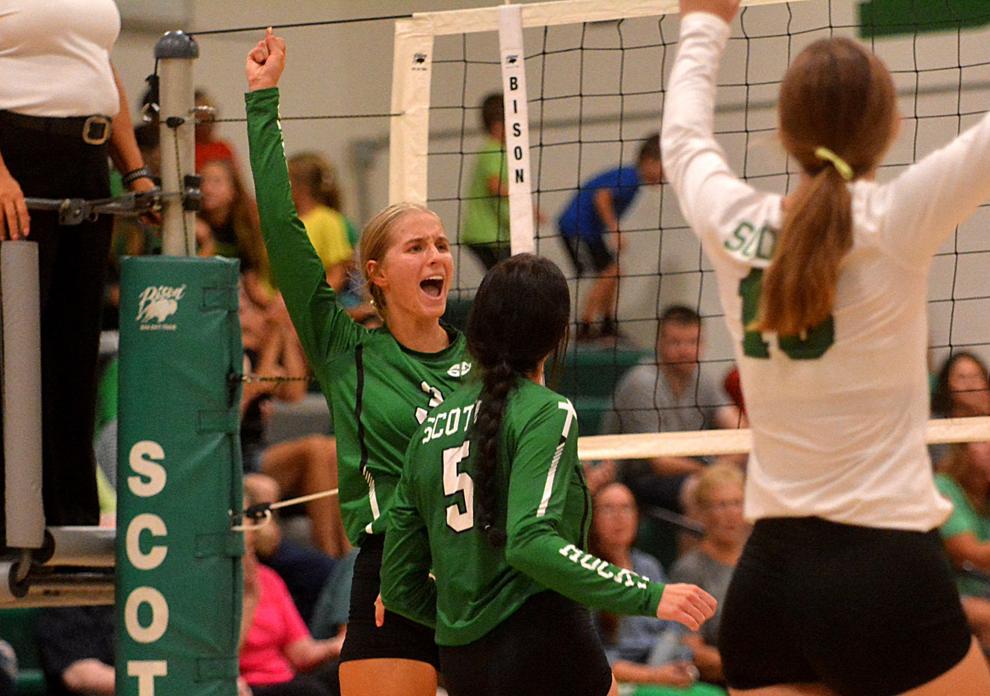 Scotus Central Catholic was cruising to a four-set win and the fourth win in a row on Tuesday night at home when Omaha Concordia produced some anxious moments late.
Overall, it was probably what was needed. Coach Janet Tooley talked last week about having the confidence to win close matches being a virtual chicken and egg scenario - her group hasn't had a lot of it.
Scotus could have finished cleaner but won nonetheless and, Tooley hopes, gained something from the circumstances.
The Shamrocks took down the Mustangs 25-14, 20-25, 25-15, 25-23.
"They're a good team and they're bigger than us, but we're used to that. What I think we got out if it was, we won the close one," Tooley said. "You've got to win them to believe you can win them but you've got to believe you can win them to win them. So that was good we got that done tonight."
Scotus controlled the first set before mistakes played a role in the second. It was a 17-13 Shamrock lead in the third when two attack errors brought the Mustangs to within two. A service error gave the ball back over. Senior Chloe Walker took the serve and rattled off eight straight including an ace to close out the set.
Scotus led 17-10 in the third but had to hang on as Concordia slowly crept back in. The Shamrocks were two points away at 23-20 when the Mustangs tied it up on two attack errors and a kill. A Joanna Rusher block and Grace Mustard kill finally put Concordia away.
Mustard had 11 kills for the match, Hailey Steffensmeier had nine and Walker seven. Libero Kate Maguire racked up 31 digs and, though Tooley had to check, might have broken the school's career record in that category. Walker and setter Audrey Sprunk both had two aces.
"We've got some rotations we've got to smooth out and get more reps, but it was nice to win a tight one," Tooley said. "The crowd was great, a lot of noise, and it was good to play in that atmosphere and get the job done."