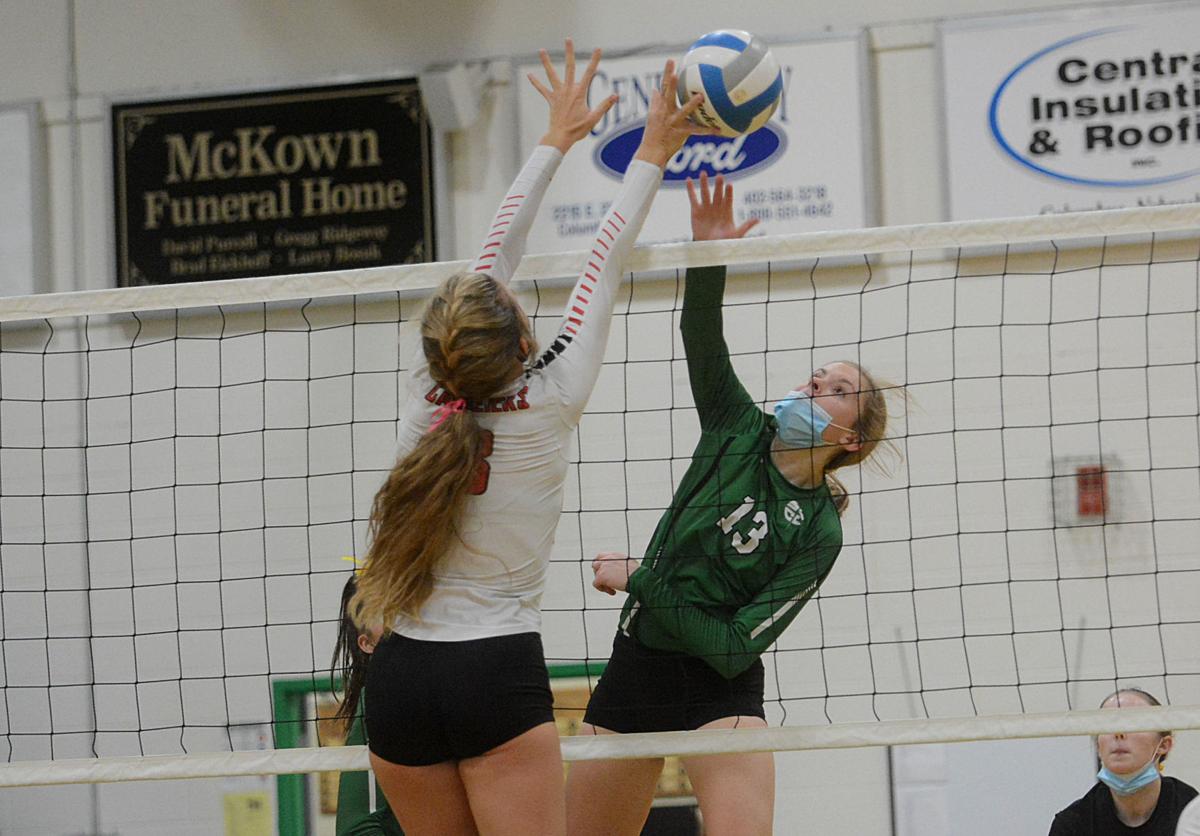 Scotus Central Catholic volleyball fought through fits of poor play but, other than one set, failed to maintain any sort of rhythm in a three-set loss to Wahoo Neumann on Thursday night at the Dowd Activity Center.
Scotus dropped to 11-10 in a 25-13, 25-21, 25-22 final. The Shamrocks had issues on serve receive and finding shots against the Neumann block.
The Cavaliers were also highly motivated to make up for a loss a week earlier.
Scotus and Neumann faced off in the second round of the Centennial Conference Tournament. Neumann lost its opener to Kearney Catholic in three sets but won the opener 25-18. There may have been disappointment from failing to capitalize on that opportunity. The Cavaliers were somewhat flat against the Shamrocks in the second round and suffered a pair of 25-20 set losses.
With a chance to makeup for that let down, Neumann spent most Thursday with the lead and was never seriously threatened outside of small deficit early in the second set.
"We caught them off guard last week. They took a set off Kearney Catholic, so they can play ball. Right now, I think they're obviously mentally tougher than we are and made plays that we didn't," Scotus coach Janet Tooley said. "When we had opportunities, we hit directly into the block, which we knew we couldn't do."
The first set was tied 6-6 when Neumann rattled off six of the next seven points, forced a timeout, then made it 11 of 13. In the second, the Shamrocks built a 13-10 lead before the Cavs turned it around and had set point with 14 wins in 21 rallies. The third saw Neumann led 7-2 and 16-8.
Kamryn Chohon led the Scotus offense with 13 assists, Grace Mustard had 10 kills and libero Kate Maguire put together 22 digs.
Scotus has just one more match to get right before subdistrict play begins on Oct. 26. SCC faces Hastings Saint Cecilia on Tuesday. Scotus will then likely play David City in the playoffs, looking for a win and a chance to play the victor of Lakeview and Boone Central.
"I'm not going to take anything away from Neumann," Tooley said. "Neumann played and we didn't show up. That's basically what the match was about."
Get in the game with our Prep Sports Newsletter
Sent weekly directly to your inbox!