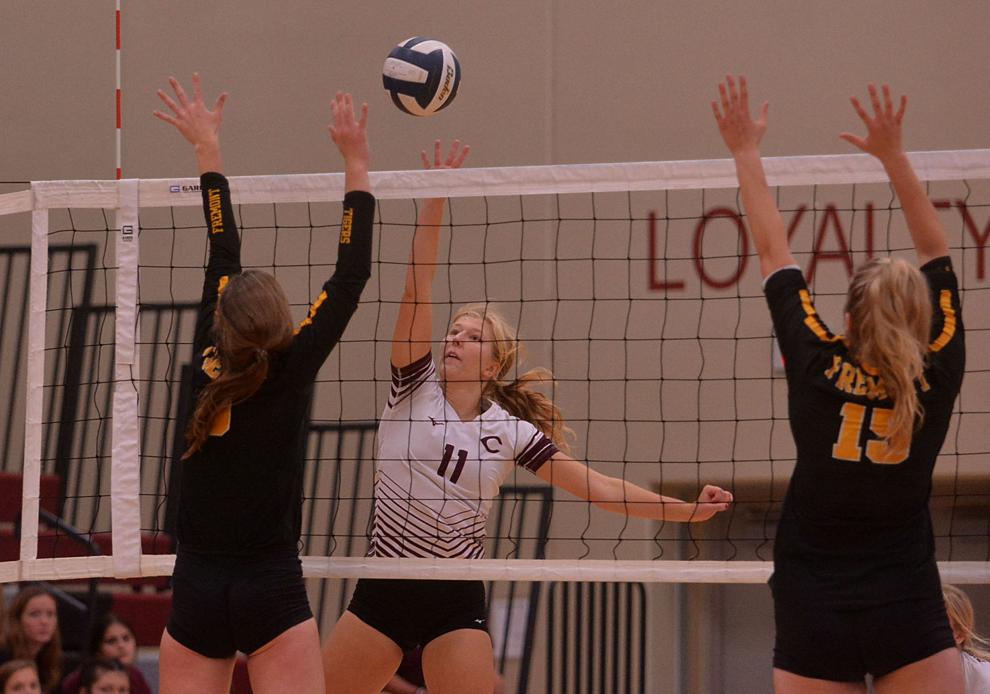 The Kearney back row frustrated and befuddled Columbus High all night in Tuesday's 25-17, 26-24, 25-11 win over the Discoverers.
CHS was held to a .000 hitting percentage and lost in straight sets due to a combination of factors. But most discouraging of all were the diving digs and wayward shots run down by the Bearcat defense.
That plus multiple errors in other aspects of the game were too much for Columbus to overcome.
The Discoverers dropped to 8-11 with the loss and hope to regroup over the next week. They're not in action again Sept. 23 in a home match against Seward.
"They definitely made some big plays defensively to stay alive which affected our morale offensively at times," coach Jeri Otten said. "Those big plays often came at tipping points where it seemed like we were gaining some momentum."
Kearney jumped out to a 10-5 lead in the first set and held the lead the rest of the way. Columbus made a few runs but never came closer than three points. It was an 18-15 Bearcat lead when the visitors won seven of the next nine rallies to close it out.
CHS trailed most of the way in the second set after a three-point run gave Kearney a 12-10 lead. The Discoverers closed to 21-20 when Kearney senior Analise Luke pounded back-to-back kills. She led all players with 13 on the night. But kills by Ellie Thompson, Logan Kapels and a Thompson block tied it back up. Kearney responded with a block of its own for set point. Thompson found the floor and knotted it 24-24. The set ended on a passing error and Bearcat ace. Logan Kapels dug up a Kearney shot that fell to the floor when there was no second touch. One of the Discoverers' seven receiving errors closed it out.
The emotions of that kind of defeat may have hung over into the third set. Columbus fell behind 10-4 in the early going and was never able to recover.
"I think it took the wind out of our sails," Otten said. "It was disappointing to see that carry over and create a deficit for us right away that was just too much for us to come back from."
As if the Kearney defense wasn't tough enough, seven receiving errors plus 21 hitting errors and eight serving errors made the climb all the steeper for Columbus.
"I'm not sure we've hit this poorly all year in terms of efficiency," Otten said. "That's a testament to Kearney's defense against us, but also in how many errors we made on our side offensively."
Columbus had 21 kills on 91 swings but also 21 errors for a .000 attack percentage. Every hitter that had a kill had at least one error. Thompson had seven kills, Addi Johnson six and Josie Garrett five. Abby Loeffelholz set up 18 assists and Claire Renner served up two aces to go with nine digs.
"We had some positive results running the ball out of the middle," Otten said. "It shows there needs to be a continual emphasis for us to run middle in transition where we can."