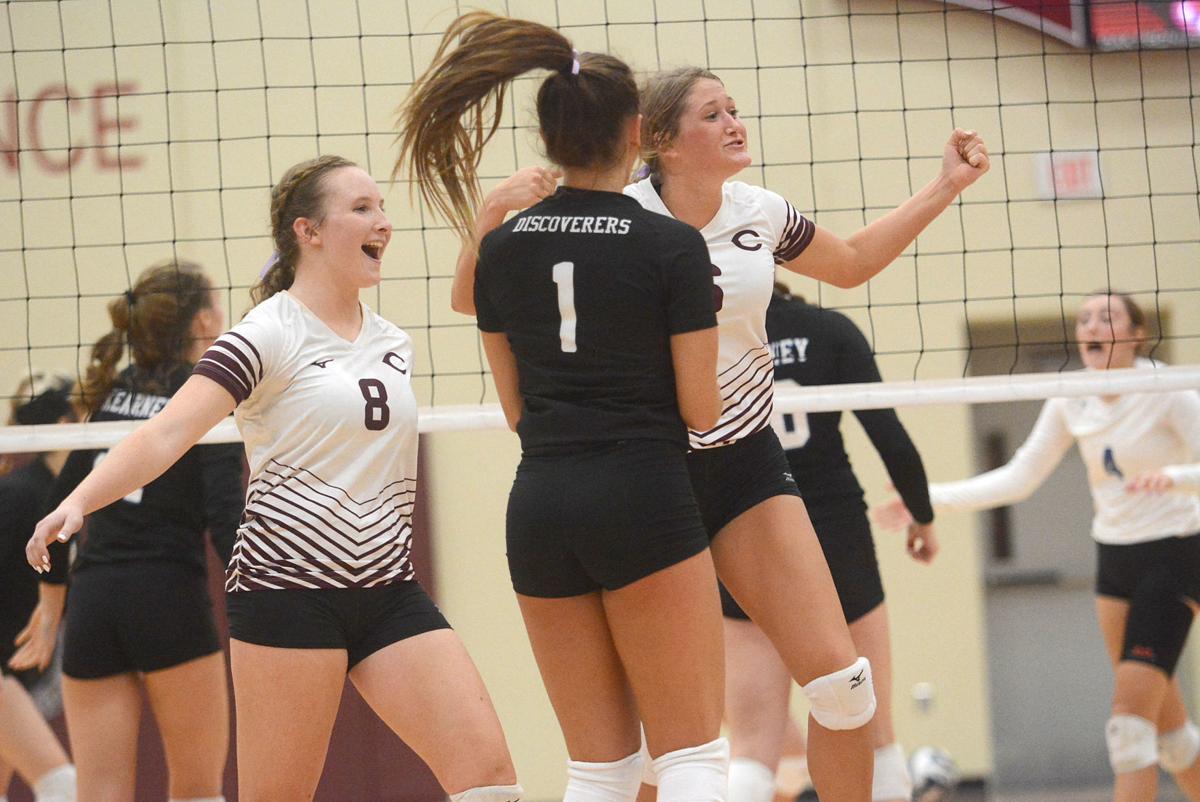 Columbus High won a match for the ages on Tuesday night at Class B No. 7 Hastings.
Fresh off their second straight GNAC Tournament championship, the Discoverers took down the Tigers in a five-set match in which every set was decided by the two-point margin minimum.
Columbus earned the win 26-24, 23-25, 26-24, 24-26, 18-16, the first five-set win for CHS since Oct. 13, 2016, also against Hastings. The Discoverers had lost four five-setters in a row until Tuesday, including three this year.
The five-set luck finally turned around thanks to the continued hot streak of right side hitter Addi Duranski and the defense of libero Kylie Wisehart. Duranski kept rolling with 13 kills, leading two others in double digits. Jaleigh Adams-Tuls chipped in 12 and Maddie Uhlig had 10.
Sadie Evans set up 26 assists, Adams-Tuls had six total blocks and Wisehart led the back row with 42 digs.
Duranksi started rolling with a career-high 19 kills in a win over Norfolk last Thursday and has had 10 or more kills in five of the last six matches.
Columbus finished the regular season 15-14 and will now wait to find out its site for the district tournament on Oct. 29. Based on the wildcard points standings available Wednesday afternoon, CHS would be assigned to Elkhorn South with Kearney, Omaha Bryan and Omaha South.
Final points standings and district assignments will be released later in the week.
"It was a ton of back and forth the entire match. Anyone who went definitely got their $5 worth," head coach Jeri Otten said. "To finish, it took a lot of determination.
"At times, we started to doubt ourselves, and that's precisely when Hastings would take advantage and score. So our girls had to take a breath, refocus, and problem solve out of sideout situations instead of just praying things would go our way - that wasn't going to happen."
Columbus took down Hastings over the weekend in McCook at the Greater Nebraska Athletic Conference Tournament. The win was part of three on the day that also included Gering and host McCook.
You have free articles remaining.
The Discoverers began the current streak of five straight wins in a Maroon Cup matchup with Norfolk last week, in which Duranski dominated with her 19 kills on 31 swings for an attack percentage of .452.
Five wins in a row is the longest streak for Columbus volleyball in more than 15 years.
"Our block did an overall good job of honing in on Hastings big hitters," Otten said. "They have one really athletic middle that we knew would get her kills, but we were able to get a few blocks on her at pivotal moments in the match."
That player is 5-feet-9-inch Tiger senior Brooke Aspen. She has piled up 253 kills this year and collected 10 or more 10 times.
Columbus put together 18 total blocks on the night, including several on Aspen, had two solo blocks and 16 block assists.
Wisehart's 42 digs led a defensive effort that also saw Logan Kapels pile up 21, Ava Newman and Evans collect 17 and Uhlig chip in 12.
"Kylie locked in and was all over on defense. I mean 42 digs, that's awesome," Otten said. "If she had gotten even five fewer, we may be having a different discussion on the outcome of our match right now. That's how close this match was."
Close because of Hastings' quality. The Tigers are 20-10 with a win over Class B No. 5 Platteview. But the contest was also likely close due to the proximity of two matches three days apart.
Although the match at the GNAC Tournament was certainly meaningful, Otten sensed a little more emotion out of her group on Tuesday.
Realizing it was the last regular-season match on the schedule, and the last match against Hastings, the emotions were heavy for six seniors on the roster.
"I think this was bigger for us mentally (than the GNAC title)," Otten said. "This is the first give-game match we have come out on top this season."