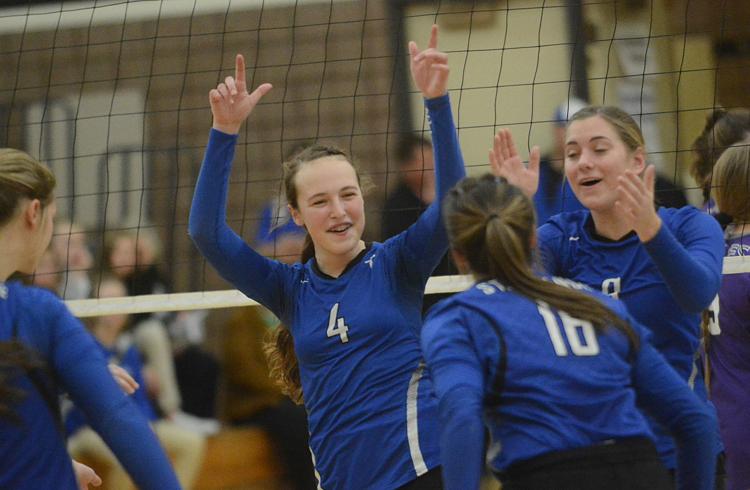 LINCOLN - If you blinked, you might have missed it.
In a match that lasted less than an hour, Humphrey St. Francis rolled past Garden County on the strength of its serving and execution and picked up a dominant 25-14, 25-10, 25-10 win in the Class D-2 state quarterfinals on Thursday afternoon at Lincoln Northeast High School.
The Flyers and Eagles battled through the first half of the first set before St. Francis began to pull away up 10-9 and gradually overwhelmed an opponent that came into Lincoln with just one loss.
That one loss was to Lingle-Fort Laramie High School at the Morrill Invite on Oct. 5. Seventeen other teams from Nebraska had come up short until Thursday when St. Francis, on its own streak of 10 in a row, made it 11 and qualified for its 11th state semifinal match in school history.
Senior Caitlin Jarosz also continued a hot stretch, smashing 17 kills into the floor to give the senior seven matches with double digit kills in the last 12.
"I'm proud. We were a little nervous in the beginning, but got all the nerves out and played our best game," Jarosz said. "We played pretty good."
Jarosz had five kills in the first, eight in the second and four in the third. She was a steadying force early on, collecting four through the first 17 Flyer points while her teammates adjusted to the big stage and bright lights of the state tournament.
Once that initial adjustment was over, and Alissa Kosch began serving up aces, Garden County had no answers.
"We started getting more kills. In the beginning, we were really slow on our kills and getting the sets to our hitters. We started picking that up and ... from there I felt like we improved the whole time."
Kosch finished with five aces for a Flyer squad that had eight total, Peighton Eisenmenger (13) and Kylee Wessel (11) were both in double digits on digs and Eisenmenger set up 32 assists.
"I would have liked to play a little cleaner ball as far as hesitation and nerves, and the kids even said that the first time out - chalk it up to nerves. Because we don't miss three serves in a match, let alone a set. We had more missed serves than I would have liked," coach Dean Korus said. "But yes, it was mostly a clean game."
All three of St. Francis' missed serves came in the first 19 points with the Flyers taking a 10-9 lead. But just when the Eagles pulled to within one, the Flyers pulled away with seven of the next nine. Kosch then stepped to the line and stole the momentum.
You have free articles remaining.
Register for more free articles
Stay logged in to skip the surveys
The 5-7 junior libero had four aces in five serves and started a run of six St. Francis points in a row that put the set out of reach.
The second set might have ended even more lopsided had Garden County not matched St. Francis point for point over the final 12 rallies. Regardless, it was a 19-4 set at that point and only a matter of time.
In the third, the Flyers scored the first four, Eagles coach Jolene Dodge quickly called timeout to stem the did, but only did so briefly. After Garden County won the next three in a row, St. Francis answered with 10 of the next 11.
"Our hitters, especially our outside hitters, were really nailing it for us, keeping us in the game," Korus said.
Other kill totals included eight for Wessel and five each for Allison Weidner and Lauren Pfeifer.
The victory sends St. Francis to a 9 a.m. game Friday at Pinnacle Bank Arena against top seed Lawrence-Nelson. The Raiders were similarly dominant in the first round, taking out Giltner 25-10, 25-8 and 25-14.
The two fan bases will be seeing each other for the second time in three days after St. Francis ended the Lawrence-Nelson football season on Wednesday in a 60-14 win.
"They're a very well-rounded team. We played them twice during the summer. They've got good hitters, don't make a lot of mistakes and they're sneaky," Korus said. "You've got to be a little bit sneaky when you're playing the game of volleyball."