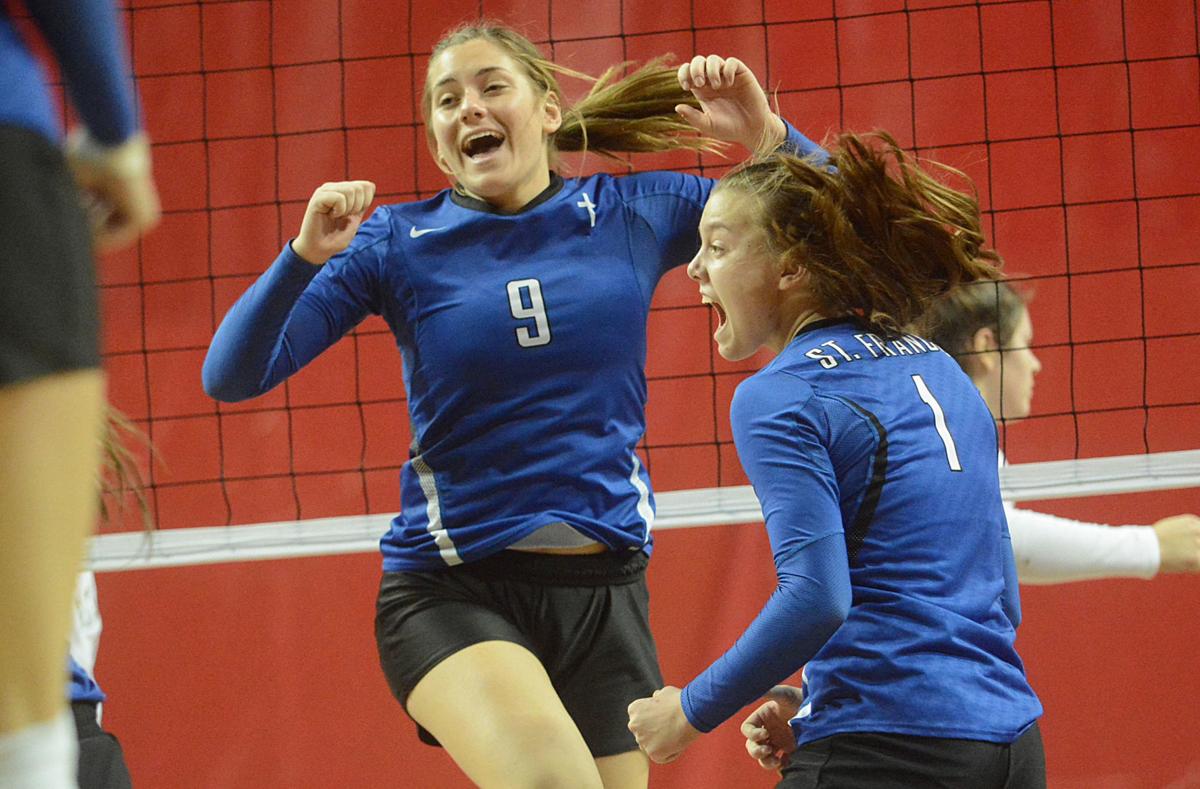 Humphrey St. Francis players were understandably somewhat nervous before Thursday's state tournament quarterfinal match at Lincoln Northeast.
Only two players from the current roster had ever played in Lincoln before. The rest were adjusting to the bright lights and big stage.
Aiding in that adjustment was a tradition the Flyers have had in place for the last three weeks since the Goldenrod Conference Tournament.
Before taking to the floor, players turn off the lights and dance to a song in scene somewhat similar to something like a "rave," as coach Dean Korus described it Thursday afternoon.
Though it began on accident, it's been a fixture of the team's pre-match routine ever since. For one, it's been the perfect way for the girls to relax and blow off some steam before the first serve. But also, at this point, St. Francis has yet to lose since it began dancing its way out of the locker room.
Maybe the crew at Devaney can turn off the lights and find some lasers before introductions on Saturday morning. Though it might catch BDS off guard, St. Francis would feel right at home.
"It was before the championship and I accidentally shut off the lights. Our boom box has lights, so then we all just started dancing. We kept the lights off, and it just happened," setter Peighton Eisenmenger said while explaining the tradition after Friday's semifinal win over Lawrence-Nelson.
"It's one same song, but I can't think of it right now."
Though Eisenmenger couldn't remember the tune, the one that is played before each match is whatever was on when she mistakenly hit the light switch.
That first time came before a match in Cedar Rapids against D-1 Central Valley.
You have free articles remaining.
The Flyers led 2-0, dropped the third but then claimed the conference crown in a four-set win.
Before the Goldenrod Tournament began, St. Francis sat 12-4 and had just defeated Palmer following a five-set loss to C-2 Clarkson/Leigh.
The Flyers haven't lost since, taking the conference tournament with wins over Heartland Lutheran, Nebraska Lutheran and Central Valley, defeating Madison, Schuyler and Central Valley, again, before the sub-district tournament, sweeping matches against St. Edward and Riverside in the sub, sweeping Stuart in the district final then Garden County on Thursday and Lawrence-Nelson on Friday.
The Flyers are 34-4 in sets during their current 12-march winning streak.
Korus usually lets the girls have their moment before each match, but Thursday he hung around in the locker room and took in the scene.
"They'll just dance for about 10 minutes. They just scream and shout and dance," Korus said. "I don't know. I'm going to keep bringing the speaker along.
"...Just watching them dance, I think they're nuts sometimes. I'm glad I got to witness it."
Korus hasn't participated yet. That may change Saturday if St. Francis wins its first state championship in 14 years. The Flyers have five titles in school history (2000, 2004, 2005) and have played in seven title matches.
St. Francis meets Bruning-Davenport-Shickley at 9 a.m. Saturday at the Devaney Sports Center for the D-2 championship.
"They always want me to dance, and I did once after a game at St. Francis," Korus said. "But I'm too old for that."