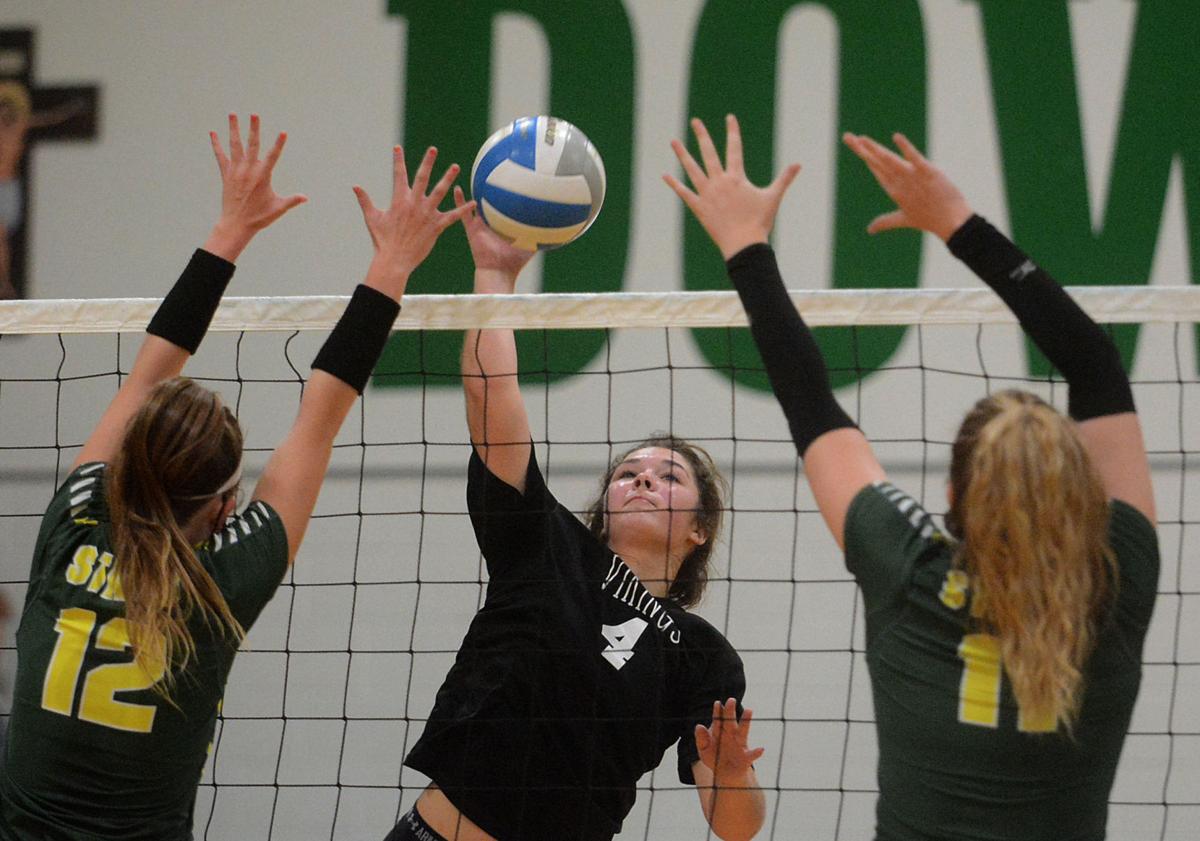 Lakeview volleyball faced a similar scenario as a week earlier and this time ruined the festivities in a road win Tuesday at C-2 No. 1 Norfolk Lutheran High Northeast.
A week after falling to unbeaten C-1 No. 1 Saint Paul in straight sets, Lakeview went on the road again to face a top-ranked and undefeated foe. The Lady Vikes came out somewhat sluggish but won sets two and three, lost a close fourth then picked up its first five-set win of the season and first in three years in a 19-25, 25-21, 27-25, 25-27, 15-11 victory.
In a defensive battle where each side struggled to hit .100 or better, it was Lakeview making the big plays in the big moments that allowed the Lady Vikes to end the Eagles 29-match win streak.
Since falling to Saint Paul the week before, coach K.C. Belitz and his staff have forced the team into situational work. That paid of Tuesday when Lakeview made a few more big plays when it mattered most.
"We've been working on that exact thing. When it's 22-all or 24-all, we've got to know we can perform in those moments," Belitz said. "We spent a lot of times that stressed that between last Tuesday and this Tuesday."
There were few plays to be made late in set one when Belitz said his group simply didn't match the intensity of the other side. Energy and pace were lacking, and the Lady Vikes were chasing.
It was tied 21-21 in the second set when Katee Korte started a four-point rally with a kill, Lilly Rowe blocked a shot, Korte blocked another and Josie Bentz finished it with a kill.
The third set was tied 22-22 and 25-25. Rowe put the Lady Vikes on set point for the third time with a kill and Maddi Vogt finished it off with a kill.
In the fourth, Lakeview led 25-24, 26-25 and 27-26 but Lutheran High Northeast saved match point each time then scored three straight on two Lady Vikes' attacking errors and an ace.
Lakeview led the fifth 12-10, went up three on a Rowe kill, gave a point back on a ball handling error, then finished if with Rowe's 17th and final kill and an Eagles hitting error.
Though Lakeview failed to end it in four with three match points, Belitz liked how his team responded in crucial moments overall.
"Just to reinforce that when that time comes, as an individual, they know, 'OK, I've got this. I can deliver the serve or deliver the dig or I can deliver the kill,' whatever that might be," he said. "We tried to intentionally put players in that position over and over."
Rowe (17) and Korte (11) finished with double digit kills, senior setter Reese Janssen had 43 assists and two aces and junior libero Jordie Nekl had 50 digs. Lakeview had 168 digs overall. Rowe (29), Vogt (29), Janssen (24) and Korte (15) were all in double digits.
"We haven't gone the distance with really anyone this year. We either sweep or have gotten swept. I thought yesterday, this is probably the one that's going to be four or five," Belitz said. "That's really good for us in terms of preparing for those three-out-of-fives in the postseason."
The 2019 match between the two programs also went five. Lutheran High Northeast won in Columbus after taking the second, fourth and fifth sets. Lakeview led the fifth 4-1 but couldn't capitalize. It was the fourth loss in five matches for a Lakeview team that limped into the postseason and missed out on a wildcard district final invite because of such losses.
Belitz and the group maybe never specifically talked about that defeat. But everyone knew how the end of last year went. Lakeview closed 6-8 a year ago starting with the Columbus Classic. During the same stretch so far this season, the Lady Vikes are 4-2.
Overall, they're 18-4 headed into this weekend's Central Conference Tournament. Lakeview hosts two matches at home on Thursday then will finish the tournament Saturday in Crete.
"For the players who were on the team last year, it confirms that we are headed a different direction than October 2019," Belitz said. "Obviously, it matters in seeding as you go into the postseason. There's no doubt that the format and the depth in C-1, the win is big in that way.
"The building of the team's confidence and individually is big, also. Now we know. We don't have to hope that we can perform well and get the job done."
Get in the game with our Prep Sports Newsletter
Sent weekly directly to your inbox!