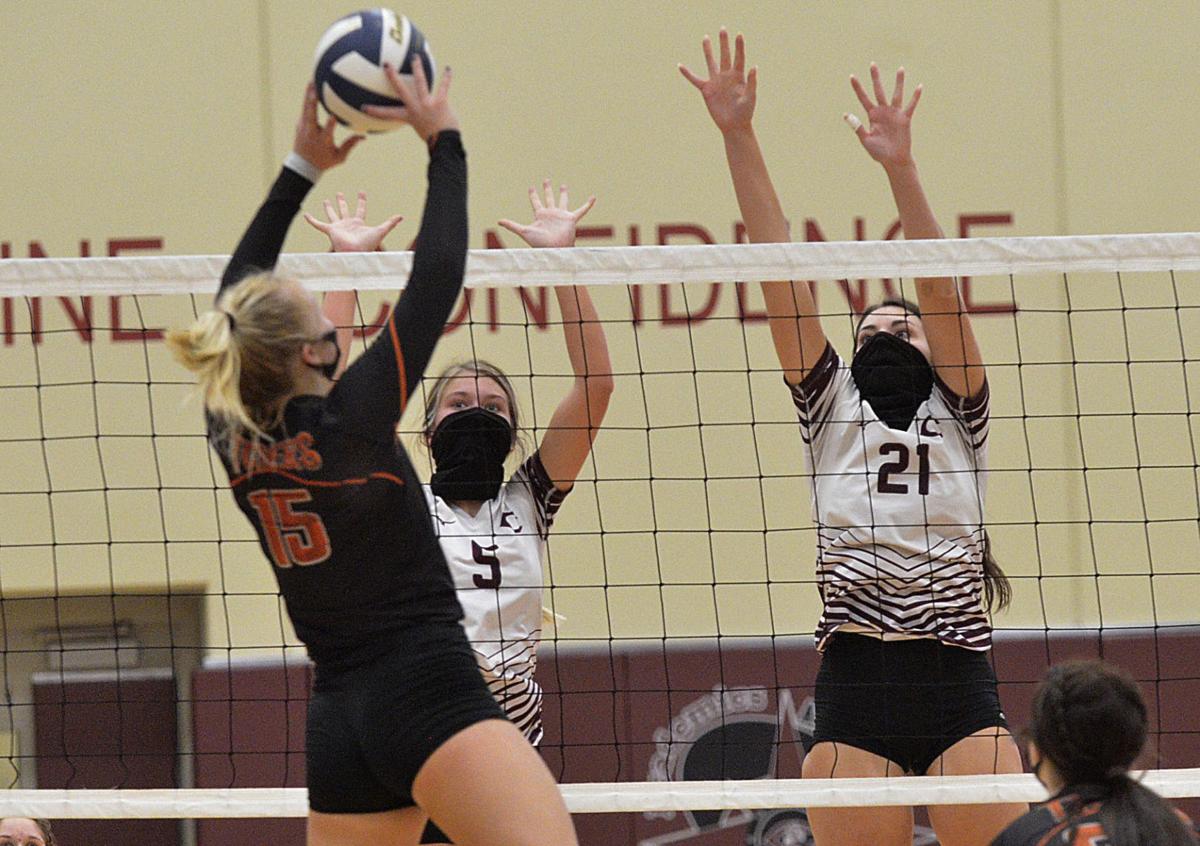 Columbus High volleyball took the opening set over Norfolk but suffered through a slew of errors in the second set and eventually fell in five in a Maroon Cup road loss Thursday in Norfolk.
Columbus took its 16th loss of the season to go with nine wins in a 25-17, 23-25, 18-25, 25-20, 10-15 final. The Panthers (7-18) held the Discoverers to .119 hitting and were the beneficiaries of 35 attacking errors. CHS also had four aces to seven service errors. Norfolk wasn't much better with 47 kills, 28 errors and a .112 hitting percentage. But the Panthers were a little cleaner were it mattered and snapped a six-game losing streak.
"It's a little disheartening for our team to lose their first five-game match of the year and on the last regular season match to boot," coach Jeri Otten said. "(Norfolk) dug a lot of balls. We still committed too many hitting errors despite having 55 kills for a match."
CHS was off for a week following a road loss at Lincoln Southeast and looked ready and prepared in the first set. The Discoverers jumped out to a 5-1 lead, pushed a Norfolk comeback away and had an 18-12 lead after the Panthers drew to within 6-4.
Columbus made 11 errors in the second and hit a dismal .024. In a set that was separated by only a handful of points throughout, those mistakes played a big factor. CHS then had to try and overcome eight more errors in the third while hitting .027.
"It seemed like we would get to the point-for-point stage but couldn't quite get over the hump and piece multiple points together," Otten said. "In the third we were still trying to work out of the game two slump and get a ball down on the other side of the court."
The Discoverers hit it out or in the net eight times more in the fourth but also generated 16 kills and began to pull away after the first 12 rallies were even 6-6. Early hitting mistakes and service errors allowed Norfolk to build a fifth-set lead it would never relinquish.
"The match had a ton of long rallies, and Norfolk did a good job of holding steady and wearing us down," Otten said.
Jaleigh Adams-Tuls led Columbus with 16 kills while Addi Duranski had 14, setter Sadie Evans had 49 assists and Claire Renner had 19 digs.
Class A district play begins Oct. 27. Over the next 10 days of preparation, Otten said her group must work on mentally overcoming mistakes and moving on.
"It's a contradicting mindset to want to move forward when you're still living in the past," she said. "Volleyball is a game of anticipation, and we do that really well at times; but equally poorly at other times. We need to get over that hump and quickly."
Get in the game with our Prep Sports Newsletter
Sent weekly directly to your inbox!