Scotus Central Catholic volleyball practices have a theme this season. Seniors Kamryn Chohon, Anna Ehlers and Tanley Miller, as part of their role in building unity, are requiring their teammates to wear the same color to training.
It's a minor detail in the story of the Shamrocks, but for a program short on height and experience, team unity is the one aspect that will likely prove to be crucial to overall success.
Class C-1 is, by all accounts, as loaded as it has ever been. The top-10 in the ratings, plus several other programs, have rosters littered with proven hitters; many 6-feet and taller.
Scotus, on the other hand, has few established offensive weapons. The hitters that return will have a size disadvantage most nights against the girls across the net. Additionally, the Shamrocks are asking juniors and sophomores that, in many cases, have yet to play a single varsity set to contribute in important roles.
The situation isn't an ideal one against a division that will be the toughest, top to bottom, of the six in Nebraska High School volleyball.
Scotus coaches and players say they understand that and understand the group is a work in progress. Sustaining that work is a connection among the girls off the court that could prove to be critical on it.
"The team chemistry is really good. The girls are working really hard and they're having fun," coach Janet Tooley said. "They know the challenge ahead; we've just got to take the mentality that, 'Hey we're the underdog. Let's go see if we can go upset somebody' - have that type of an attitude and that type of focus."
Scotus was 16-11 last season, started 5-0, found the early-season ratings but faded down the stretch and lost its last five matches. That dropped the Shamrocks to the 21st position in the wildcard standings and forced them to win a subdistrict that included Lakeview and Saint Paul. Lakeview eliminated Scotus in the first round.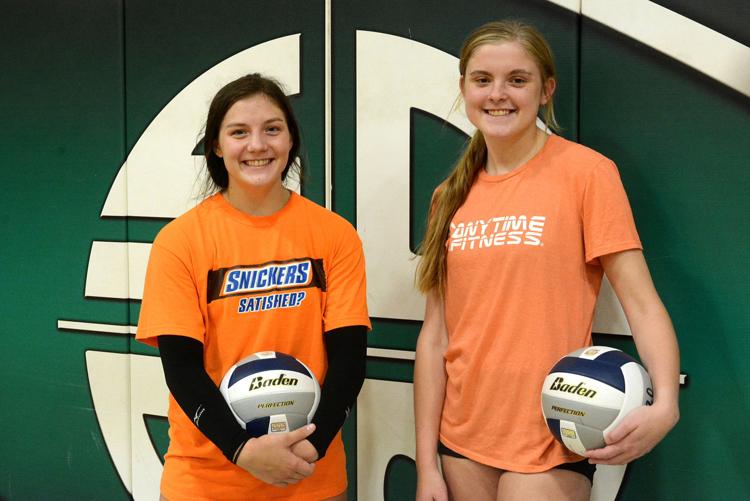 SCC graduated just three seniors, but Amber Buhman at 6-1 and Chloe Odbert at 5-10 had size and were regulars in the lineup for two years or more. Lauren Ostdiek was a two-year contributor in the back row.
Those departures left Chohon at 5-10, Miller at 5-5 and libero Kate Maguire at 5-5 as the only returnees with significant experience.
Graduations and personnel changes are a reality for every program each season, but fielding a team with size and veteran offensive ability looks to be a prerequisite in 2020. There are so many teams with so much back that catching up to the top of the class in a few months of practice and play looks like a longshot.
Scotus will attempt to round into form with its three seniors and a host of other players eager to make their mark. The Shamrocks aren't necessarily small, but they are raw among the girls 5-10 or taller.
"We've got a lot of options to get better, there's no doubt about that," Tooley said. "When we take the court, we don't look small. But our biggest players don't have any varsity experience."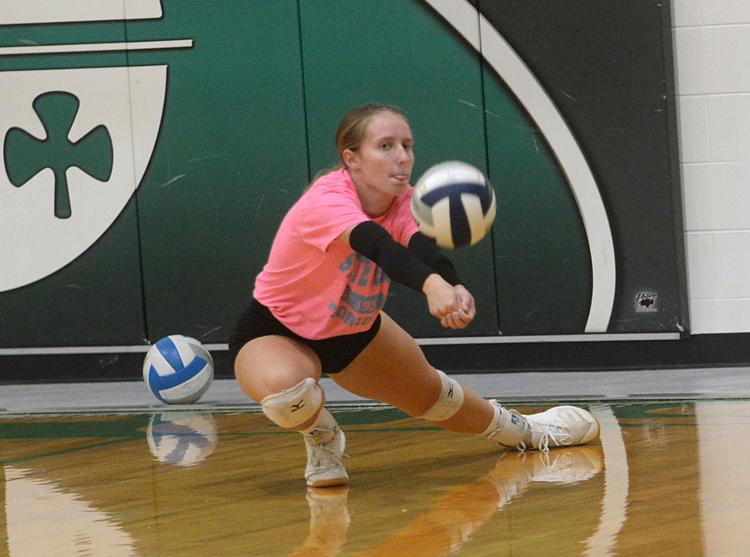 Chohon will be setting alongside junior Audrey Sprunk, a junior in her first varsity playing time. Chohon will also be a hitter in a 6-2 offense that's a continuation of last year. Odbert was the main setter in 2018. Scotus switched to a 6-2 last season when it was also lacking hitters. Faced with that situation again, Chohon is back in a familiar position and much more confident.
"Playing with Chloe really boosted my confidence because I watched her set and realized how much our hitters rely on our setters," Chohon said. "Having someone who had been working with setting forever, getting the ball to the right spot every single time with accuracy and communication was helpful to see."
On the outside, Miller and junior Grace Mustard have been the main weapons. In the middle, Tooley has played juniors Berlin Kluever and Chloe Walker and sophomore Haley Steffensmeier. On the right side, Walker, Ehlers and Kluever have all seen a rotation or two.
Walker has varsity experience; Kluever does not and Steffensmeier wasn't even practicing JV last year.
So far, Scotus has played four matches and gone 2-2. Tooley has experimented with a taller lineup, a smaller lineup and everything in between. Much of that would have been cleared up with a normal offseason. But instead of having a better handle on rotations by the end of the summer, Tooley and her staff are trying to accelerate the learning curve as fast as possible.
"Our concern is definitely our offense, and that's why the way this team will find success is if we can do a great job of serve receive, passing and ball control to where we can run a multiple offense," Tooley said. "We have a lot of options, we can hit out of a lot of different zones but, of course, all volleyball coaches know that only looks good if you can get the ball to the setter."
Tooley is most confident in Maguire and Makenna Svehla in the back row. While the rest of the offense comes together, that pair has already shown the ability to keep the team in matches.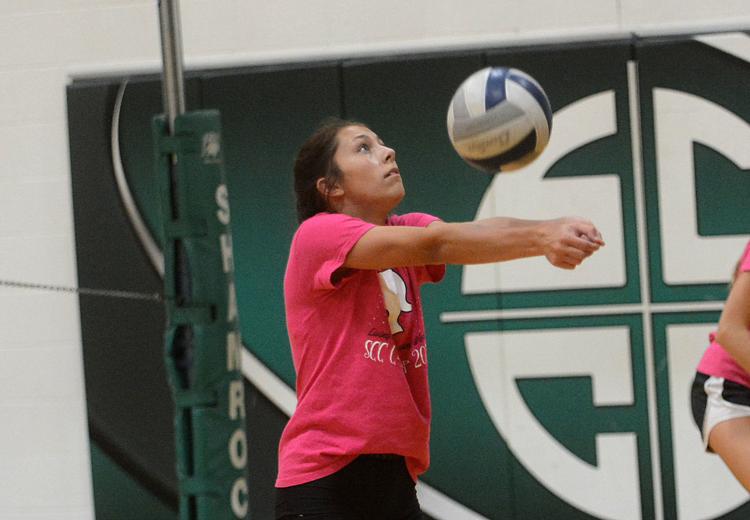 "I would say we're definitely an underdog this year, no doubt about that; plus our bench is very thin," Tooley said. "Fortunately, for myself as a coach, this isn't anything to do with poor effort on the team's part; a lot of it is just size. We've got some really skilled volleyball players, but they're all small and we're going up against some really big rosters."
As far as Scotus may be able to develop, Tooley admits there's probably a ceiling for her group that isn't quite as high as the competition. Unity, then, will play a role in keeping the team together through the ups and downs. Whether its utilizing defense and passing to keep points alive during matches, or becoming better players each day in practice, Tooley said she has a tenacious group that embraces the process.
"You've just got to ask everybody to give in whatever way they can to make us the best team possible," she said. "Not only are we working on that mental patience, but we're working on the physical conditioning it's going to take to play that kind of a game ...Right now, yeah, I think this group does have the patience to step up to that. We've just got to keep digging away."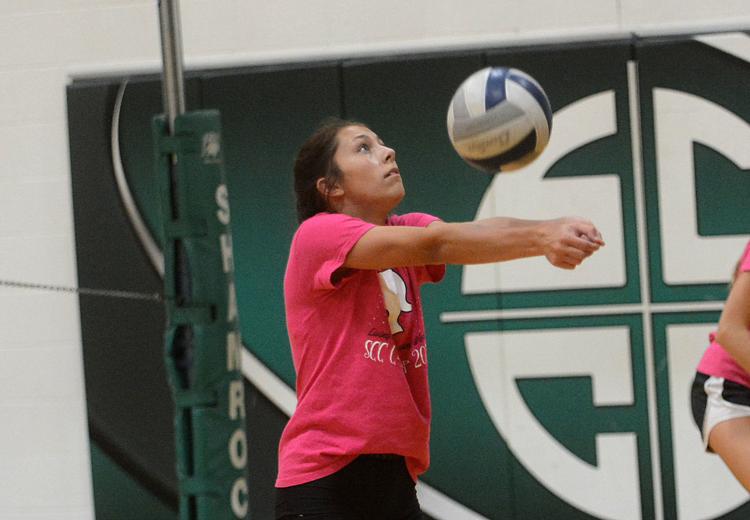 Get in the game with our Prep Sports Newsletter
Sent weekly directly to your inbox!