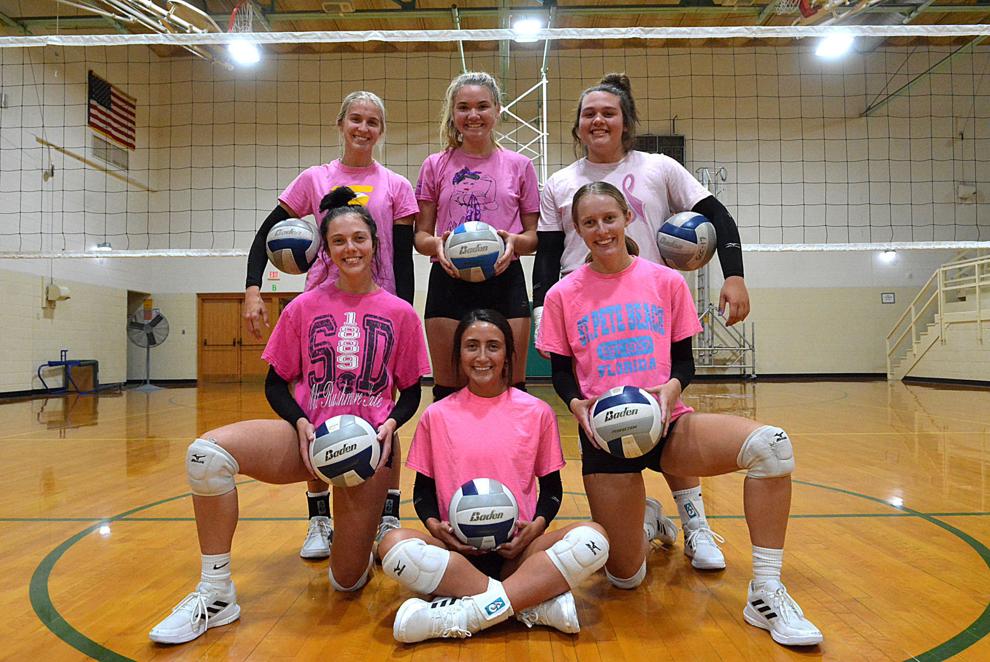 Scotus Central Catholic was back to the drawing board a few weeks ago when senior outside hitter Grace Mustard became unavailable just hours before the first match of the Shamrock Invite.
A sudden lineup adjustment in a last-minute scenario was a familiar feeling to coach Janet Tooley and her staff. 
The Shamrocks struggled through COVID absences a year ago that prevented the team from ever truly finding a consistent lineup. It was there the first few weeks of the season when Scotus started 2-2 and upset eventual district finalist Wayne. But as September wore on and turned into October, the Shamrocks were constantly moving players from one position to another when three starters, not all at the same time but somewhat concurrently, had to self-quarantine because of an exposure.
Scotus never had to take a COVID pause, but that may have been more beneficial than what it had to endure. Reconstructing rotations and experimenting with lineups left only so much time for actual training.
There was some of that again for nine matches, but Mustard is back and Scotus mostly survived her absence and went 6-3.
The rigors of last season forced the six seniors on this year's squad, and a few others, into becoming better all-around players. That has been beneficial in an 11-4 start heading into Tuesday's home triangular with Battle Creek and Crofton.
In the long run, the difficulties of last year may prove to be a blessing in disguise.
"We're in a unique season this year. We have six seniors that went through the ups and downs of last year, and the unpredictables. Once again, we were never disappointed in effort despite lineup changes," Tooley said before the season. "... We were hoping for improvement throughout the year but were always changing things up. In volleyball, that's a really big deal. This year, we're in a unique situation where, regardless of which rotation we start in, all six seniors can start. That's unusual but it's also been a real plus."
Part of the interchangeability has to do with how the six seniors have grown into their spots on the court. Although it might seem like it, there was no grand plan to develop them all at the six different positions and arrive at this point in 2021. It's mostly been luck that the roster includes veterans at setter, libero, defensive specialist, outside hitter, right side hitter and middle blocker.
But while the different shapes, sizes and experiences of the six seniors contributed to their positional development, so too did the trying times of 2020.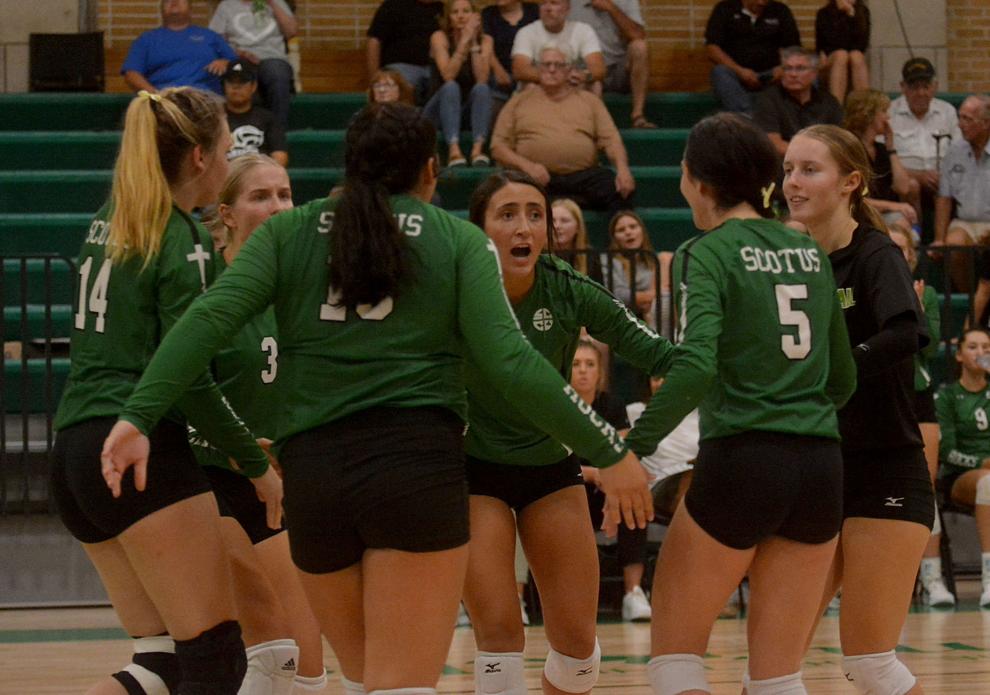 Right side hitter Tanley Miller was the first COVID casualty of the season when she was put on a two-week break in early September. Junior outside hitter Chloe Walker came in with a less-than-healthy ankle and took time to get going. Add in that Scotus was switching from a 5-1 middle dominant attack to a 6-2 and reliance more on the outsides and it was a lot to handle at once. More COVID quarantines for other members came along as well.
Fundamentals failed the most. Each position requires a different skill set. Moving players from one spot to another for only a limited time hurt that player's development not only in her primary position but left her way behind while trying to learn a new position.
And the schedule offered no breaks. Scotus played nine state tournament teams and two district finalists. Overall, the schedule featured teams with a combined winning percentage of 54%. The Shamrocks won four in a row early on but only twice more had back-to-back victories.
Scotus paid for the constant lineup adjustments and difficult schedule with its first losing season in 39 years.
But a year later, the Shamrocks say they're all the better for it. Everyone with significant playing time, not just the seniors, was forced to learn how to play all around last fall. Suffering more losses than wins virtually ensured those lessons wouldn't be forgotten.
"Because of last year I think we have a new philosophy in our program. All summer when we were taking reps, the lefts and the right sides continually switched," Tooley said. "I expect my left side to be as comfortable blocking and hitting from the right side. Most of my middles, and my right sides, can at least play one of those positions, or they can fill in as a middle if we need to. That was a goal all summer in open gym, even though we weren't taking practice reps."
What's been the benefit? A 6-3 mark with Mustard out provides some insight into the new program perspective. Granted, there were three losses, but only one of those, Wayne, did Scotus feel like it gave away.
"It was frustrating at the time, but big picture now, I can flip from left side to right side at any given moment and (Kluever and Walker) can play middle or right side," Mustard said. "We can just do it all now. But it was definitely interesting at the time."
Scotus was tied 21-21 with Lakeview in the second set of the Shamrock Invite championship before faltering late. SCC isn't yet close to staying on the court with Lutheran. Would Mustard have made a difference in any of the three losses? Almost certainly in Wayne and possibly in Lakeview. But the fact that the team won two-thirds of the matches without her contrasts directly with last year when the 'Rocks couldn't absorb similar personnel changes.
"I think we've grown from some of the struggles last year that we had to deal with," Tooley said.
At 11-4, Scotus is only one win away from matching last year's total. The Shamrocks have four wins over teams with a winning record and have played five quadrant one teams (winning percentage of 75% or greater) and has gone 2-3. The remaining schedule includes at least two more of those matches plus likely more in the conference tournament. There's also five more against squads with a winning record.
"It was hard. We were expected to show consistency when every game it was a different lineup," Svehla said. "This year we're able to adapt to change."
Scotus is 14th in the wildcard standings and in much better position to earn a wildcard berth to a district final than it has been the last two seasons if it's unable to win the subdistrict tournament. The Shamrocks are currently 14th overall and would be two spots out of the final wildcard spot were the 16-team field determined today.
There are four subdistricts that have every team in the standings below Scotus. That happens every year and steals district final spots away from other strong districts. Currently, district 10 has all four teams 13th or higher in the standings.
A district final is a minimum goal. The main goal remains the same as it has for nearly a half century.
"We're hoping to get down to the state tournament this year," Walker said. "It's been a while since we've been there. Our freshman year is when they made it to state. We're hoping to bring that back around our senior year."
Added Svehla, "It's all or nothing."