Scotus Central Catholic volleyball coach Janet Tooley likened it to crying over spilled milk. Complaining about it would have been not only fruitless but potentially damaging.
She wasn't interested in a "Woe is Me" syndrome setting in.
But to be fair, Scotus was handed quite the difficult set of circumstances last fall. More than once, a starter was put in COVID protocol and missed extended time from the lineup. For a roster without a true superstar, keeping the same rotations together was critical.
When that became impossible, Tooley was back at the drawing board. The chemistry and cohesion the Shamrocks had started to show on a few occasions were almost always followed by a change to the lineup.
Suffice to say, Scotus never felt like it arrived as a team. 
As tough as that was to navigate, SCC found a way forward without complaint. Months later as the team came back together for its in-house team camp and trips to other events, the Shamrocks still weren't about to lament what had happened.
The reason, Tooley said, is a tough-minded group of six seniors that are the key, in all sorts of ways, to what Scotus can achieve this fall.
"If there was an unfortunate circumstance that could have happened for a team, we seemed to run into it," Tooley said. "We had three starters out two different weeks out of the season but still managed to play our best ball at the end of the season at Lakeview in that subdistrict matchup, and they ended up third in the state. We probably needed one more week to solidify where we were at.
"...This group is such a great group of girls, I don't think they have a chip on their shoulders, but I still think they feel a little upset with the way things went last season. They're looking to square things up."
Scotus began down that path toward a refreshing start with its own camp in June. The Shamrocks then played at a one-day camp in Seward and just returned this past weekend from two days at UNK camp.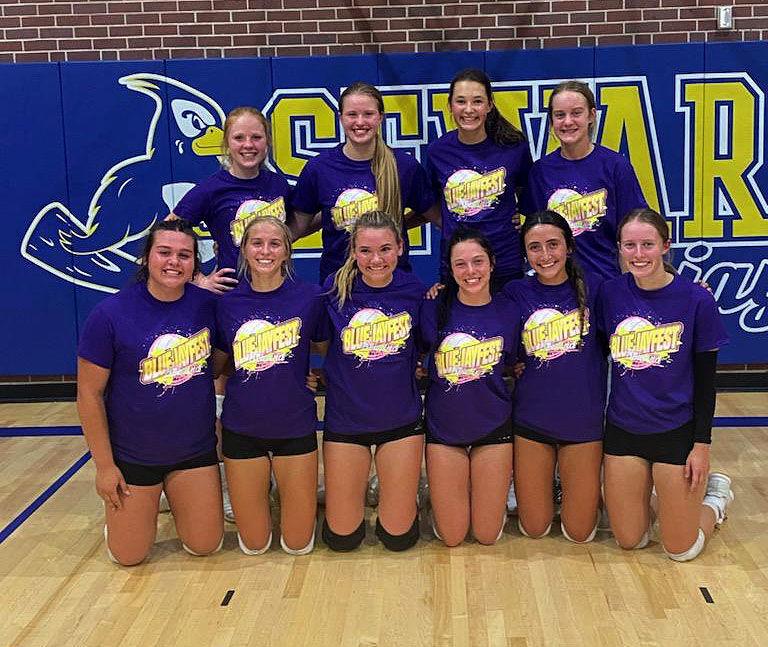 Nearly 160 girls were in attendance for the Scotus camp, the Shamrocks won their division in Seward then went to Kearney and went 15-3 in pool play. That record was a representation of sets won, not total matches. Scotus advanced into the semifinals and was beaten by Kearney in three sets and settled for third. The Shamrocks defeated the Bearcats in pool play.
Scotus has also been playing in the summer league hosted by Columbus High and Lakeview, but had its most accurate representations of itself in Seward and Kearney when the majority of the expected starters were available.
What Tooley wanted to see through summertime work is probably best expressed in a conversation she had with senior Audrey Sprunk. Sprunk split time with Kamryn Chohon last year as the setter in what was sometimes a 5-1 and sometimes a 6-2.
In order to begin to coalesce into the type of team Scotus needs, Sprunk and her fellow seniors had to seize leadership. There's a talented freshman class that can have an impact right away, but they can only contribute if others above them are willing to show them how.
"We had a nice little visit that she was no longer the junior setter," Tooley said, with a chuckle. "If she wanted to be the senior setter, she needed to step up. She took that to heart, and that's the way it is with all these kids; they know there's other kids knocking on the door."
For some that would sound like a threat. For a large senior class intent on enjoying its time in the spotlight after constant struggles as juniors, there could be some sense of entitlement. Not so, said Tooley.
"Those are about six of the nicest girls you could ever want to be a teammate with. Let's just say, a lot of times maybe they're more positive than I am when I'm making corrections, and that's what you need," she said. "The seniors know, for us to be good, the younger girls need to be good also because our seniors can't do it by themselves."
There are position battles left to be decided, and many of the younger kids may work their way into the lineup for good or off and on, as inexperienced players often do. Regardless of what is and is to come, Tooley and her staff anticipate another enjoyable ride.
Although last year was tough, there was a togetherness in the hardship. Bringing back six who were a part of that and are now the seniors on the team doesn't guarantee a perfect carryover, but Tooley wouldn't expect anything less.
"As long as I've been doing this, every team is special. Some years you have a few issues, but I've seen very little of that. It's a rare feature in our gym," she said. "As a coach, and our coaching staff, we can look forward to having a really fun fall with a competitive group that wants to be successful together that will be super supportive."