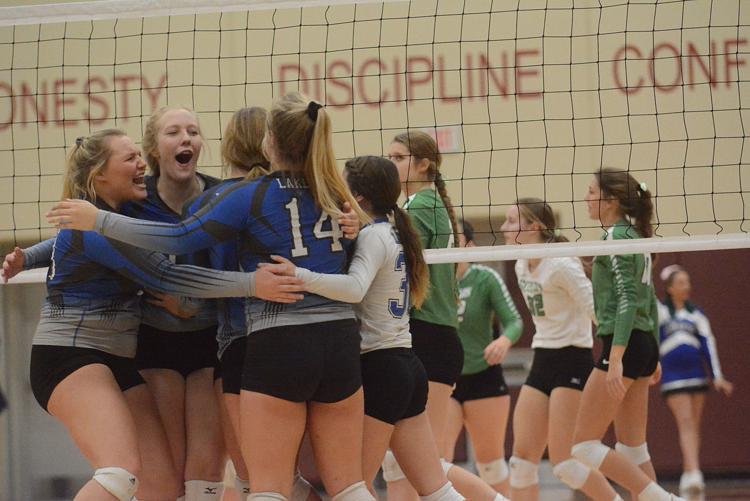 *Editor's Note: Don't want to wait to see it online? Check our website for breaking scores and sports stories.*
Lakeview had been in this very situation five days earlier.
Leading a match two sets to none, the Vikings dropped the third en route to a five-set defeat at the hands of North Bend. Unlike five days earlier though, there would be no need for five-set drama in Monday's sub-district tournament at Columbus High.
Lakeview never trailed in the fourth and advanced to Tuesday's final with a win over Scotus 25-12, 25-22, 23-25, 25-17. The win earned a match with St. Paul - a three-set sweep winner over Boone Central in the other semifinal.
Boone Central opened the night with a 25-20, 25-16, 25-19 win over Central City but then failed to do what so many other teams have also failed at against No. 1 St. Paul - win a set. The Wildcats are a perfect 31-0 on the season and 73-0 in set victories.
The Lady Vikes will need to end that trend and win three sets on Tuesday in order to move on to Saturday's sub-state round.
According to the 17 years of records available on the NSAA website, Scotus had never lost its first sub-district game in that span, going 30-2 overall before Monday night.
The Shamrocks had also gone 10-1 against Lakeview when meeting in the sub-district tournament since 2003. The Lady Vikes, though, have won two of the last three including the 2017 sub-district final.
"Anytime you play Scotus, you know it's going to be a great match because they've always got a great team. They're always well-coached. Anytime you win against a great opponent, you're going to feel good about that," Lakeview coach K.C. Belitz said. "The setting certainly matters, too.
"Being postseason and being able to play one more match, it is a big deal."
Both teams limped into Monday's contest, the fourth between the crosstown Columbus rivals. Lakeview went 7-8 in October while Scotus was 4-8. Schedules stiffened up for both, but neither expected to lose momentum the way they did down the stretch.
Scotus lost five in a row before Monday, losing last time out in a sweep to Class C-2 No. 2 Hastings St. Cecilia. And while five in a row was worse than any Lakeview losing kid this season, it was how the Lady Vikes lost the last time out that might have been more concerning.
Lakeview led at North Bend by two sets then let the Tigers back in with crucial serve errors and mistakes in the third. The North Bend block then took over and the Lady Vikes lost for the third time in four matches.
Monday was similar, and it also wasn't. Lakeview led Scotus 2-0, lost the third, but didn't let unforced errors tell the story of the fourth. The Lady Vikes never trailed, pulling away with eight of nine rallies with a 4-3 lead that turned into a 12-4 advantage.
Scotus only came as close as four points the rest of the way.
"Serve receive, as it always is, was a significant difference. We didn't ace them much, but it wasn't perfect passing either. They weren't in system as much as (Scotus coach Janet Tooley) wanted them to be. That slows down their offense and give us the chance to play defense," Belitz said. "We had just a few more opportunities probably on offense, and our hitters performed well tonight."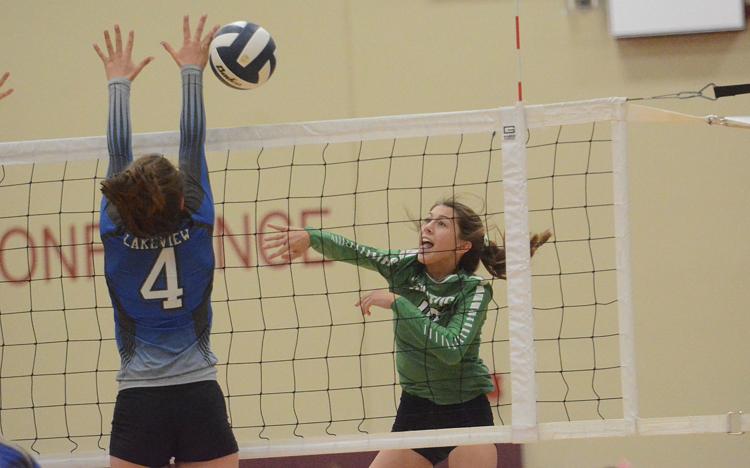 Tooley agreed. She mentioned last week when asked for the keys to Monday's match that serve receive would be a deciding factor.
"They played better than we did, and like I said, once again it came down to serve, serve receive," Tooley said. "They did both of those areas in the match better than we did.
You have free articles remaining.
Register for more free articles
Stay logged in to skip the surveys
"That allowed them to run offense better. We didn't pass well and we didn't serve real tough. That was definitely the difference."
Lakeview had the 2-1 lead in sets behind a fast start that included 18 of the first 24 points in the first. The Lady Vikes trailed the second 7-2 and 17-12 before taking their first lead late, 23-21.
Tied 21-21, a Mallori Kucera kill and Scotus net violation put Lakeview two points away from the set win. The Shamrocks called a timeout and scored the next point but a whistle on SCC for two hits then a Lakeview ace ended it.
The Lady Vikes led the third 10-5 before Scouts fought back for a 17-16 lead. It was a 23-20 SCC advantage, Lakeview won the next two, but Scotus senior Amber Buhman had two kills in the next three points to force a fourth.
"We were more motivated (after losing the third). We were like, 'We're getting this set,'" Lakeview libero Becca Valdez said. "We knew Scotus was going to bring it 10 times harder than the did in the previous set. We just had to play well."
Valdez totaled 46 digs in the match while teammate Mallori Kucera was tops offensively with 13 digs. She was the only Lakeview player with 10 or more kills though Reese Janssen, Katee Korte, Lilly Rowe and Ashley Behlen all had nine. Janssen also had 48 assists.
"Mallori early, set a tone for us that forced them to watch her, which opened up the other options. When that happened, I'm not sure what she hit, but it had to be really good," Belitz said. "Ashley Behlen, tonight, stepped up in a way we hadn't seen in several matches, certainly since she hurt her ankle.
"When she delivers outside, and Mallori can hold the block, then we're getting somewhere offensively."
Though some results were still outstanding as of Monday night after the match, Lakeview had moved up to 14th in the latest wildcard points standings.
If the Lady Vikes are unable to take down the unbeaten Wildcats on Tuesday, they'll have to rely on earning one of four wildcard spots into the sub-state round. Southern Valley in sub-district C1-10 was upset by Minden, and will likely take one of those wildcard spots at No. 9 in the standings.
If Lakeview falls on Tuesday, it can't afford anymore sub-district upsets if the numbers are to work out in its favor.
"We're not even thinking about that. We haven't even talked about it," Belitz said. "We have to expect that we're going to have to beat St. Paul to get in.
"That's our only goal here."