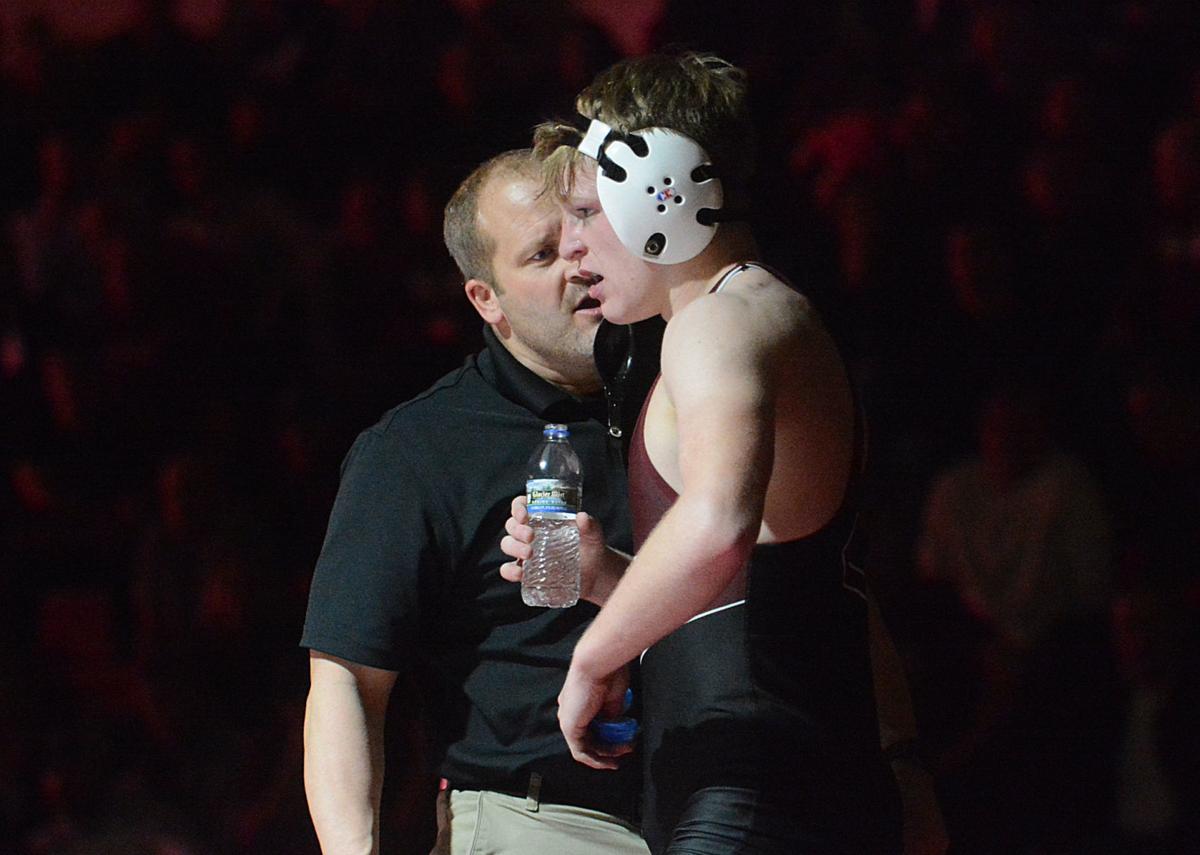 Although it came in a loss, the story of the night in Columbus High's 40-26 dual victory over Norfolk on Tuesday might have been freshman Liam Blaser.
Blaser wrestled No. 6 Austin Miller at 170 pounds, allowing Blayze Standley, Anthony DeAnda and Kasten Grape to wrestle up a division and pick up three wins. There was a certain intensity to the match that was obvious from the start.
At one point, with the trainers looking over Miller during a stoppage late in the match, Blaser was appealing to the home crowd to make noise.
He scored the first takedown and led 2-1 after the first two minutes, then suffered a nearfall from the bottom in the second. Blaser was awarded a penalty point and went into the third tied 3-3.
He gave up an escape and a takedown, scored his own escape, but, with his back to Miller as he ran from the hold, didn't realize his opponent was down on a knee and vulnerable. When he finally noticed and closed in, Miller looked to the referee and was given a stoppage for injury time.
Blaser had the upper hand over the final 20 seconds but couldn't find a move for the tying takedown and lost 6-4.
You have free articles remaining.
"I knew going in he was ranked, and I'm like, 'I have nothing to lose here.' It's like, 'Go in and wrestle my match and I can beat him,'" Blaser said.
The two have some history between them from junior high, what Blaser referred to as 'bad blood.' They had met three times prior. In the second match, Miller broke Blaser's nose with a crossface. Blaser broke Miller's arm on a move in the third match.
If the match had been 30 seconds longer, "I would have had him," Blaser said. "It's just, I got caught in a move. Credit to him. He's a very good wrestler and very disciplined, but...I don't know. I just got caught."
Miller was mostly a junior varsity wrestler last year as a freshman. He's 22-6 so far this season. Blaser just cracked the varsity lineup this past weekend at the Manstedt Invitational, going 3-2.
As underclassmen, more opportunities to sort out Blaser and Miller's 'bad blood' should take place over the next two years. Based on the crowd's reaction from Tuesday, there's more than enough interest in a rematch or two.
"He's a tough kid," Keiswetter said of Blaser. "He's been wrestling and doing great on the youth scene. It's just been hard for him to crack our lineup. He did pretty good (at the Manstedt Invitational), losing to the No. 1 seed and a wrestler from Bergan before pinning the other two guys. For his first varsity tournament, and tonight, he did pretty well."