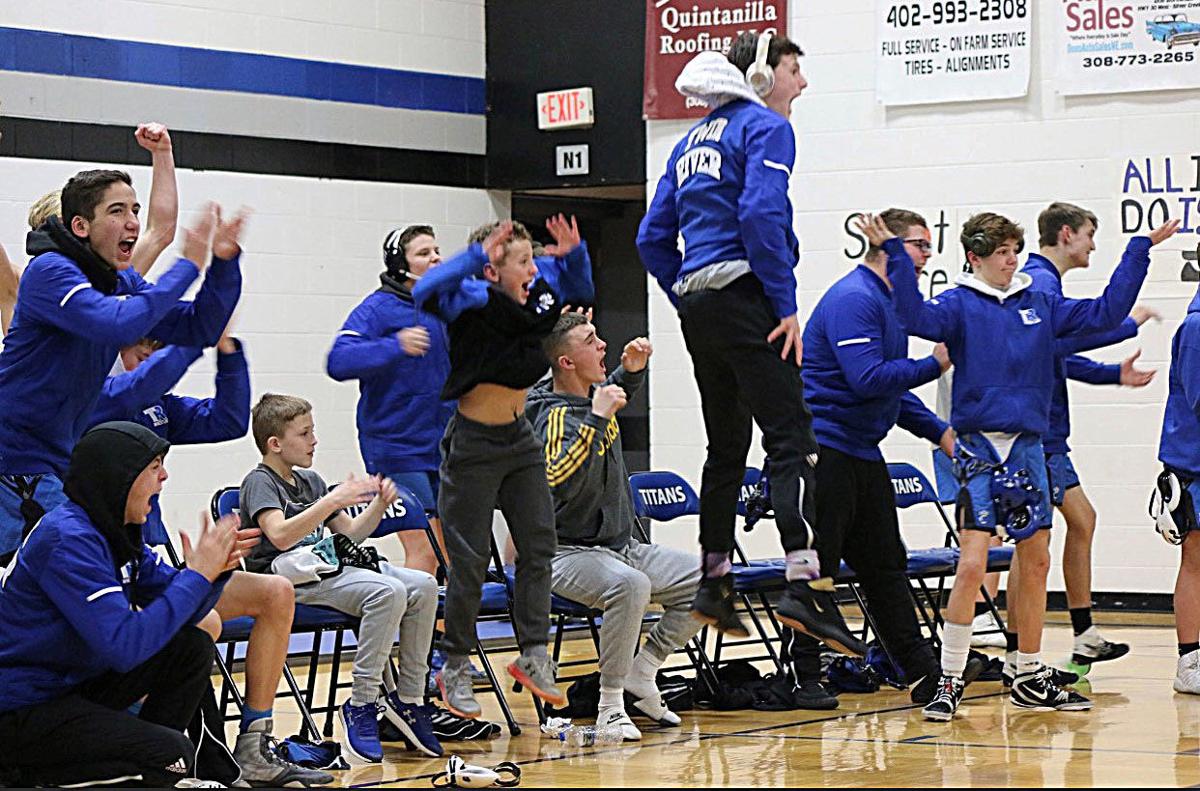 Class C No. 9 Twin River wrestling made history on Monday night, breaking the school record for most dual wins in a season. Twin River won nine of 11 matches against Scotus Central Catholic and took the dual victory 65-18.
The Titans (11-5) not only won nine matches but pinned their opponent in eight of those. The other win was a 15-0 technical fall. 
"Our team wrestled lights out once again getting a few big wins in matches that maybe should have gone to Scotus," Twin River head coach Kalin Koch said. "Our team's energy level was through the roof, and once we started rolling, we got the momentum from the home crowd and kept rolling." 
Twin River previously saw Scotus at the Nebraska Duals at Central Community College-Columbus back in the second week of the season and came away with a 51-27 victory. 
"This time around Scotus was a lot fuller as a team and we looked at it on paper and they honestly had a chance to do a few things by moving people around a making a dual out of it," Koch said. 
After this past weekend and last night's dual, the Titans have broken three school records during the 2019-2020 season - most pins in a season, most dual wins in a season and most team points scored in a tournament. They've also tied a record most points scored in a dual.
"Overall, I am very proud of this team's performance last night and their ability to continue to rise to the challenge," Koch said. "It has been a historic season so far, but our team needs to stay humble and keep working hard as there is still a lot of season left and we still have lots of work to do yet." 
The dual was tied after Twin River received a forfeit at 195 and Scotus (4-11) received a forfeit at 220 to start the evening. 
The Titans then started to build and continue their momentum.
You have free articles remaining.
Gunner Fink at heavyweight, Ashton Johnson (106), Jackson Strain (113), Korbe Urkoski (120) and Juan Davalos (126) recorded five straight pins for Twin River, taking a 36-6 lead. 
Scotus senior No. 6 Nick Taylor pinned his opponent at 132 before Twin River hit another hot streak starting at 138. 
Isaac Booth (138), Mason Tenski (145) and Jed Jones (152) all pinned their opponents, and No. 6 Jaxson Jones (160) won by tech fall 15-0.
Twin River won by forfeit at 170.  
Scotus ended the night when senior Evan Hand pinned his opponent. 
"I would tell you that we came out flat and non-physical," Scotus head coach D.J. Brandenburg said. "Looks like we weren't ready to wrestle whatsoever, and I was very disappointed in our performances.
"We've got to get back to the drawing board and get something figured out quickly because we have conference coming up this weekend and districts right around the corner. We want to start peaking at this point and not look the way we did last night." 
Twin River is in action next at 10 a.m. on Friday at the Madison Invite. 
Scotus is in action next at 7 p.m. on Thursday at home in a dual against Class C No. 3 Aquinas (8-0).