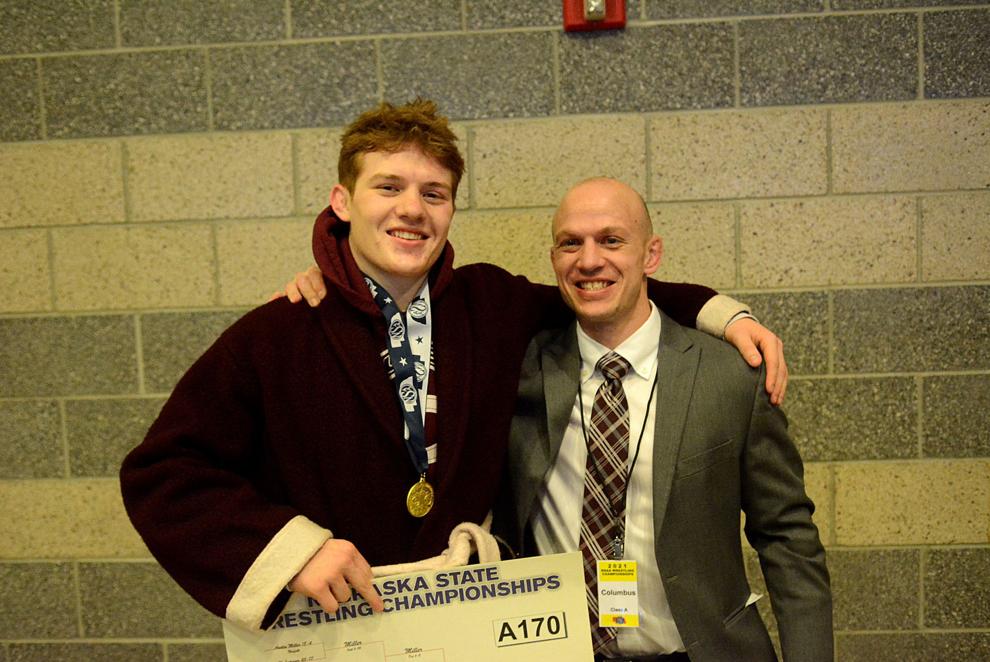 Columbus High wrestling coach Adam Keiswetter is the picture of stoicism at the corner of the mat. Like other coaches, he's hollering instructions and strategies, but win or lose, he hardly ever reveals any emotion.
That must have been awful difficult on Thursday night when his nephew, Blayze Standley, won a state championship.
Standley led Norfolk's Austin Miller 2-0 in the first period, 3-0 after the second and wrapped up a 5-2 win in the third on a takedown with 22 seconds remaining. There was a hug at the corner of the mat but no indication of any sort of familial connection.
Internally though, there was likely a tempest boiling just below the surface for Keiswetter watching the final match of his nephew's career. That it was a championship match the year after Standley lost in the finals only added to the tension.
"He'll be my sixth state champ, and my first that's blood," Keiswetter said. "It's pretty cool, man. I've been there since he was a little kid wrestling, and I've seen all the hard work he puts into it."
There was always a natural connection between uncle and nephew as fellow wrestlers, but the family connection was experienced mostly at a distance. When Keiswetter took over at Columbus High, Standley was living in Russell, Kansas.
In his eight grade youth season, Standley accepted an invitation to wrestle for his uncle as a fill-in for the Columbus Wrestling Organization. A dual tournament was upcoming at UNK - one of just a handful of dual opportunities for youth clubs.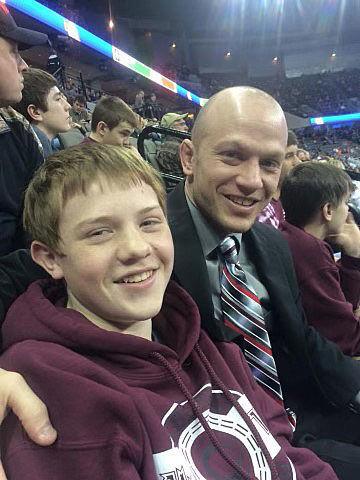 Without a wrestler at the heavier weights, and Standley admitted he might have been a little chunky as a kid, Keiswetter immediately thought of his sister's son.
Keiswetter made the call, Standley accepted and the rest is Discoverer history.
"It was his idea," Keiswetter said. "... Then those guys just brought him as one of the guys. He loved it. I had done some summer camps with him and he had met the guys and he was kind of hooked ... It worked out. It's pretty awesome to see it pay off."
It paid off because the Standley family was willing to sacrifice for the future. Mom, Rachelle, is a county assessor in Kansas and has the ability to work from different locations. She stayed back in the Sunflower state while dad, Brian, and son came up north. Brian took a job with Columbus Public Schools and the family planned ways to come back together over the weekends, holidays and, of course, wrestling events.
"I told him that if he wanted to go wrestle for his uncle he was going to have to work harder than everyone else," Rachelle said. "He wasn't going to get any breaks because his uncle is the coach. He would have to do twice as much."
Four years later, Standley took that advice and finishes his career as a four-time state medalist. He has two fourth-place medals to go with last year's silver and this year's gold - the 27th Discoverer to achieve such a feat and just the fifth to come back from a title match loss and win a championship.
Next year he'll be back in his old neighborhood, wrestling at Fort Hays State in Hays, Kansas.
And if the fateful tournament with CHS seems full of destiny, consider that Standley's name is a result of a near-death experience Rachelle had while he was in the womb. She was out in the county when a firetruck lost its breaks and rear ended her vehicle coming down a hill. The accident nearly killed her. Rachelle and Brian were unaware at the time that Blayze was on his way. He became their "Blayze of glory."
Nearly two decades later, while fate might have put him in position more than once, Keiswetter said it's still perseverance and determination that completed the journey.
"It's pretty cool. In the end, the guys who put in the most time and effort, it pays off for them," he said. "He's done everything. It's hard to think of a practice he hasn't been at."