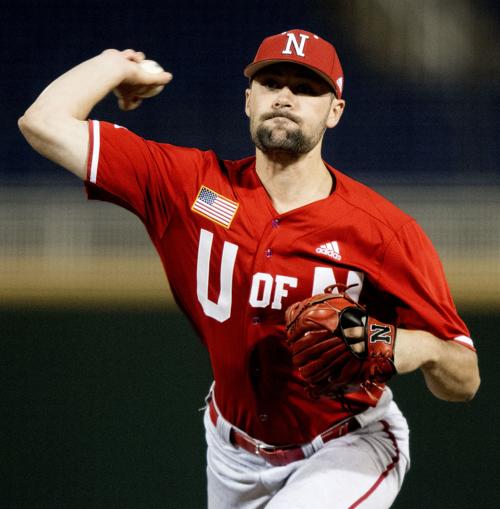 OMAHA -- Nebraska will play Ohio State in the Big Ten baseball tournament final, and the Huskers will turn to its Friday ace for a second time in the tournament.
Senior right-hander Matt Waldron will start against Ohio State. The game will begin at 3:33 p.m. at TD Ameritrade Park.
Waldron will be pitching on four days rest. He threw 7 1/3 innings and 121 pitches in Wednesday's tournament opener against Minnesota.
Waldron has been a steady arm for the Huskers this season. He lost three consecutive starts toward the end of the year before bouncing back with a strong outing against Michigan on May 16 and then against Minnesota in Omaha.
Assuming the Huskers will tap into the bullpen, here's a look at where the pen stands:
It's a good bet that Matt's brother Mike Waldron will make an appearance. Waldron has more relief innings (34) than any other Husker pitcher. He has a 4.50 ERA and threw seven pitches on Wednesday against Minnesota.
Junior Chad Luensmann (1-2, 6.75 earned-run average) is a veteran arm on NU's staff, but he was working through control issues during a long stretch of the season. Luensmann hasn't pitched since May 17.
Freshman Shay Schanaman has not pitched during the tournament. The freshman from Grand Island is 1-2 with a 4.02 ERA. He's had several strong relief outings this year.
Freshman Bo Blessie and junior Ben Klenke have not pitched in the tournament, either, and Jaxon Hallmark had a sharp inning against Iowa on Friday.
Freshman Colby Gomes is the Huskers' closer, but he could enter at any point. The Millard West graduate pitched Saturday night against Michigan, throwing two pitches to get the final out.
Kyle Perry, who threw 53 pitches against Michigan on Saturday night, and Robbie Palkert, who threw 95, will be spectators Sunday. Ethan Frazier, who threw 70 pitches in the first game against Michigan on Saturday, will not be available.