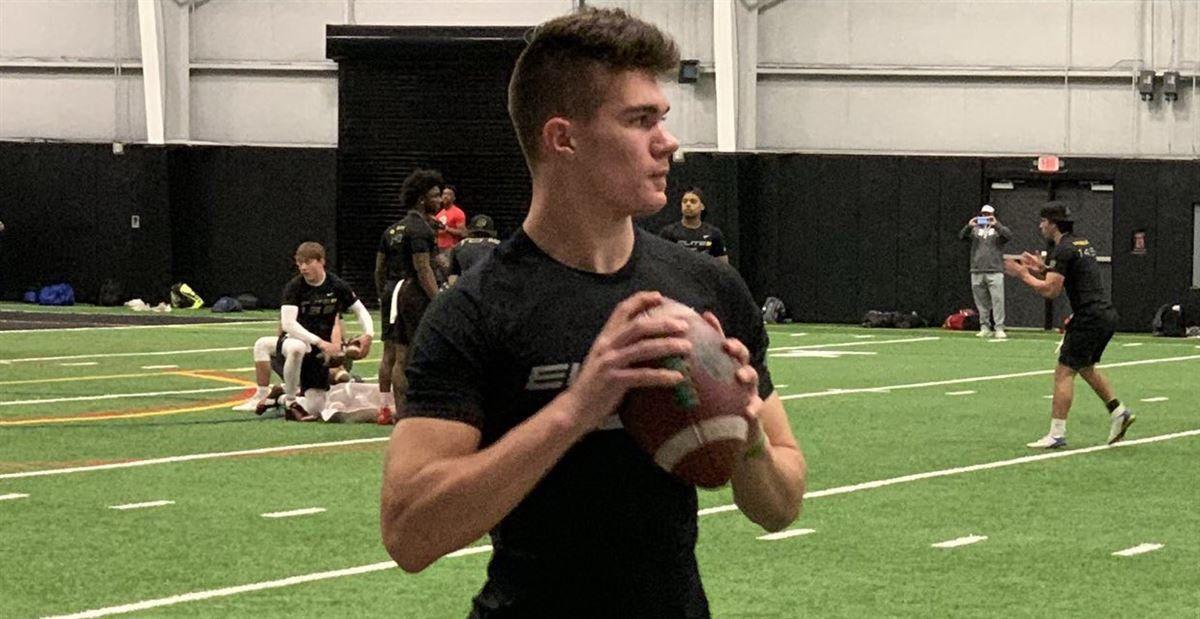 The last time Heinrich Haarberg was in Lincoln for a Nebraska football practice, he couldn't have foreseen what was coming next.
The Kearney Catholic quarterback in the 2021 recruiting class dropped by the Huskers' first spring practice back on March 9, less than a week before the remaining sessions were canceled because of the coronavirus pandemic.
On that day, though, he did have a productive conversation with head coach Scott Frost.
"He just talked to me and reinforced that they want me there, but it's just, it'd be a disservice to the team to just offer me without seeing me throw, and I completely understand that," Haarberg said after that trip. "… (When recruiting a quarterback), you'd better make sure he's the right one."
Well, the Huskers seem to think Haarberg just might be the right one.
Frost offered Haarberg a scholarship Monday, marking an escalation in the recruitment between NU and the 6-foot-5, 190-pound in-state signal-caller.
Haarberg's recruitment has been on a steady climb in recent months — he also received offers from Vanderbilt and North Carolina State on Monday — and Frost's history in central Nebraska made the offer even more special.
"It's awesome, just because I have a really cool relationship with Coach Frost. I mean, he played Kearney Catholic when he was in high school. My algebra teacher coached against him," Haarberg said Monday. "And so I think he and I have a lot of the same experiences. So it is cool that he's back at Nebraska and he's the head coach now, and that we can share those experiences."
The Huskers, after all, liked what they saw of Haarberg on film. He ran in the 4.6-second range in the 40-yard dash at a camp over the summer and has a 36-inch vertical jump. He threw for nearly 1,900 yards and 23 touchdowns as a junior and also ran for 458 (5.5 per carry) and four more scores. He was expected to run sub-11 seconds in the 100 meters this spring before the track season was canceled.
Maybe that could have waited until the summer, but other factors have crept at least into the periphery. Haarberg on April 8 picked up his first Power Five scholarship offer from Boston College and then two days later another one of Nebraska's 2021 quarterback targets, Peter Costelli of Mission Viejo, California, verbally pledged to Utah.
"He said that he was going to trust the tape and that he thought I was one of the top prospects with the tape," Haarberg said of Frost.
So now, Haarberg has a chance to be a Husker if he wants it. He's the first Nebraska high school quarterback to get an offer to play the position at NU since Allan Evridge in 2004. Evridge eventually picked Kansas State. The last two in-state players to sign with Nebraska as a quarterback? Mike McLaughlin (2001) and Eric Crouch (1997). 
Haarberg was a little bit late to the national recruiting scene, but he told the Journal Star back in December that he felt like he could keep up with the blue-chip recruits he saw on a camp swing last summer and that he was confident his recruitment would pick up.
"I've always been a little bit behind the curve because those guys have been prepping since they were 8 years old to play Division I football, and they live in the spots to get noticed and make it work for them," he said then. … "I don't have anything against those guys, those guys are great, but I know I've been blessed with pretty good genetics, and I know I'm probably more athletic than some of those guys."
Haarberg is a three-star prospect according to 247Sports and is ranked the No. 16 dual-threat quarterback in the nation.
He hopes to make his college decision by late June, he said, but that timeline could change.
"I really don't want it to carry into my senior season," Haarberg said. "I'm hoping late June, but if that doesn't work, then I'll just have to extend it. I'm not going to set a time and then rush into a decision."
Miss our position-by-position Spring Snapshot series? We've got you covered
In a series that launched March 23, our Husker staff examined each position of the Nebraska football team. Here's each part, all in one place.
Be the first to know
Get local news delivered to your inbox!