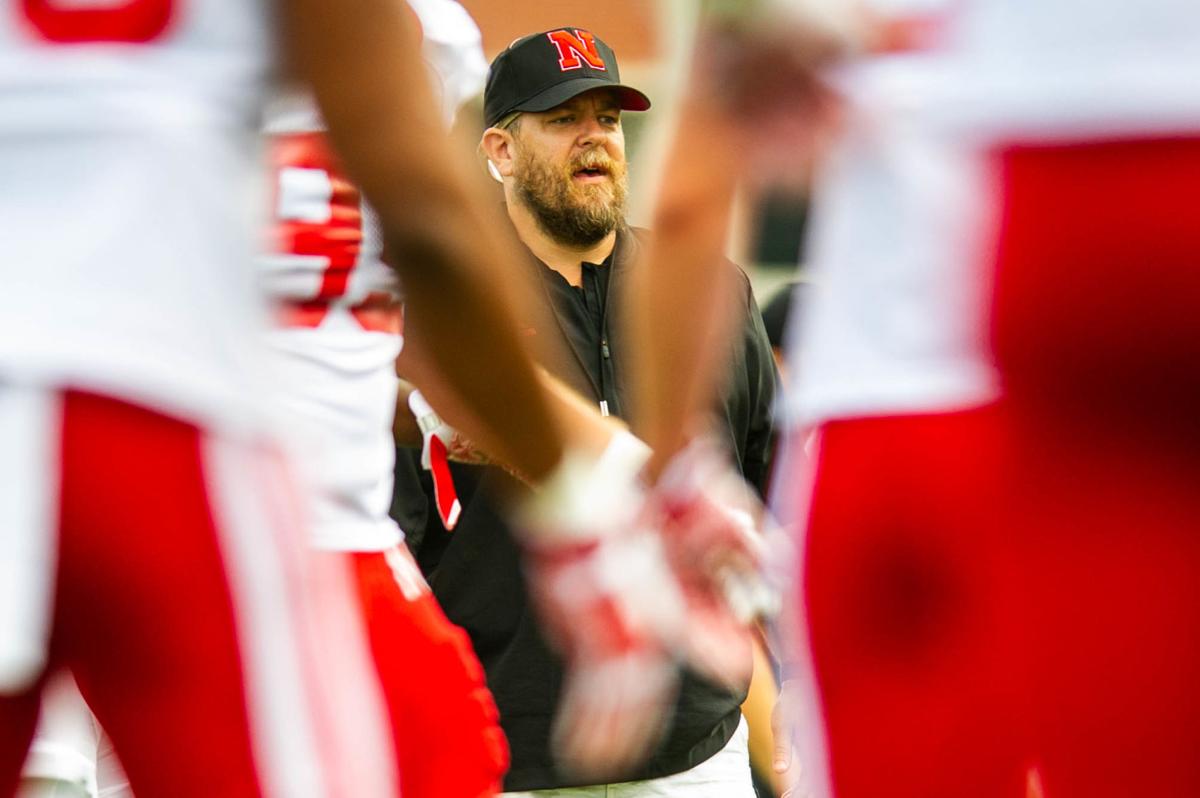 Things I know, and things I think I know:
With an approval rating I estimate to be in the 99% range, Nebraska football coach Scott Frost's power and influence in this state is enormous.
But who's No 2 in terms of importance within the Husker football realm?
There are a few obvious candidates.
Some would suggest it's Nebraska sophomore quarterback Adrian Martinez, who has captured the fan base's imagination and could be on the brink of becoming a sizable national story. That's all well and good, but I have a moral issue with saddling someone so young with that much weight.
Nebraska athletic director Bill Moos is in the discussion. He hired Frost. But Moos is still getting familiar with the lay of the land. And how long will he be in our midst?
Others might suggest it's Nebraska defensive coordinator Erik Chinander. But these aren't the Charlie McBride days. Chinander himself has said, "There are times I'd like to slow (the game) down a little bit, but this is Scott's show."
Got it. As long as Frost is in charge, Nebraska's identity as a program will be deeply rooted in offense.
So, I'm going with Zach Duval in the No. 2 slot in terms of importance. The Nebraska football team's head strength coach is the choice in part because of the rising profile of football strength coaches nationally and also because of the Huskers' traditional emphasis on strength and conditioning, dating to 1969 when Boyd Epley got it all started under the great Bob Devaney.
Duval worked under Epley as a Husker Power student assistant and graduate assistant in the 1990s and has now modernized the approach.
"I had a modest beginning because there weren't a lot of people across the country -- and not everybody at Nebraska -- who believed in strength training," Epley told me recently.
But look at the national landscape now. With each passing year, the aggression — and spending — in hiring strength coaches continues to grow.
"I had to lay down some bricks," Epley said. "My salary was $2 an hour when I started. But the minimum wage was $1.40. So I was pretty highly paid back then."
Duval's also the choice here because of what Frost always says about his strength coach. That is, Duval and his staff are around the players during a calendar year more than the coaches. Duval's message and philosophies must be in line with the head coach's if the program expects to operate at a high level.
There's something else important to consider in pondering Duval's exalted place in the Nebraska football realm. With the creation of state-of-the-art football training facilities at NU increasingly likely -- don't be surprised if the price tag tops well over $100 million -- Duval's stature could become that much more prominent as athletic department leaders ponder cutting-edge equipment and amenities. Duval would have a major say in much of it.
Frost made it clear last month during Big Ten Media Days in Chicago that a major project would be a welcome development. To be sure, Nebraska football no longer ranks in the top 25 in terms of facilities. University leadership, right up to the chancellor and system president, are acutely aware of the need to keep up in the overall athletic facilities arms race, particularly considering the school's geographic disadvantages in recruiting.
"At some point we're going to have to do something," Frost said. "Really what you want to do is give high school kids as many reasons as you can give them to come to Lincoln, Nebraska, to play football."
Regarding Duval, I asked Frost how much he thinks the profile of strength coaches has changed since his college playing days in the mid-1990s.
"I don't know if it's changed at Nebraska," he said. "It was more important at Nebraska than probably anywhere else in the country. Across the country, I would say it's more important now. We treat Zach like he's an extension of the coaching staff, another coach.
"It's not only a matter of getting players bigger, stronger and faster, it's also helping us get the kids to understand our culture and what to expect."
Exactly. Duval's importance looms large in the program, and it seems likely to grow even more soon.
* Frost always stresses the importance player development. In that regard, he said, don't underestimate the importance of Dave Ellis, the director of nutrition.
"I've always said Nebraska, when I was here (as a player), was the best in the country at developing people and talent," the coach said. "With Zach and Dave, we're going to be right at the top again. Both of those guys have come in and helped make a huge change in what our team looks like on the hoof."
On the hoof. Meaning as players gallop, er, run onto the field.
* If you're assessing chemistry in a program, particularly within a coaching staff, there's at least one area that often gets overlooked.
That would be the coaches' wives.
Chinander last week mentioned the importance Nebraska coaches' wives played in supporting Jovan Dewitt and his family as the outside linebackers coach battled throat cancer.
"We have unbelievable wives," Chinander said. "They're one tribe just like we are (as coaches), and they kind of rallied around and made sure all the stuff at Jovan's home was taken care of. I think we'd do that for any kid on the team, any staff member. I just think that's what you do when you're family."
-- Luke Gifford told me last spring before the NFL draft he was confident he would play in the league. Many doubted it.
But he clearly put himself in position to make the Dallas' Cowboys' 53-man regular-season roster. His high-ankle sprain suffered Saturday night may have hurt his chances. But he'll make a roster somewhere. Here's hoping the Cowboys stick with him.
-- Nine practices down in Nebraska's preseason camp, 11 to go before game week. The players get Monday off. Sounds like they've earned it.
Be the first to know
Get local news delivered to your inbox!