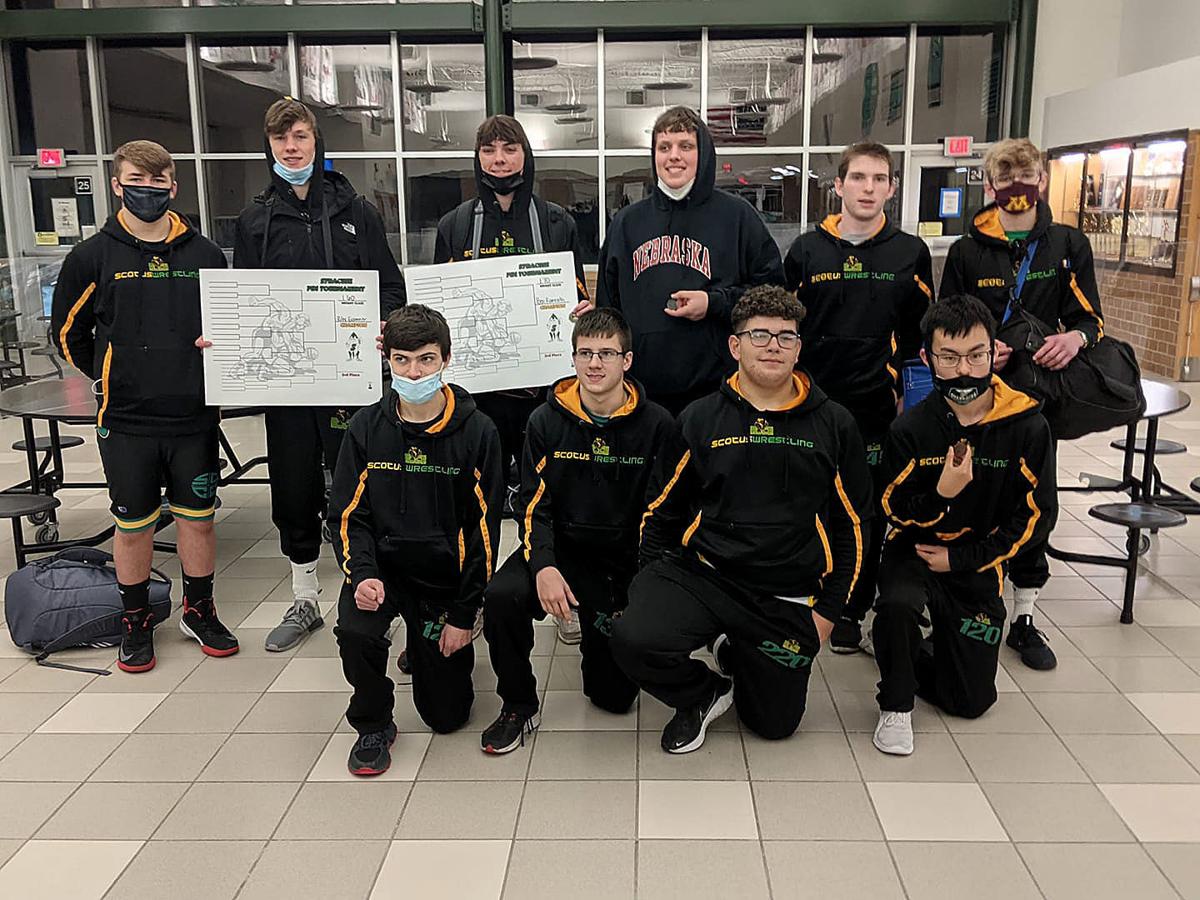 Scotus Central Catholic wrestling had to wait a few days after a postponement but it was well worth it Monday in Syracuse when two Shamrocks rose to the top of the podium.
Delayed from Friday, the Syracuse Pin Tournament featured a round robin competition for the weight classes, six teams and four wrestlers listed in the Nebraska Scholastic Wrestling Coaches Association ratings.
Junior Riley Eickmeier won gold at 160 pounds in a dominant 4-0 day. Senior Ben Kamrath also went unbeaten and claimed gold at 170 pounds. One other team member wrestled for gold and two others took bronze. Scotus was fifth out of six teams with its contingent of 10. Syracuse took the top spot with eight finalists and three champions. The hosts were 16 points ahead of Tri County.
Championships by Eickmeier and Kamrath are the first gold medals earned by Shamrocks this season and nearly matches the total from a year ago. Scotus had three champs in 2020 including Eickmeier at the Neumann Invite.
Kamrath's title was the first of his career.
"Seeing success as we get into the latter part of the year is what we've been striving for all year long - be wrestling your best when it counts," coach Tyler Linder said. "I was excited to see three guys walk away with first-place and second-place finishes."
Eickmeier had no trouble dispatching of four opponents, all in lopsided affairs. He pinned Cody Gray of Louisville in the first period, won a 17-0 technical fall of Isiah Katzenstein of Auburn, picked up a second tech fall, this one 16-0, over Isaiah Reed of Syracuse then wrapped up a gold medal on a pin of Tri County's Jack Hopkins with 45 seconds left in the second period.
Kamrath won 5-3 over Owen Wander of Syracuse, accepted a medical forfeit, pinned Louisville's Jake Wood in just 57 seconds and put Auburn's Cassius Cotton on the mat with 19 seconds remaining in the first period.
"A lot of those wins, they were very sound. It wasn't like they went the distance or were a surprise," Linder said. "Between Riley and Ben, they were in control of all of their matches."
Senior heavyweight Evan Ruskamp was in position to take gold as well after pins in his first two matches. He lost to Trent Hall of Auburn by first period pin in the third round but then bounced back and scored a pin over Toby Ambrose of Tri County with 23 seconds left in the first period.\
"I can't be more proud of Evan Ruskamp, the way he conducted himself and the way he came out and wrestled with intent and purpose," Linder said. "Anytime you can get your .500 or below .500 athletes to compete for first and second is huge. Sometimes in wrestling it takes a lot of luck, but you have to make your own luck. Evan definitely did that."
Paul Littlefield went 1-2 with a pinfall win and was third at 113, Tyler Cline went 0-2 at 120, Gabe Gassen was 0-4 at 126 and in fifth place, Rudy Brunkhorst lost all four matches and took fifth at 138, Grant Neville won his first match by pin but lost his next three and took fourth, Spencer Wittwer was 0-4 at 195 and in fifth place and David DeLeon dropped five matches at 220.
Scotus is back in action Saturday at the Centennial Conference Tournament to be held at Aquinas Catholic.