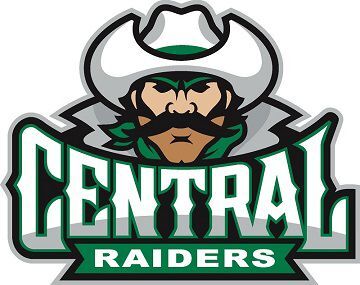 Central Community College-Columbus men's basketball dominated the Iowa Western JV from the opening tip in Monday's home victory, winning 112-57 in the second-highest offensive total of the season.
The Raiders led by as many as 59 and forced 23 Reiver turnovers.
"It was great to put a full game together and get everyone significant minutes tonight," head coach John Ritzdorf said, in a statement. "We had 32 assists on 42 made shots and did a great job sharing the basketball all game long. Overall, it was a good win that can hopefully get us going in the right direction heading into region and conference games."
Central led 12-9 early on before exploding for a 13-0 run that led to a 21-point halftime lead. The Raiders outscored the Reivers 60-26 in the second half. 
Jayden Byabato led the Raiders with 18 points, Tredyn Prososki scored 17, Michael Ozomah added 16, Kyle Hawthorne finished with 13, Emarr Vinson totaled 12 and Dwight Glover and Gacoby Jones added 10 each.
Iowa Western didn't have any players finish in double-digits. 
Glover recorded a double-double, grabbing 11 rebounds. Byabato and Vinson eached dished out six assists, Byabato swiped four steals and Jones blocked two shots.  
Central was not as fortunate on Saturday, losing 85-60 to North Central Missouri College in a road matchup.
The Raiders only trailed by nine at halftime but were outscored 45-29 in the second half. 
"North Central Missouri is a talented and experienced team that knows how to win, and it showed," Ritzdorf said. "We are really good in spurts but haven't been consistent enough over a full game to beat talented teams. Our defense and toughness really need to improve in this last stretch of the regular season."
With the win, CCC is now 6-7 on the season.
The Raiders are in action next at 5 p.m. on Saturday at Beatrice against Southeastern Community College. 
Central swept at Blue Dragon Classic 
Central Community College-Columbus volleyball dropped a pair of games on Friday at the Blue Dragon Classic in Hutchinson, Kansas. 
The Raiders opened the day against the host, Hutchinson Community College, and were swept 3-0 by set scores of 25-17, 25-12 and 25-20.
Jordan Wegner had eight kills and a pair of blocks, Chloe Odbert dished out 20 assists, Devyn Erickson and Khloe Felker each posted 10 digs and Michaela Dukes served up two aces.
Central won a set in the second match against Jefferson College, but fell in four: 25-19, 21-25, 25-20 and 25-18. 
Wegner recorded nine kills and three blocks, Odbert set up 23 assists,  Felker totaled 10 digs and Erickson served a pair of aces.
"We made some more really good strides in the match against Jefferson College," Central head coach Abby Pollart said. "We played tough and scrappy on defense but couldn't quite put it together on the offensive side."
The Raiders are now 5-9 and will be back in action at 7 p.m. on Wednesday in a home match against Southeast Community College.
No. 13 North Central Missouri defeats Central 
Nationally ranked North Central Missouri College women's basketball used a second half surge to pull away from Central Community College-Columbus in a 79-55 victory in Missouri on Saturday, handing the Raiders a fifth straight loss. 
The Lady Pirates built a 13-point lead at halftime then held the Raiders to just eight points in the third while extending to a 56-26 advantage.
"We started off well but just could not sustain our speed," said Central head coach Billy Perkins. "I was proud of our effort and how our team never quit playing."
Bailey Keller led the Raiders with 14 points, Brittney Veik added 11, Macey Thege finished with 10, Bailey Lehr and Nyamiri Blair each totaled nine and Jenna Schwanebeck collected two. 
Lehr grabbed a team-high nine rebounds and blocked two shots, and Veik dished out five assists and swiped two steals.
The Lady Pirates shot 51% from the field compared to just 37% for the Raiders. 
Both teams shot well from behind the arc. Central connected on 8 of 23 long range shots. 
The Lady Pirates won the battle of the boards 29-25, dished out nine more assists and committed 10 less turnovers. 
The loss is the fifth in a row for Central. 
"We started well but we just couldn't keep it going," Perkins said. "Playing the No. 13 team in the nation you must play four quarters. They were a good team but proud of our team's effort."