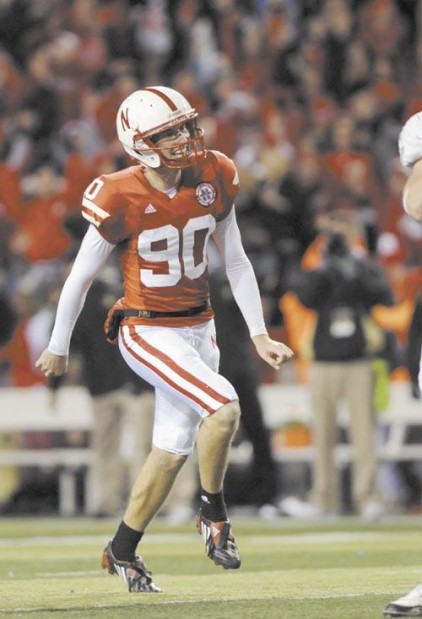 LINCOLN — The Huskers pulled off one of the more amazing wins in the program's history when sophomore kicker Alex Henery hit a 57-yard field goal with 1:43 left to give Nebraska the deciding points in a 40-31 win over Colorado on Friday.
Had Henery missed the kick, the game for all intent and purposes would have gone Colorado's way since NU had just one timeout remaining to stop the clock.
When Henery's kick made it over the crossbar by about a few feet, the stadium thundered.
Two plays pervious, Husker quarterback Joe Ganz had been sacked for a 15-yard loss, taking NU from the 25 to the 40, seemingly out of field-goal range. After an incompletion, Husker head coach Bo Pelini burned a timeout with his team facing a fourth-and-25.
Pelini chose to go with Henery. Henery answered with a field-goal kick that is probably unrivaled in Husker history.
The stadium rocked again a few moments later when Zach Potter batted a ball at the line of scrimmage and Ndamukong Suh intercepted it, running it back 30 yards for a touchdown to make it 40-31 with 55 seconds left.
The Husker overcame a poor start and a trick play that blew up in their faces to pull out the win
The Buffs (5-7) came in an 18-point underdog but had Husker fans on edge all day, leading Nebraska 31-27 going into the game's final 15 minutes.
Nebraska seemed poised to take back the lead early in the fourth quarter, but on a third-and-goal from the four, Ganz fumbled the ball away while backing away from center.
Again, NU had a golden chance to take a lead on its next possession, starting it on the CU 26, but the Huskers didn't net a first down and had to settle for a 37-yard field goal by Henery to close the gap to 31-30 with 8:09 left.
Little could have anyone anticipated what still awaited Henery.
If it wasn't a pretty win for NU, it still was effective in positioning the now 8-4 Huskers as a lead candidate for the Gator Bowl on Jan. 1.
The Huskers couldn't have started much worse.
Colorado scored two touchdowns on its first four offensive plays, taking a 14-0 lead before the game was five minutes old.
The first touchdown came on a 68-yard pass from Cody Hawkins to Riar Greer, who was wide open across the middle.
He was so open it made it tough to tell even who blew the assignment, though Pelini provided a clue when he gave an earful to safety Lance Thorell on the sideline.
That touchdown was followed by a 36-yard misdirection run by Demettriu Sumler, who scooted down the east sideline without anyone touching him. This time, linebackers coach Mike Ekeler was on the other end of Pelini's bark.
Nebraska regrouped in a hurry, going 64 yards in nine plays to cut it to 14-7, the drive featuring a heavy dose of running back Roy Helu, who got his first career start.
Senior Marlon Lucky did not play in the game, though it was not immediately clear why. It could have been injury-related. Lucky has been nagged by a toe injury.
The Husker defense began to figure things out, a sack by Rickey Thenarse on a double safety blitz energizing the crowd. More noise came from the red patrons a moment later when the Huskers took just one play to score on a 53-yard touchdown pass from Joe Ganz to Mike McNeill. That tied it at 14 with 4:04 left.
NU looked in control most of the rest of the first half, taking a 24-17 lead with 2:03 left before halftime on a one-yard Quentin Castille plunge.
Nebraska seemed on the verge of a comfortable lead before halftime when Maurice Cantrell fumbled a pooch kick at Nebraska's recovered at the CU 36.
But the Huskers gained only three yards on three plays and then got foolish.
On fourth-and-7 from the 33, NU faked a field goal, running a similar fake that the Huskers ran a few weeks ago against Kansas. Holder Jake Wesch blindly flipped the ball over his head to kicker Alex Henery, but CU had seen this before.