The Scotus Central Catholic offense began to fade early in the second half, due primarily to a major injury, and Scotus faded over the final 14 minutes in a 63-53 loss to Norfolk Catholic on Tuesday night at the Dowd Activity Center.
The Shamrocks trailed the Knights 36-31 with 6:27 remaining in the third when junior center Garrett Oakley went down with what appeared to be a high ankle sprain on his left foot. The offense kept it together for the rest of the quarter then gradually ground to a halt in the fourth.
The Knights, who average 29 3-point attempts per game and hit just around nine, shot 28 and made 13. Eight of those came in the first half. Still, Scotus trailed by just five at halftime thanks to 10 points from Oakley and five of its own makes from 3 - three by senior Kaden Young.
Norfolk Catholic scored the final seven points of the third quarter for a 52-41 lead then scored the first four in the fourth quarter when Scotus missed its first four shots.
"It's about resiliency, it's about battling, it's about continuing to fight. When Garrett goes down, it changes the game completely," coach Tyler Swanson said. "...We played just about two quarters without him. If you had told me that, playing half a game without Garret, it's not hard to see this happening. It probably will happen because we just don't have any size after that."
Scotus knew what it was in for Tuesday night - quick shots and a bevy of perimeter attempts. SCC won at Norfolk Catholic last year by six when the Knights made 15 3-pointers.
Thus, though Norfolk Catholic was making its shots from distance, there was no panic. Scotus couldn't necessarily match the visitors shot for shot but had five 3s before halftime. That plus Oakley's contributions made it a 34-29 game at intermission.
After Oakley's injury, Scotus made three more from beyond the arc. The trouble was, Norfolk Catholic answered each time. It wasn't always on the ensuing Knights possession, but three times in the third when the 'Rocks hit a 3, the Knights next points were also from long range.
Scotus cut the deficit to two twice and three on 3-point makes. Norfolk Catholic extended it back out on its own 3s all three times. For the game, the Knights answered five Scotus 3-pointers with one of their own.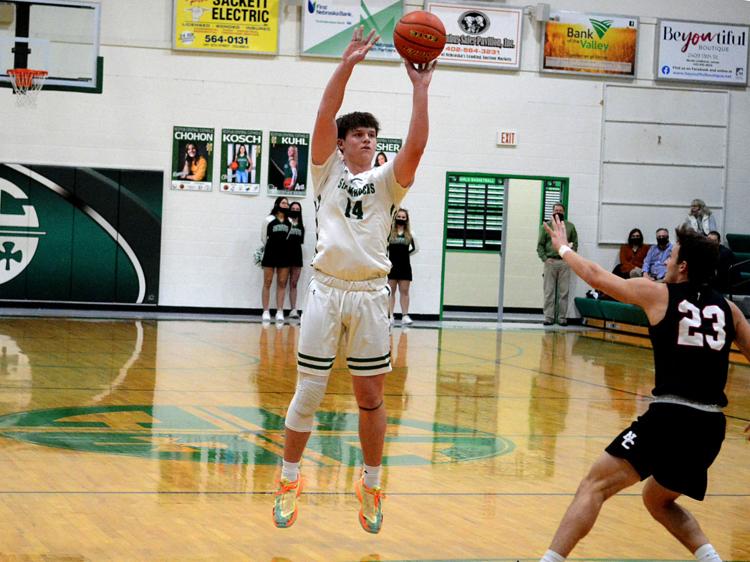 Those sort of gut punches, especially after a crucial injury, were frustrating to say the least.
"And we missed other shots in there also. So, every time we cut it down, and it probably should have been tied, they make a play," Swanson said. "There was a lot to overcome."
Scotus won't get any empathy for those struggles or Oakley's injury in the upcoming schedule. SCC begins a stretch of four games in eight days on Friday at 5-3 Lincoln Christian. Scotus will also see No. 7 North Bend, 5-7 Boone Central and 7-4 Fremont Bergan.
Oakley got up from the court and walked to the athletic trainer's room following his injury. It's not likely to keep him on the shelf for long, but he may be unavailable for part or all of the upcoming stretch.
"No one is going to feel sorry for us on Friday, or next Tuesday or next Thursday or next Friday. We're going to have to battle and find some guys to step up," Swanson said. "We've got a good group, it's just now about learning how to play without a big guy."