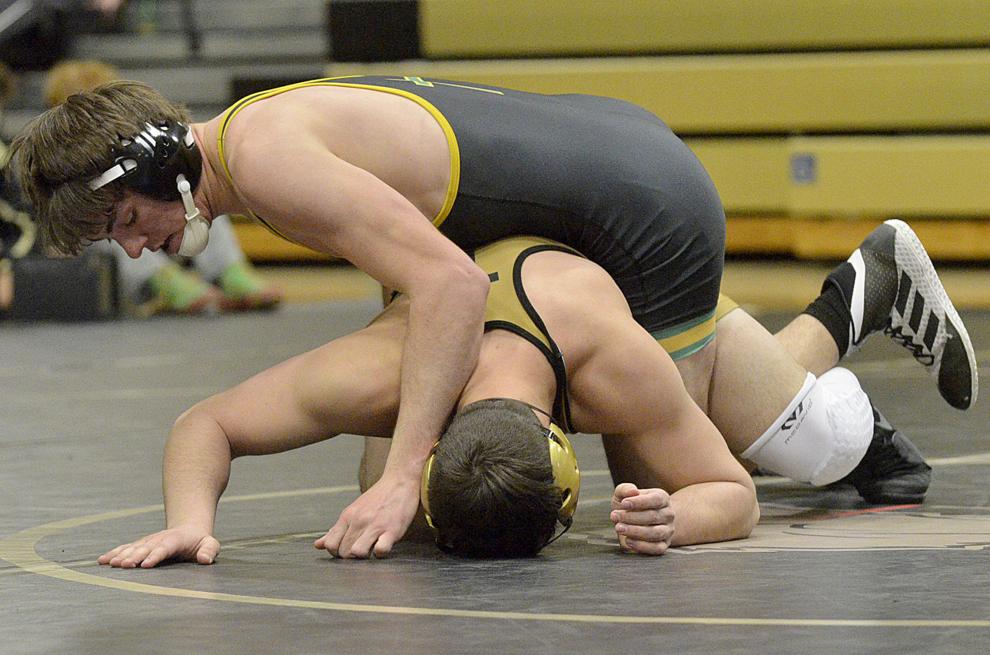 DAVID CITY - Class C No. 2 Aquinas Catholic wrestling showed why it has been victorious in 31 straight duals in a win against Scotus Central Catholic on Thursday 78-3.
The Monarchs went 7-1 in head-to-head matches including all seven victories coming via first-period pinfall. Six others were by forfeit.
Senior Ben Kamrath was the lone Scotus wrester to have his hand raised after defeating Marcus Eickmeier 7-4.
"We just want to come out here and compete well," Scotus head coach Tyler Linder said. "We want to see where we're at. This is the time of the year where you start mapping your road through districts and see what we can get and hopefully get some guys to state.
"This is a really good reality check and a really good motivator for our guys. We told our kids, 'This is really just a test of where we're at as a program.' Clearly a lot of respect and admiration for Aquinas and coach Emory's program here. They're a top-notch program. They do things the right way."
Kamrath took an early lead in his match at 170 pounds after securing a takedown. He rode Eickmeier out for the remainder of the time.
Kamrath chose to start the second on bottom and scored on a reversal to take a 4-0 lead. Eickmeier escaped later but was taken down again and gave up a penalty point. Eickmeier scored one more escape before the end of the second to narrow Kamrath's lead to 7-2.
Eickmeier chose to start the second on bottom and scored a reversal to close the gap to 7-4, but Kamrath stayed off his back for the win.
"He's just been gritty all year," Linder said of Kamrath. "He's the vocal leader of our team. He leads by example. He does all the little things right. You saw that come to fruition with our only win tonight."
Scotus will be in action next at 10 a.m. on Saturday at the Centennial Conference Tournament at Aquinas.
"This is the program we desire to be someday," Linder said of Aquinas. "This experience is great. It tells our kids what an elite program looks like and that's what we're striving for every day."