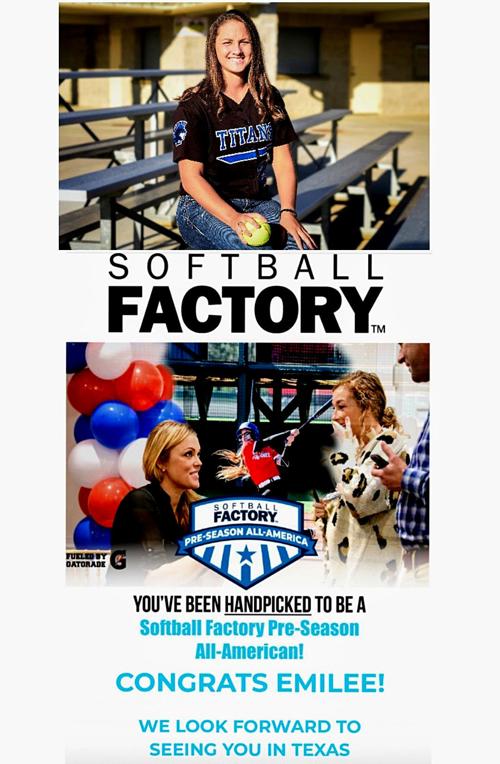 Twin River senior Emilee Spitz has done just about everything in her softball career. Whether it's in the circle, at the plate or out on the diamond, she has impacted the direction of Titan softball for the past four years.
This weekend in Texas, she'll have the opportunity to showcase her talent with and against the best players in the country. Spitz was chosen last summer as one of only 52 players for the Softball Factory Preseason All-American Tournament in Houston.
There she will play three games and receive her All-American award from former college standout and Olympic gold medalist Jennie Finch.
As talented as Spitz is, and as much as she's accomplished, this latest honor is perhaps most meaningful of all. When she found out from her mom that she had made the cut, Spitz was speechless.
"It was awesome. I don't think I've ever felt that feeling before," she said. "It felt like I was on cloud nine. I didn't know what to say."
Softball Factory is an organization that provides instruction, college planning and guidance to players nationwide. The organization has programs for players, parents, high school coaches and college coaches that provide training and advice throughout the year.
Chief among the organization's goals is assisting players in finding a home at the college level based on their athletic and academic ability.
The preseason All-American Tournament is one of three national All-American tournaments Softball Factory organizes throughout the year.
Twin River head coach Renae Van Driel nominated Spitz for the camp that serves as the tryout for the event. Spitz went to Iowa Western in Council Bluffs, performed in drills and had her abilities measured.
"We really weren't sure what was going to go on. All we knew was that when we show up we did what they (asked)," Spitz said. "I felt like I had to perform the best there because I wasn't sure of all the process. It felt like it was my one shot."
A few weeks after the tryout, Emilee's mom, Cassadra, called to find out if there was any news on her potential invite. The person she spoke to was excited to say that she had made the cut. It was a unique announcement. Normally, the Softball Factory representative said, he can't reveal the results quite that soon. Spitz's performance that day was the exception.
The invite allows Spitz to play in three games, take part in an awards ceremony for her honor, instruction and metrics testing and an edited showcase video from the event with a full evaluation. Finch will be part of the training and instruction. The tournament is limited based on position.
It takes place in Spring, Texas, part of the Houston area.
"I am really excited, and I do have some nervousness in me, but it's just a feeling that I haven't felt before," Spitz said. "It's an amazing feeling to have the honor to be a part of the small group that's going."
Spitz has been a part of a run of 20-win seasons at Twin River. The Titans were on course for that again this year when the season was shut down late due to COVID-19 precautions. Since it came in the final weeks of the schedule, Twin River wasn't cleared until after the district tournament.
Spitz had the end of her senior season taken away. Although this honor doesn't exactly make up for missing her final innings with teammates and friends, it's at least an extension of her varsity career for a few days.
"It was really hard knowing that you couldn't play for your team anymore and that you wouldn't be with the same people you've been with the last four years," Spitz said. "It was a really hard thing to take. We were all like a family. To have it cut short under the circumstances it did, it wasn't how we wanted it to end."
When Spitz arrives in Texas she plans on soaking it all in and using the tournament as a springboard. She's planning on putting her talent on full display, learn how to play with new teammates, work hard and have some fun.
Spitz hasn't made a college decision yet. She's considering a few options, including Northeast in Norfolk and South Dakota State. Whatever she decides, softball is a major priority for the future.
"It's an awesome feeling. I don't like bringing a lot of attention on myself; I like to be a team player," Spitz said. "But it's something I've worked hard for and I didn't know it could happen until it actually did. It's really, really exciting."