The Columbus United Federal Credit Union Junior Blues were down 7-6 when Jacob Wagoner stepped up to the plate in the sixth inning during the first half of Thursday's doubleheader against Norfolk at home.
Up to that point, Wagoner had been hit by a pitch twice and flew out once.
Teammates Josh Faust and Nicholas Zoucha were waiting on third and second, respectively, for a chance to give Columbus the lead.
That opportunity came when Wagoner smashed a ball to left field on a 1-2 count to score two runs giving the Blues a 7-6 lead.
Norfolk generated one run in the top of the seventh, but a sliding catch by center fielder Yurisky Rivera secured the third out and 7-6 victory for the Blues.
The momentum carried on to the second game, which Columbus won 7-3.
The win improves the Blues record to 9-15 and breaks a four-game losing streak. It also breaks a three-game scoring drought in which Columbus only managed one run in three games.
"It was great to get back," Johnson said. "Our bats have just been kind of cold going into it."
In the first game, the teams entered the fourth inning tied 1-1, when Norfolk generated three runs.
Columbus closed the gap to 4-2 in the bottom half before the visitors added two more in the fifth to take a 6-2 lead.
The Blues started their rally in the bottom of the fifth, scoring three runs to close the gap to 6-5. The defense stepped up in the sixth to keep Norfolk off the scoreboard and allowing Wagoner to hit the game-winning double.
"(Wagoner) is a guy that locks in every day at practice," Johnson said. "Of all of our guys, he's a guy that's really in tune and knows what we want to do. Having him at the plate in a big situation is huge."
Faust started on the mound for the Blues and pitched 4 and 2/3 innings, allowing six runs, four of which were earned on nine hits while striking out three batters.
Trevor Schumacher came in for relief the final 2 and 1/3 innings allowing no runs on two hits while striking out one batter and walking one.
"To Norfolk's credit, they hit pretty well," Johnson said. "Jack has held teams in check. This team has probably hit Jack the hardest. He battled and gave us what he could. Trevor pumped strikes and let his defense work to finish the game."
Rivera led the squad in hits with two, including a triple. He finished with two RBIs as well.
Columbus also finished with seven stolen bases.
"We certainly ran more than we usually do," Johnson said. "We kind of got things going there and that just led to some other good things, some hits and a pretty good offensive day for us."
Columbus got out to an early lead in the second half of the doubleheader with a four-run first inning to lead 4-1.
The Blues added another run in the second, but Norfolk generated runs in the third and fourth to close the gap to 5-3.
The Juniors closed the game out with runs in the fourth and fifth to win 7-3 in a five-inning game.
Bohden Jedlicka was the starting pitcher, throwing 3 and 2/3 innings and allowing three runs, one of which was earned on six hits while striking out six batters and walking one.
Colby Salak closed out the final 1 and 1/3 innings, allowing no runs on no hits while striking out one batter and walking one.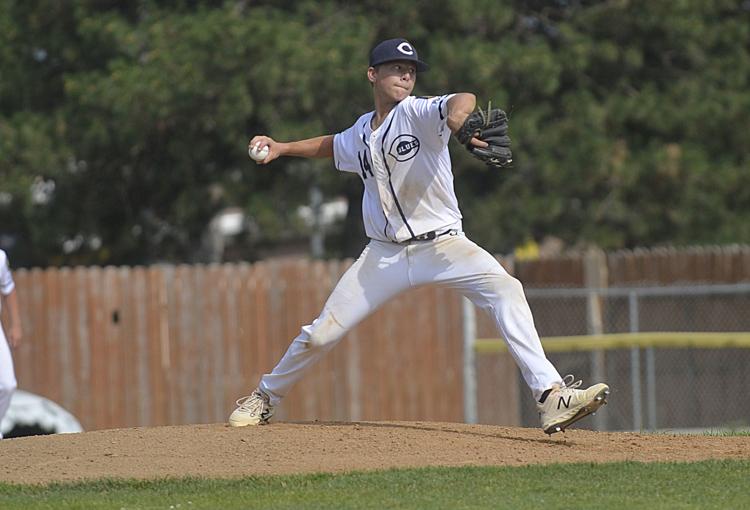 "They combined for a great pitching performance," Johnson said. "Throughout the whole night, one thing I thought that stood out in both games is we really did a good job of battling out of tough situations."
In the two games combined, Columbus gave up 17 hits, but only allowed nine runs.
Faust led the team with two hits and two runs. Wagoner also scored two runs in game two.
The Blues will close out on the season at 5 p.m. on Monday in a doubleheader at Grand Island.