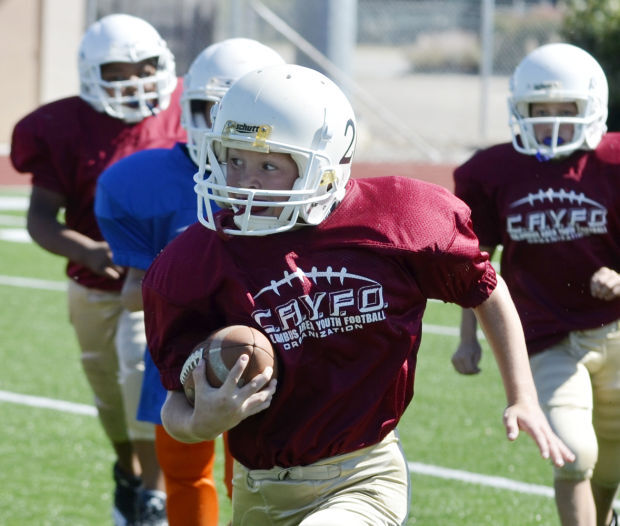 The Columbus Area Youth Football Organization is set for a 2020 season following Labor Day.
Though several changes are in the works to slightly delay the season and play one fewer game, it's full speed ahead for youth football in the city.
"We felt it was very important to continue the fundamentals that all of us build on in our camps, to help prepare kids for their junior high seasons and high school seasons and just to give kids an opportunity to get out of the house after everything we've been through," said Jay Zwingman, one of the chief organizers of the league. "We'll follow all local and state directive health measures."
Those include parents signing a COVID-19 release form and regular sanitizing of equipment and facilities.
This year's season begins with practice on Aug. 25 and a first game on Sept. 13. Practices follow a Tuesday/Thursday routine ahead of five games to be played at Bradshaw Park.
All area youth entering third and fourth grade are eligible for flag football. Players in fifth and sixth will participate in tackle football.
Rules will be similar to previous seasons. Players must register online at columbusareayouthfootball.com. All registration and payment must be completed online and finished by Aug 18.
The registration banner is near the top of the web page.
The organization has been willing to allow late registrations in the past, but due to the time crunch and uncertainty, no registrations will be accepted after Aug. 18.
A normal season would have started with practice next week leading up to games the weekend before Labor Day, a week off, then five straight weeks of games.
The three varsity football coaches in Columbus serve as the CAYFO's board of directors. Zwingman and Lamont Braithwait are the unofficial commissioners.
Following a summer of little league baseball and softball, seasons by club teams and approval by the state to resume football activities in July, the board, plus Zwingman and Braithwait, felt the door was opened to the league.
"I think it helped ease our minds that you can get it done," Zwingman said. "There is a path forward. But, then again, football is a whole different animal, too."
The CAYFO normally signs up anywhere from 375 to 425 kids each fall. The average number is right around 400. That allows for about 16 to 18 teams.
Thus far though, sign ups have trailed most years. That is understandable in an uncertain time. But Zwingman wanted to emphasize that while many parents have taken a wait-and-see approach to youth leagues, registration must be completed by Aug. 18.
Cost is about $100 per player with a $20 discount for each additional player.
Norfolk canceled its youth league. Players from the Norfolk area are welcome to join the CAYFO.
"We're planning to have the season as normally as we can, we'll follow the directive health measures but we really need people signed up by that deadline so we can form teams and know we have enough players to go through with this," he said.
"Our sign ups have been slow. It's tough; we're hoping to get the word out so we can move on with the season."
Be the first to know
Get local news delivered to your inbox!