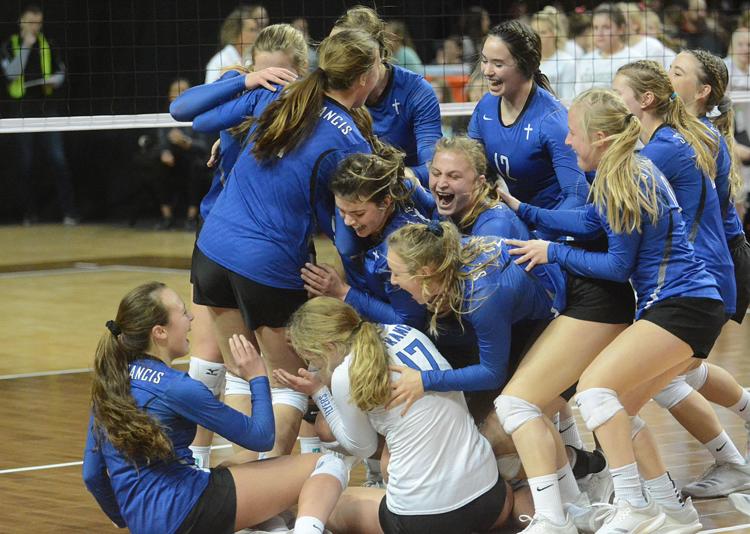 LINCOLN - Remember the time the Flyers came back after trailing 6-0 in the fifth?
No matter what happens Saturday, that might well be the moment Humphrey Saint Francis players, coaches and fans remember most vividly about the 2019 state tournament.
Unless, of course, that comeback leads to something more on Saturday morning at the Devaney Sports Center. That's where St. Francis will meet No. 1 BDS for the D-2 state championship thanks to a 25-19, 12-25, 25-12, 21-25, 15-13 win over Lawrence-Nelson.
It wouldn't have been possible without a gutsy final 22 points in Friday's semifinal at Lincoln's Pinnacle Bank Arena.
St. Francis led two sets to one in the fourth but gave up a 20-19 lead and was forced to a winner-take-all race to 15 in the fifth.
After the Flyers lost four straight to end the fourth, it became 10 in a row when Lawrence-Nelson jumped ahead 6-0 just moments later. But as the Raiders had already done eight other times in the match, they killed their own momentum with a service error.
St. Francis came all the way back and took the lead with the next eight points, briefly surrendered it on a mini Lawrence-Nelson run, but took control for good with five straight.
Flyer senior Caitlin Jarosz finally ended it, and ended a long rally, on her fifth kill of the match.
St. Francis and Bruning-Davenport-Shickley lead off championship Saturday at 9 a.m. The Flyers are looking for their fourth state title in program history while the Eagles are seeking their second and looking to go back-to-back.
St. Francis coach Dean Korus hasn't thought about what he'll say to the team yet on Saturday morning, but he was direct in his assessment during a timeout at the start of Friday's fifth set.
"I told them, 'You look frightened. You all look like you're scared out of your wits.' I said, 'Drop that. We're going after it," he said. "I don't know. Things just turned around."
For most of the match, it didn't seem anyone wanted to win. Errors in every aspect of the game plagued both sides, but more so Lawrence-Nelson.
The Raiders made 51 total errors between hitting, serving, two-hit whistles and net, lift and other violations. The Flyers were pretty bad at points too, especially in the second, but they made just 32 combined errors.
That 19-point difference in mistakes gave St. Francis two easy wins in the first and third, but that mattered little in the fifth.
Three Flyer errors, a block and two kills had the Raiders nearly halfway there before yet another serving error ended the run. St. Francis capitalized with eight straight points, taking a brief 8-6 lead that included two Allison Weidner blocks and a Weidner kill.
You have free articles remaining.
Lawrence-Nelson regained control with three points of its own, but the 10th and final Raider serving error of the day handed it back over to St. Francis.
The Flyers made it 13-9 with that mistake on points that included a Kylee Wessel ace and two more Weidner kills, led 14-11 on a net violation then won a long rally at 14-13 when Jarosz tooled a shot off a blocker.
"It was a roller coaster. We kept our enthusiasm and our momentum and that's what pushed us to win in the end," setter Peighton Eisenmenger said. "We were a little down (in the fifth), but we shook it off, got it back together and pulled through."
The first set was played within three points until St. Francis began to pull away with a 14-13 lead. The Flyers won seven of the next nine, eventually closing a first-set win with a Jarosz kill 21-15.
St. Francis trailed the second set 9-5, tied it up but then lost 16 of 18. The Raiders made five straight serving errors to allow the Flyers back into the match early, but St. Francis failed to use those free points and lost 25-12.
Hitting errors in the third gave the Flyers a 9-4 lead out of the gates that became 16-8. The Raiders hit the ball out or into the net 10 times in that set alone. Those mistakes led to another lopsided score, 25-12.
The lead changed hands 12 times in the fourth. The final time following an Eisnemenger kill and Lawrence Nelson error put St. Francis up 20-19. A Raider kill and block turned it around, Wessel answered with a kill but Epley found the floor three times in the final four points for her side.
"We talked about how much we want it and what we've all done to get to where we are now," Eisenmenger said about a timeout early in the fifth trailing 4-0. "I fully trust in my team. We pulled it off."
The Flyers junior setter finished with 24 assists and 16 digs. Many of those assists went to Weidner who had the hot hand for the Flyers with a team-high 14 kills. She was also on point defensively, stuffing six Lawrence-Nelson shots and tying Eisenmenger with 16 digs. Weidner's three aces tied Epley for the match high. Alissa Kosch led St. Francis in the back row with 21 total digs.
"It doesn't feel real. It won't feel real until...I don't know when," Eisenmenger said. "We just pulled it together. We wanted it more."