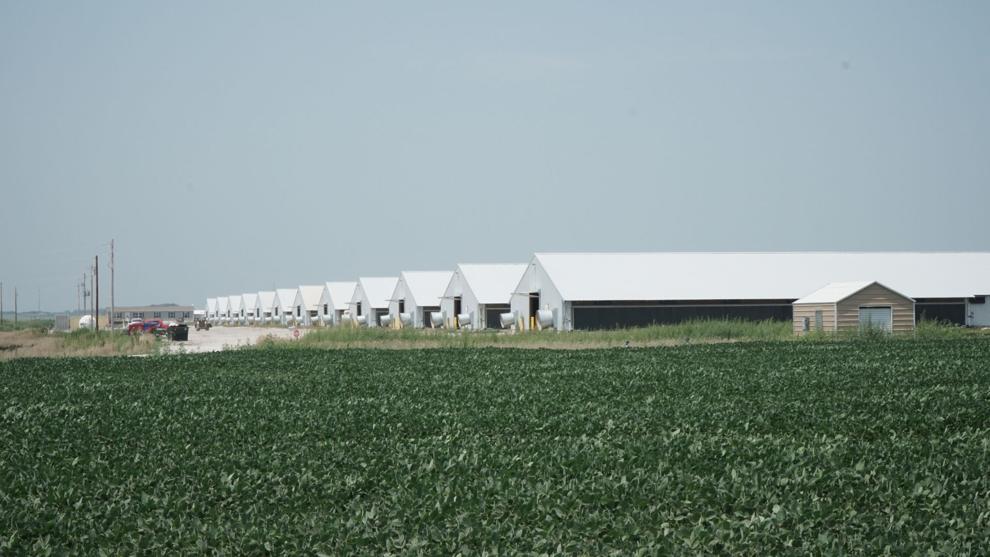 According to Sam Barlean and Greg Lanc, the dozens of chicken barns near their homes have ruined their lives.
Lanc lives in Butler County on 38 Road about 6.5 miles north of Rising City. He said he can see and smell four dozen chicken houses from his front yard. All 48 of the barns were financed by Gallus Capital, a North Carolina-based company.
The same company financed another dozen chicken barns located near Barlean's home, which is on 34 Road almost exactly halfway between Rising City and David City. Another similar set of 12 barns by Barlean is owned by S&S Broilers, which is based in David City.
Lanc and Barlean's homes, and the chicken barns in question, are surrounded by fields of corn and soybeans, only accessible by gravel roads.
There appears to be an exorbitant amount of chickens inside the barns, spread out across five farms: Tar Heel, Wolfpack and Wildcat Farms are the ones just south of Lanc, while Lancelot and Tusk Farms are located near Barlean. Documents from the Nebraska Department of Environment and Energy (NDEE) state the three farms near Lanc each have a maximum capacity of more than 700,000 chickens, while the ones near Barlean each top out at about 500,000.
The chickens raised in those barns end up at Lincoln Premium Poultry in Fremont, which is owned by Costco.
"The smell of death is the worst," Barlean said. "They compost their dead chickens. It's bad especially...when a southwest wind gets us."
Barlean's yard freezes in the winter because of all the steam coming off the barns. Sometimes, he finds a greasy brown film covering his crops, which he blames on the dander pumped outside by the fans that circulate the air inside the chicken barns.
Barlean said some of his neighbors have moved away since the barns went up.
"I bought a house in David City, although we still have the farm out here," Barlean said.
Barlean takes refuge in David City on the days and nights when the smell of the waste and the flies it attracts get to be too much.
Lanc and Barlean both have backyard patios.
"I used to socialize, I used to have a lot of friends over," Lanc said. "No one wants to come here anymore. I don't want them here -- not when you can't even open a window in the night."
Lanc and Barlean don't hate livestock, or even confined animal feeding operations (CAFOs) like the chicken barns.
"I love meat," Barlean said, laughing.
Lanc and Barlean pointed to locally-owned chicken houses near them, whose families live right by the barns.
"I really don't have any issue with those people who live right there. They've farmed their whole life and they put up barns right where they live," Barlean said.
Lanc agreed and said he commends anyone who raises their own livestock. That's how he grew up in the 1980s.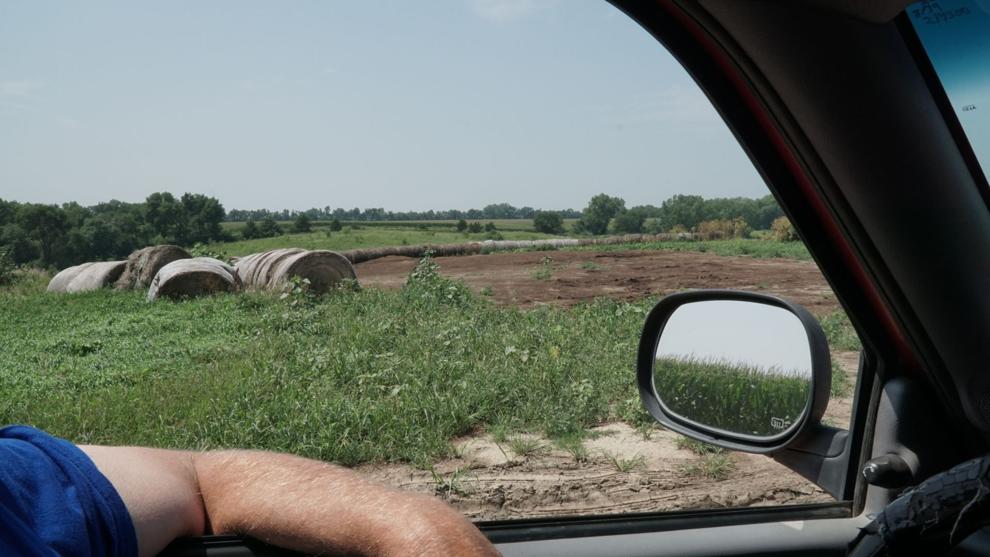 "Those were tough times around here," Lanc said. "It's a thankless job getting up every morning and feeding animals. Anyone who is willing to work livestock, I know how hard that is. I saw my mom and dad raise chickens and hogs and cattle to feed my family."
Lanc said the three barns near his home owned by Gallus are another beast entirely.
"The property owner lives in David City and the owner of the barns lives in North Carolina. When I was a kid, we didn't live in North Carolina and manage the animals from there," Lanc said.
Lanc was referring to Ray Metzner and Jody Murphey. Metzner is the head of Kennel Vaccine Vet Supply Co. and owns the ground the barns stand on. Murphey, a managing partner at Gallus Capital, lives in North Carolina but his name appears on a lot of the paperwork for the chicken barns in Butler County.
"We just had a compliance review," Murphey said. "We run the operation as we're permitted by Nebraska statute."
And he's right -- the operations by Lanc and Barlean are in compliance as of June inspections done by the NDEE.
Murphey added that he has no control over the local laws and zoning.
And that's what it really boils down to -- the laws and zoning, or lack thereof.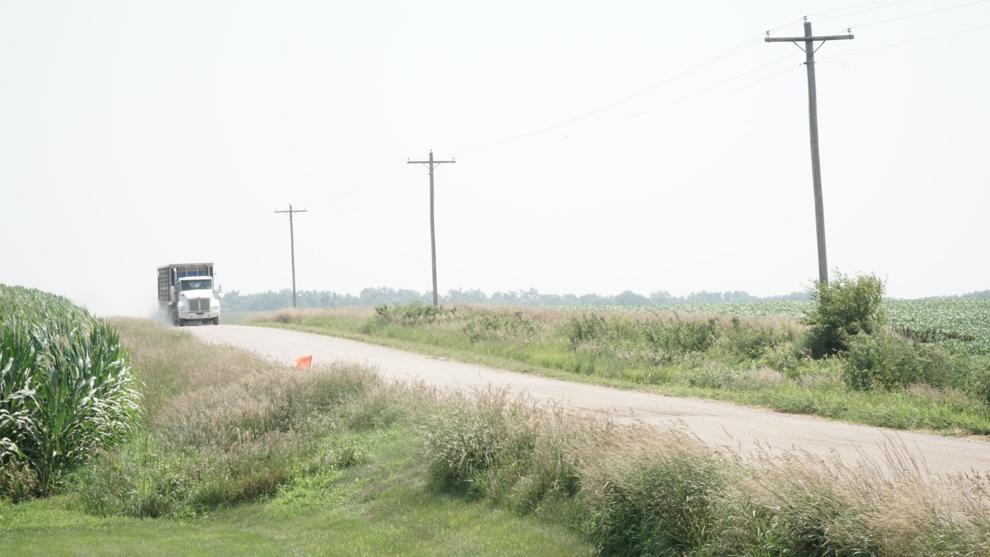 In many counties, zoning laws regulate where and how CAFOs are constructed, especially concerning how the odor could impact neighbors.
But Butler County doesn't have any zoning laws.
The county almost adopted zoning laws in 2008, but those plans fell apart. When asked at an Aug. 2 meeting of the Butler County Board of Supervisors why the county doesn't have zoning laws, no explanation was given to The Banner-Press. Board members and county officials indicated that they could not speak on behalf of the entire board with regard to zoning.
The chicken houses appear to be affecting the county, though, because of the truck traffic's impact on the gravel roads around them.
"These 48 barns here bring 9,000 trucks a year just to feed and haul the birds out," Lanc said. "That number comes from Lincoln Premium Poultry. They sat down with my township and told them what it would take to sustain this operation."
The chicken house traffic is supposed to be confined to certain roads except in inclement weather, but Lanc and Barlean have said that doesn't stop them from driving elsewhere even on clear days.
Moreover, Lanc and Barlean said, the roads are not safe; trucks coming to and from the chicken barns near Lanc's house have flipped at least twice.
Lanc said he would like to see 37 Road, which leads almost directly to the barns near his home, widened to three lanes. The chicken barn trucks could use that road to get most of the way from Highway 81 to the operations.
He added that there are some hog barns owned by the Pillen family another half mile down the road that would also benefit from 37 Road being wider.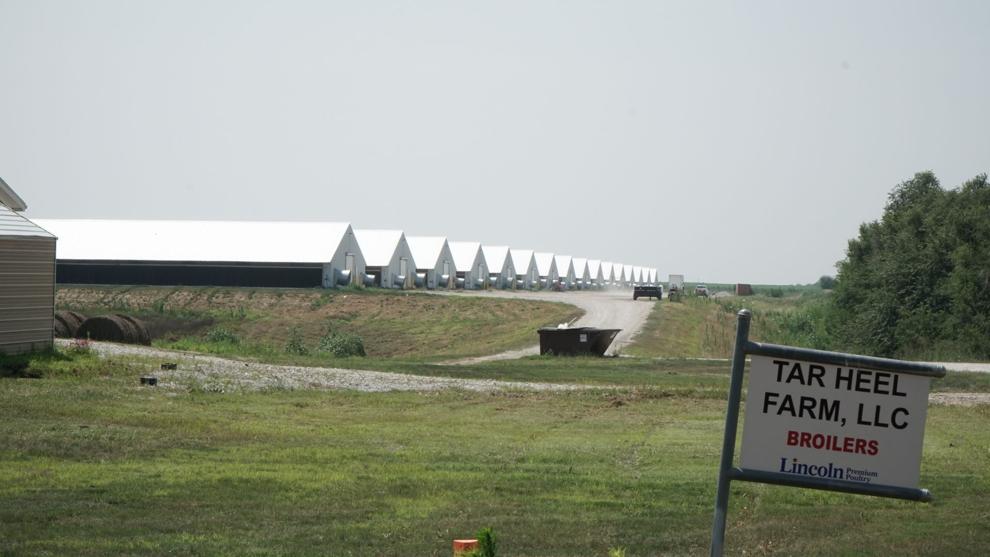 According to comments made during the county board's Aug. 2 meeting, Gallus already chips in to help keep the designated chicken truck routes graveled. Lanc believes they could do the same to get the road expanded.