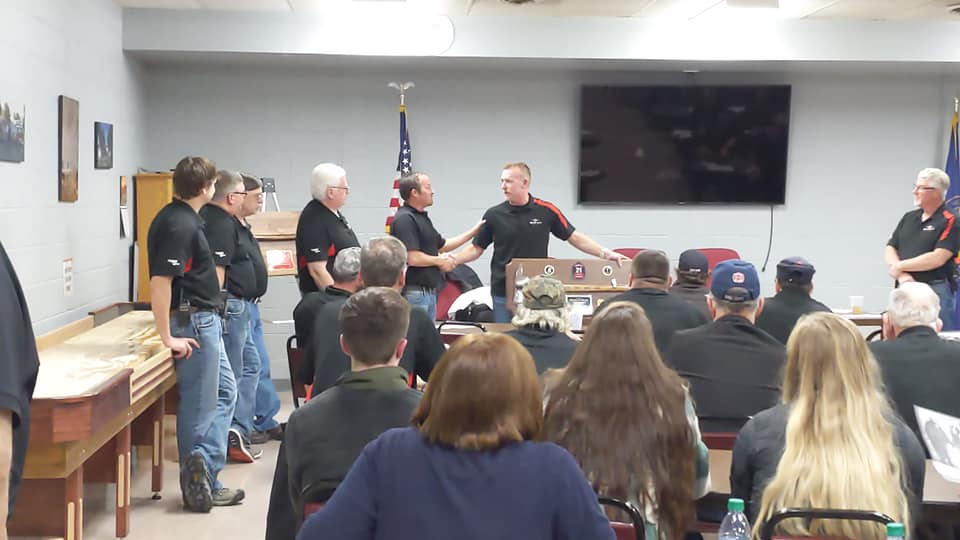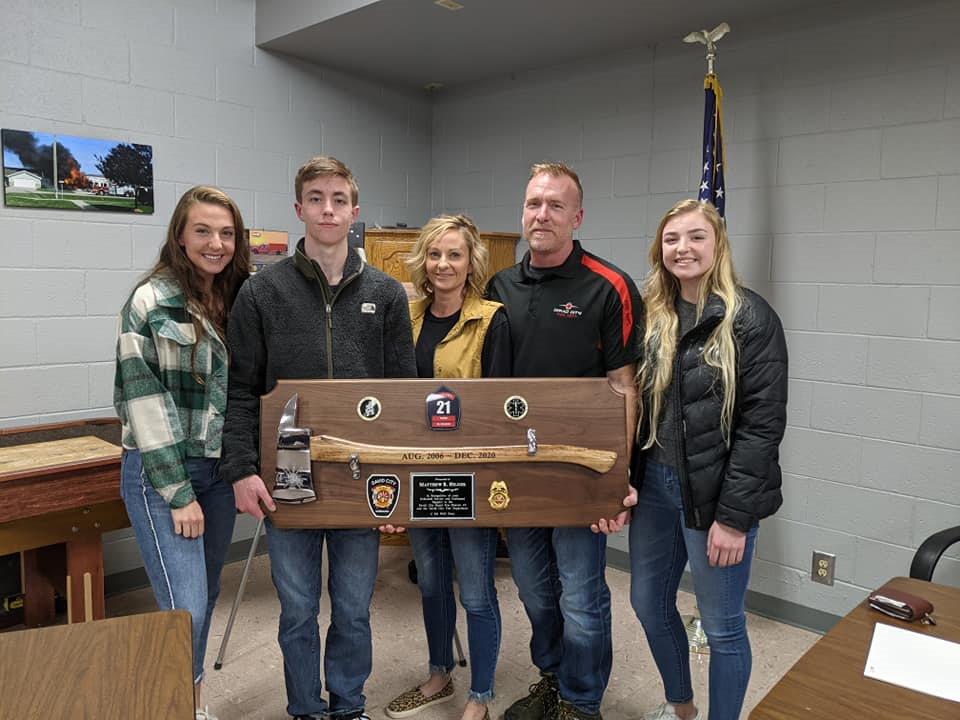 After 15 years as the fire chief of the David City Volunteer Fire Department, Matt Hilger has passed the torch on to Mark Sloup.
At a Jan. 4 ceremony, Hilger was presented with a fire ax commemorating his time as fire chief.
"After 15 years, it kind of becomes part of who you are," Hilger said.
Hilger said stepping down was a hard decision to make, but that he's confident the department will continue to run smoothly.
"I knew full well that this place wasn't going to skip a beat," Hilger said.
Sloup, 38, said he's stepping into some big shoes to fill, but that Hilger has set the department up for long-term success.
"Taking over the role of chief following Matt is going to be a relatively easy process just because of his hard work and dedication," Sloup said.
Sloup is also coming to the plate with a good deal of experience, having already been with the department for 20 years.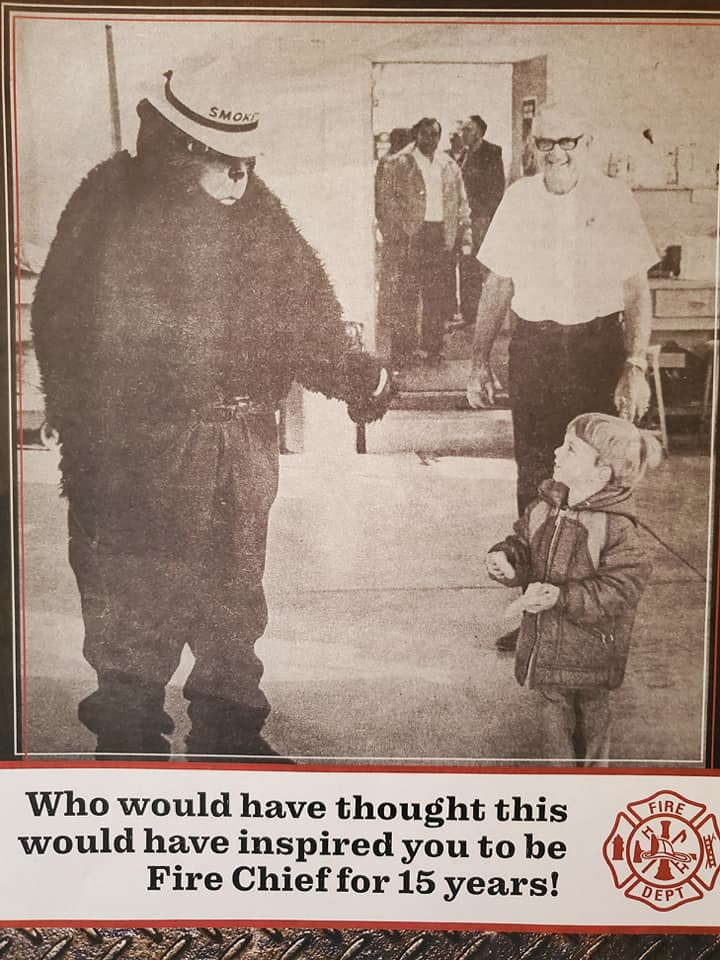 "Over half of my life has been spent serving as a member of the fire department," Sloup said.
In addition to his volunteer position at the fire department, Sloup spent 13 years with the Nebraska State Fire Marshal's Office, serving the majority of those years as a fire investigator.
Right now, he continues to work as a fire investigator for Independent Forensics Investigation Corporation (IFIC).
Sloup said he expects the rural fire district board, the dedicated men and women of the David City department and his own career and volunteer experience will all serve him well as fire chief.
Although Hilger is no longer serving in a leadership role, he is staying on with the department as a firefighter. He said he is looking forward to focusing on the things about being a volunteer firefighter that made him want to do it in the first place.
Hilger said he spent a lot of his childhood at the fire station because his dad worked there.
"When you grow up with him running out the door to help people all the time, it just becomes part of life. When you live in a small town you help people," Hilger said.
Hilger joined the department in May 1997. He was 23-years-old, had just finished college and came back home to farm, which is still his 9 to 5.
"Some of the other guys on the department who knew I was back started pushing to see if I would be willing to join," Hilger said.
That, combined with his dad's involvement in the department throughout his life, led Hilger to say yes.
Within the first 10 years, he worked his way from an officer's position to lieutenant, captain, training officer and assistant chief. He was made fire chief in 2006.
"There's a weight that's always there, the responsibility of your entire fire district. Never knowing at what given second something little could happen or something hugely catastrophic could happen. And it's always right there," Hilger said.
After 15 years, Hilger is content to let go of some of that responsibility.
"There comes a point in life where it's somebody else's turn to do it," Hilger said.
It's a big time commitment too, for a volunteer position — at least 20 hours a week, Hilger added. And the job has changed a lot since he took it on.
"It used to be you show up, answer the call, drink a beer, you go home. It's just not that way anymore. The requirements from the state level … it's a lot," Hilger said. "Honestly, it's probably too much for a volunteer position."
Hilger said the chief of the David City Volunteer Fire Department — or any volunteer fire department — has the same concerns as the paid chiefs in Columbus or Omaha or Lincoln.
"We still have all the exact same concerns and equipment, we just don't run as many calls," Hilger said.
Hilger is proud of the team of people he has cultivated within the fire department.
"Any time you get a group of 45 people together, you're going to have conflicting opinions and with what we do (we are) frequently in high-stress situations. … It's an undertaking," Hilger said wryly.
Finally, Matt said his wife, Nissa Hilger, probably also deserves recognition for 15 years of service.
"It could've been something where she was frustrated with the amount of time I spent there versus home and the time where I was distracted even when I was at home," Hilger said. "The fact that she was so supportive and everything for 15 years, that's as big of a testament as me doing the job."